In a developing country like India where there are a constant and steady demand for housing. In these growing markets, the mid-segment market has always needed a constant supply of land/plot sizes they are not too big or neither too small.
Hence, the demand for 30×40 sites is constant and the average cost of buying a 30×40 site considering Rs 2500/sq ft comes close to Rs 30lacs. If one is looking for details for a 2400 sq ft site, then do visit the link for 40×60 house plans in Bangalore for Duplex house here we have shared a similar kind of details as seen on this page.
 The cost of buying a 30×40 Site varies depending on the locality like how close is the plot located to urban infrastructures like Schools, Colleges, Hospitals, General stores, Malls, Cinema, Metro stations, Bus stops, Public transport, etc.
There might be a 10 to 20% cost variations depend on the Site facing whether it's a North facing, West facing, South facing, East facing, Corner or Intermediate plot.
WHAT CAN I BUILD/PLAN ON A 30X40 SITE?
Let's consider you already own a 30*40 Site, Hence, visiting this page for getting your 30×40 House designs done. Since you might have already spent some of the money/investment on purchasing your 30×40 plot and the Next Step is to decide what you need to Build or Construct like Duplex House, Rental House or a combination of Duplex with rental floors.
It's always wise to get the basic 2d Floor plans / House designs prepared by Architects for all your options. So that you know what you need to build on the site matching your budget and requirements this helps you decide wisely.
Floor plans will show the exact sq ft for each concept which you require thereby it helps you in understanding the cost of construction for building on a 30×40. This step if followed will make sure that you don't overshoot the planned budget.
OPTION 1: CONSTRUCTION of a DUPLEX HOUSE on a 30×40?

If you have a sufficient budget and planning to build one single house for Own use without any commercial returns like building units for rental units to get your returns on your investment. Then this would be your choice the details like how many floors and built-up are mentioned further in your read the page.
OPTION 2: CONSTRUCTION of a DUPLEX HOUSE RENTAL HOUSES on a 30×40?
This option is advisable if you're thinking of the property as investment and returns. In this one can easily build G+1 G+2 G+3 floors with multiple units having 1bhks and 2bhks of different combinations on each floor. This can be purely considered as a return on investment, In some cases, the Owner can also have a 2bhk for himself and others for rental purposes.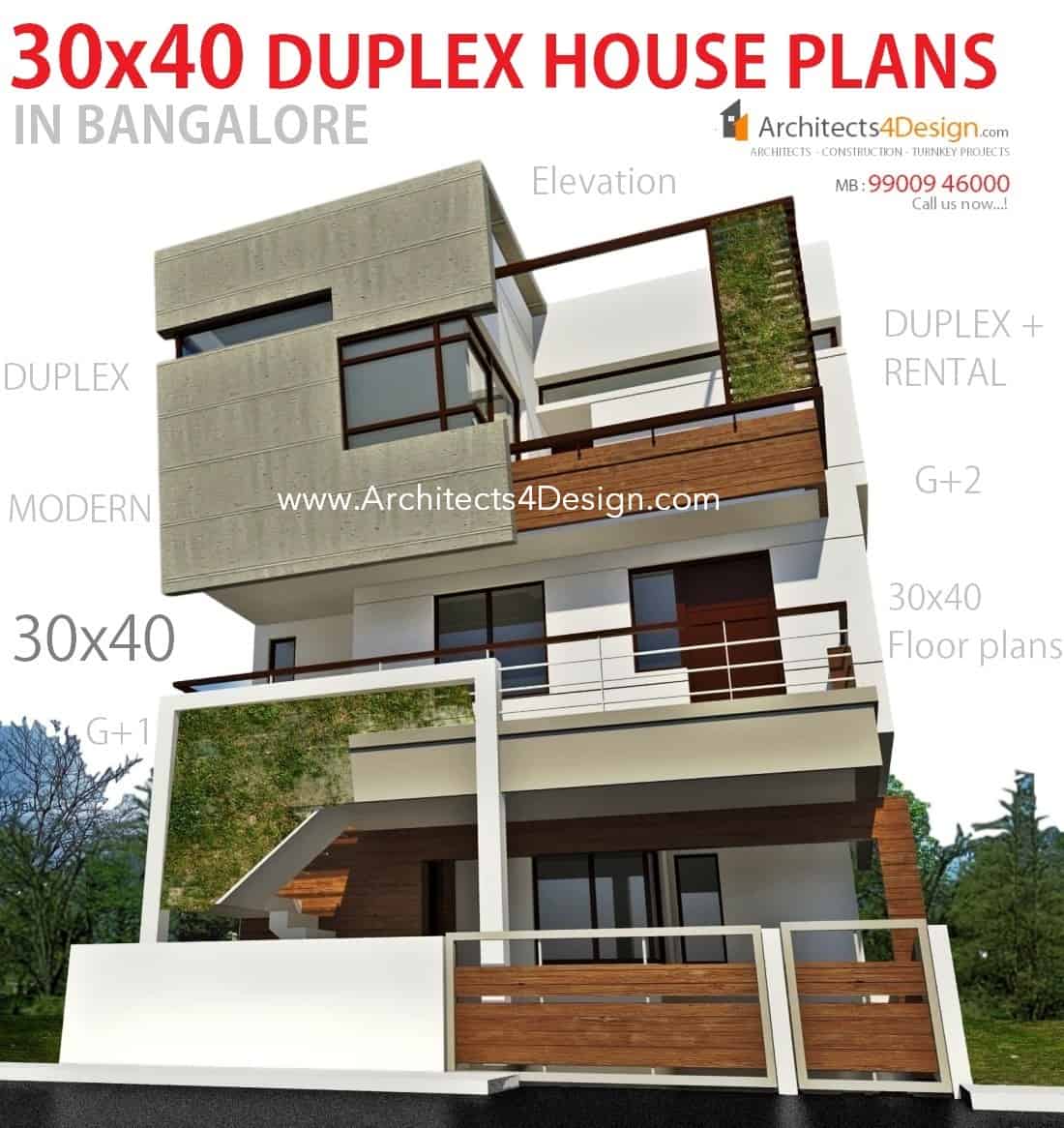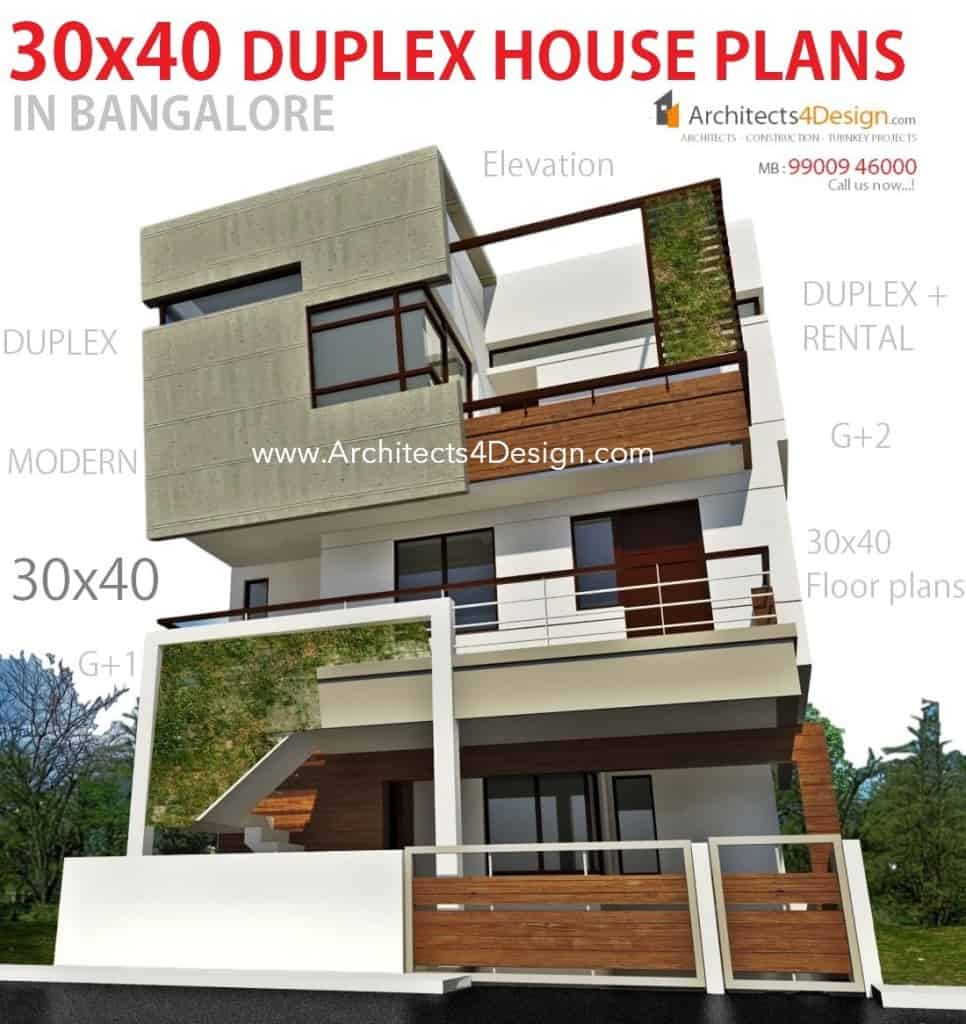 OPTION 3 : CONSTRUCTION of a DUPLEX HOUSE + RENTAL HOUSES on a 30*40?
In this option, one can use the property designed by the Architect in such a way that the two floors of the building will have Duplex house and the reaming for rental purposes which might be on one or two floors.
This is advisable for Owners who are not ready to compromise on the duplex concept or not building a house which is too much commercially planned as complete rental units on all the floors as explained above
Different Options on a 30*40 Site / 1200 sq ft plot Building G+1 G+2 G+3 G+4 floors for Duplex House Plans or Rental House plans
BUA : Built up area.
FAR: 1.75 for a 30×40 Site if the site having a road width of fewer than 12 meters that 1.75 is the FAR considered.
Informative: Present house construction cost | Sample 30×40 Hosue plans 1200 sq ft house designs
30X40 HOUSE PLANS IN BANGALORE GROUND FLOOR ONLY of 1 BHK OR 2 BHK BUA : 650 SQ FT TO 800 SQ FT
If you are planning to build your house in a phased manner, then this would be the first option where you can build only the Ground Floor and the remaining upper floors can be constructed once there is sufficient budget to build.
If you are Building a House in a phased manner, one has to make sure that they get the House plans / Floor plans / House designs prepared for all the floors and structural drawings to be prepared by the concerned hired Architects or Structural engineers.

This helps the client be prepared to start phase 2 of building the upper floors without any hassles.
Note: Before you plan what are you are going to build on the Ground floor, make sure that you sit and discuss with your family members, on What you need to construct and When to start.
This helps the Architects plan a better Ground floor layout where later on the upper floors can be built without much hassle. Taking detailed working drawings will help the hired building contractors to give the best quote for your project.
GROUND FLOOR 600 SQ FT OPTION WITH 1 BHK :

This would recommend for clients who are building a Duplex house on the first and second floors, As there would be sufficient car parking spaces for the tenant as well as the owner. Make sure that the external staircase is done in the very initial stage of building the Ground floor as constructing later on it might add to cost as well as might take more time.
Ground Floor : 1BHK 600 sq ft : 2 Car parking + 1 living room on 120 sq ft + small dining area of 100 sq ft + Kitchen with outside utility of 80 sq ft + Bed room of 12×10 or 120 sq ft + Common bath room.
GROUND FLOOR 800 SQ FT OPTION WITH 1 BHK :
This would be a better option if the owner of the building wants to build a 2BHK for his own use with 1 car parking space. Later on, construct the above floors one needs a duplex or rental on each floor.
The client should discuss in detail with the Architect and confirm the option if he wants a 30×40 duplex floor plans or rental floor plans on the above floors. This will help the structural drawings prepared in such a way that the columns wouldn't be an obstacle while building the upper floors.
Ground floor : 2BHK 800 sq ft : 1 Car par + 2 to 3 two-wheeler parking + Living room of 16 x13 + Dining area of 100 sq ft + Kitchen with utility space + Common washroom + 1 Big room 125 sq ft with attach bath + 1 Small bedroom of 110 sq ft.
30X40 DUPLEX HOUSE PLANS IN BANGALORE OF G+1 FLOORS 3BHK DUPLEX FLOOR PLANS BUA : 1800 sq ft
This option of getting 30*40 Duplex house designs in Bangalore where the owner wants to build only one single until on the entire 30*40/1200 sq ft site without any rental units. This is the most preferred option if you are not looking for any commercials.
The main advantage would be that the entire Duplex house would be for single occupancy which intern means there would be more privacy for the occupant, as there would be no rental units built.
There are different possibilities of getting 30×40 Duplex floor plans designed by the Architect. One needs to discuss the budget and requirements in detail with the Architect as any changes or alternations to the floor plans might increase the construction cost as well as delays in completing the project.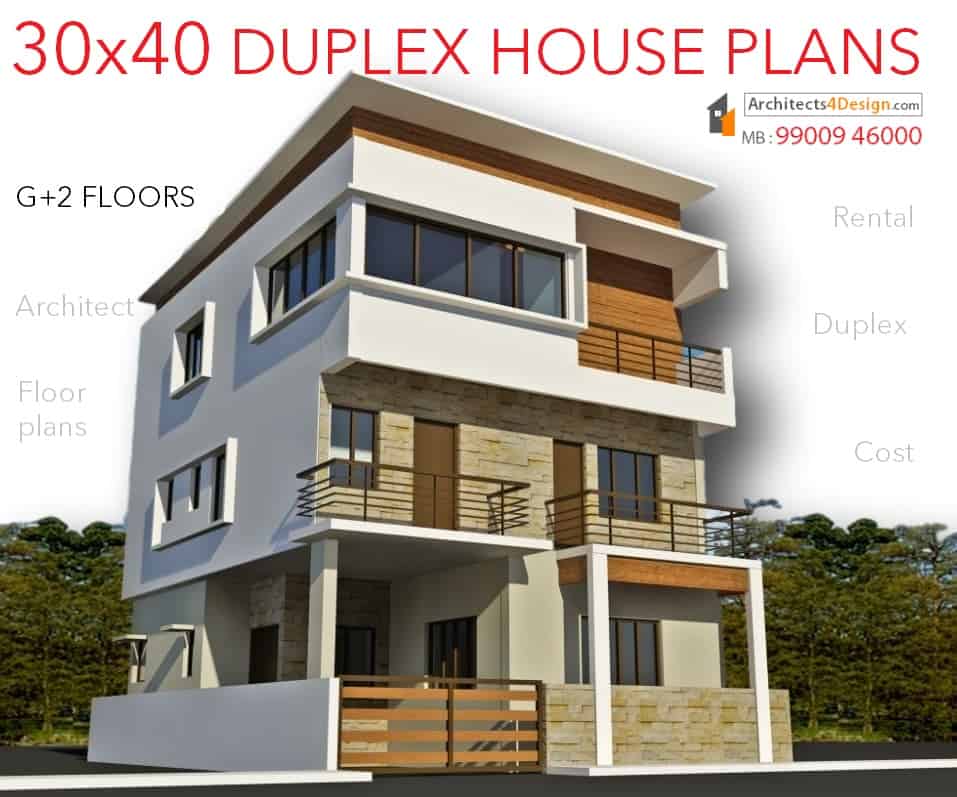 DUPLEX HOUSE OF 1800 sq ft
Ground floor : 800 sq ft : 1 Car parking for a sedan + Foyer of 8×8 + Living room of 17×12 + Dining room which can seat 8 people + Common washroom of 8×5 + Puja room of 25 sq ft +Open kitchen concept of 115 sq ft + Storeroom + Guest bedroom of 13×12 with attached washroom + Internal Staircase.
First Floor : 1000 sq ft : Family lounge area of 150 sq ft + Balcony of 60 sq ft facing road + 1 Master bedroom of 160 sq ft with attached bath + Children's bedroom of 135 sq ft + 1 Bedroom of 145 sq ft with attached washroom + Staircase to the upper floor.
info: Procedure of Building a house | 30×40 elevations of residential houses
30*40 G+2 FLOORS DUPLEX HOUSE PLANS 1200 sq ft 3BHK FLOOR PLANS BUA : 2800 sq ft
In this Option, the client can go for spacious 30×40 3BHK Duplex house plans in Bangalore where the Ground floor can be left entirely for parking usage. There would be an additional cost of 10 to 15 lacs when compared to the above concept.
The main advantage of this option would be that the client/owner can have sufficient space for parking in the G flr and which intern will have more space in the upper living area where the duplex will be built on the 1st and second floor.
One can visit the link cost of building a house in Bangalore where there is in detail coverage of the current construction rates for building a house on a 30×40 site of g+1 g+2 g+3 or g+4 floors in Bengaluru.
The steps are taken while designing these types of floor plans by the Architects, where the Ground flr is left for parking this floor can also be called as "Stilt floor / Stilt parking ". The client has to make sure that any requirements for Building a rental house or servant quarters on the ground floor should be informed earlier.
As the " Stilt floor " can have just 8ft of height clearance which is not suitable for constructing any housing units. In some cases, the Stilt floor will be kept " +/-3 ft " in consideration with the road center level of " +0 ". In such cases building, any housing units in this concept will result in challenges in getting the sanitary lie out of the building.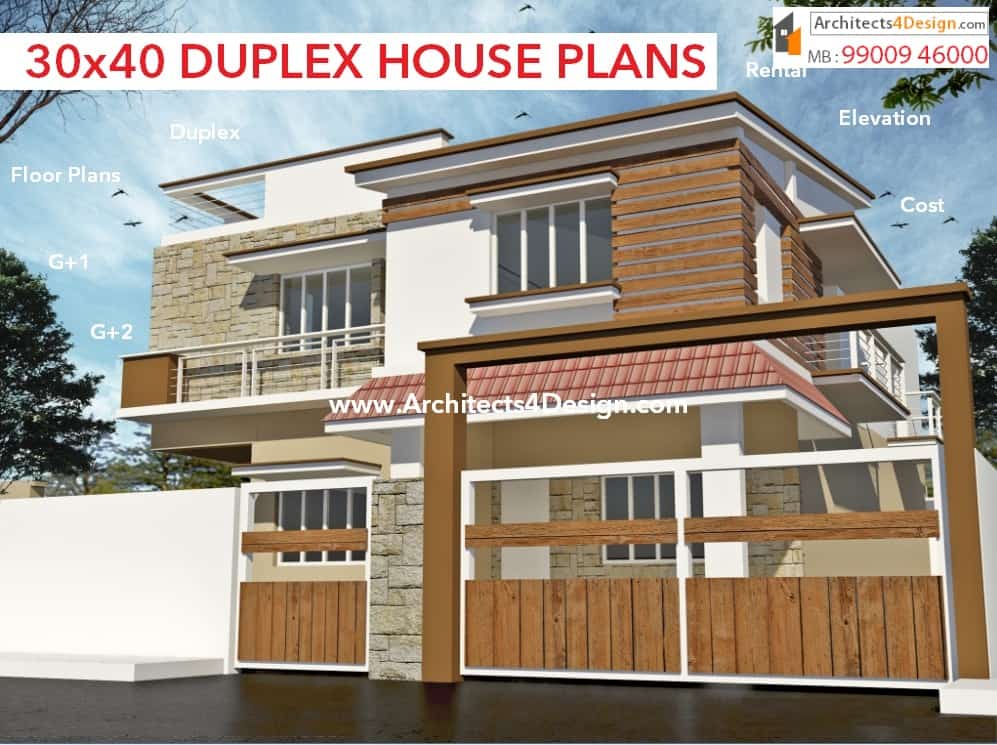 DUPLEX HOUSE G+2 FLOORS
Ground Floor / Stilt Floor: External staircase from G to the first floor + Parking for 2 cars + 8 two-wheeler parking+ If required servant quarters can be planned of 200 sq ft.
First Floor : Large living room with 200 sq ft area + Open dining for 6 people + Open kitchen towards dining room + Storeroom of 25 sq ft + Utility area of 30 sq ft + French window for living room balcony overlooking road + Puja room of 55 sq ft + Common washroom + Master bedroom of 15×12 with walk-in closet attached bath + Internal open MS staircase.
Second Floor : Balcony attached to the family living area combined 400 sq ft with full height French window come door + Study room 129 sq ft + Master bedroom study desk walk-in closet with attached bath area + 1 Bedroom of 14×12 or 155 sq ft + Continued Internal staircase up to terrace.
30×40 G+1 DUPLEX HOUSE DESIGNS 2nd AND 3rd FLOORS RENTAL HOUSE PLANS BUA : 3800 sq ft
This option is more opted by Owners who want to have a Duplex house and also some rental units so that it can help the client recover the project costs invested in building the house.
As per BBMP laws, one can have a FAR of 1.75 for a 30×40 site having road width less than 12mtrs which means 30×40 or 1200 sq ft x 1.75 = 2100 built-up area as per BBMP Plan sanction drawings.
But, we have seen how site owners do violations in FAR or BBMP bylaws by construction additional floors or leaving minimum setbacks. We can see more such kinds of violations in BBMP B Khata plots where such sites/layouts are mushroomed in and around Bangalore. Generally, these layouts don't have a proper land conversion, change of the land, DC conversion, etc.
CAN WE BUILD G+3 Floors on 30×40 SITE?
YES, But the Ground floor should be entered be left for the parking area. Only in such cases, one can build a G+3 floor on a 30*40 site. Many buildings in Bangalore have taken for G+3 floors in Plan Sanction given by BBMP but even they have violated by building even the Ground floor which is meant for parking.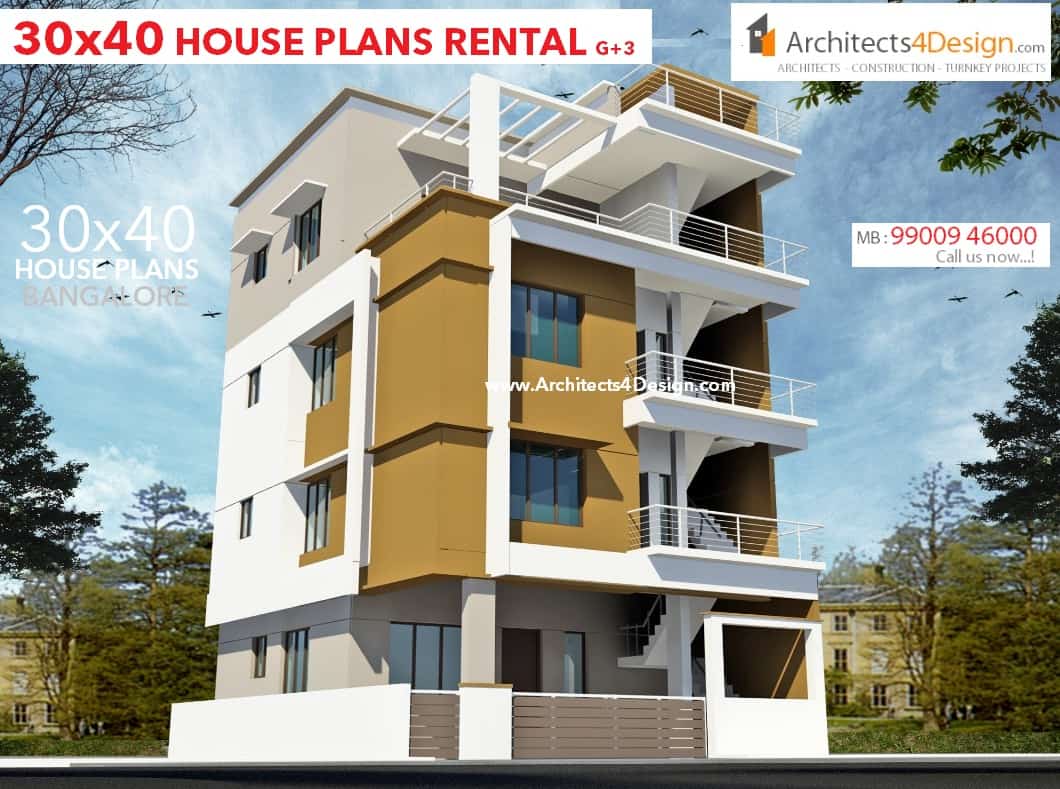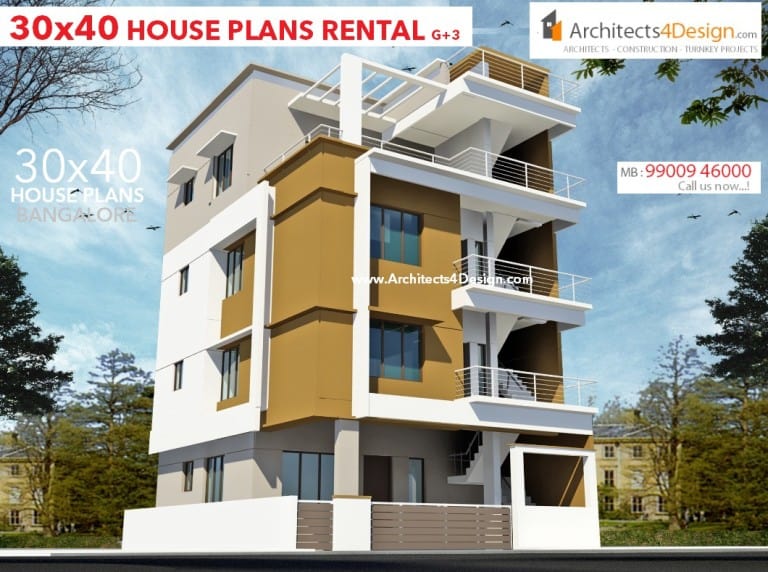 Ground + First Floor 3BHK Duplex Floor Plans + 2nd and 3rd Rental Floors
Ground Floor : 1 Small car park + 4 Two wheeler parking + Separate External Staircase entry to the above rental floors + Open living room with road side large open windows + Kitchen of 105 sq ft + Utility with dish wash area + Guest bedroom of 125 sq ft + Common bathroom + Dining area + Internal staircase for first floor.
First floor : 1 Guest bedroom of 119 sq ft + 133 sq ft 1 Master room attach bath + Small family living for 5 seating + If possible a small balcony overlooking road + Also this floor will consume 150 sq ft of space needed for an outside external staircase.
Second floor : 2 BHK 650 + 1 BHK 350 : 2 BHK plan Living 100 sq ft + Kitchen + 1 Small room of 112 sq ft with attached bath + Bed room 2 of 113 sq ft + common bath room entire unit of 650 sq ft . 1 BHK plan 1 Small living room of 99 sq ft + Open kitchen + Bed room of 10×11 + common bath room.
Third Floor : 1 BHK x 2 no's 350 sq ft each + 1 Bachelor room : 1Bhk details 1 living room of 11 x 12 + Kitchen of 8 x 5 + Common bath of 6×5 . 1 room of 115 sq ft or 10×13 with attached bathroom.
30X40 GROUND RENTAL HOUSE PLANS 1BHK + 1st AND 2nd FLOOR DUPLEX HOUSE BUA : 2800 sq ft
The above option explains building a Duplex on the G+1st floor, But in this option, the duplex will be designed on 1st and 2nd Floors. If the Client requires more space and privacy for himself with some rental returns coming on the investment made to construct a house.
As an Architect, we propose the different possibilities of making 30×40 Floor plans in Bangalore where the client can select what suits his needs and requirements matching his budget.
While designing any 30×40 house plans in Bangalore one needs to keep in mind the different possibilities of designing, even one has to consider the facing of the site if it's North facing, South facing, West facing or east-facing site.
Then based on this one needs to develop Architectural 30×40 plans or 1200 sq ft floor plans considering Vastu for Living room, Bedroom, Children's bedroom, Kitchen, Master bed room, Door facing, etc.
ADVANTAGES OF PLANNING DUPLEX HOUSE ON ABOVE UPPER FLOORS?
The advantage of designing House plans for constructing a 30*40 1200 sq ft Duplex house on above floors would better ventilation, Reduced street noise, better space utilization as no parking space with left out, Larger windows, Bigger Balconies, Effective use of natural light, Privacy, Effective usage of Terrace area, Better space planning and space utilization.
One of the major drawbacks is that elderly people have knee pains climbing from the Ground floor to the First floor might be difficult; this can be overcome by adding residential lifts to the structure which don't require a lift room also. But it might add Rs 4 to Rs 6lacs additional cost to the project.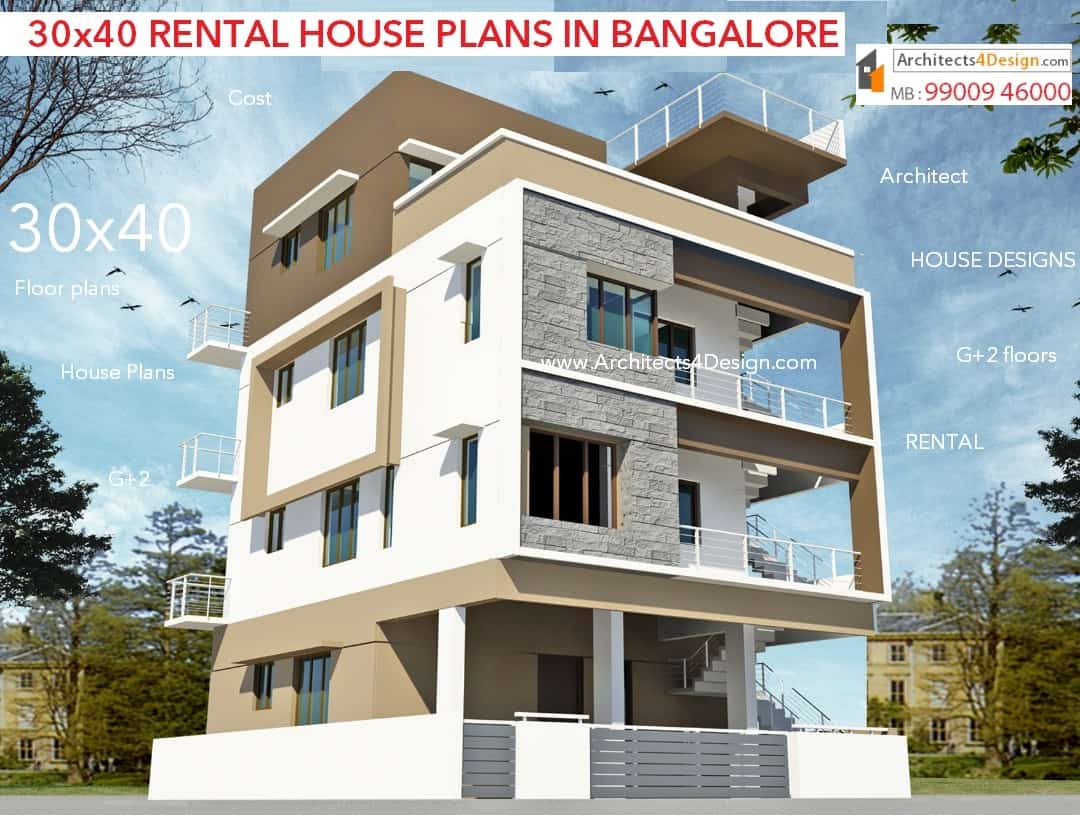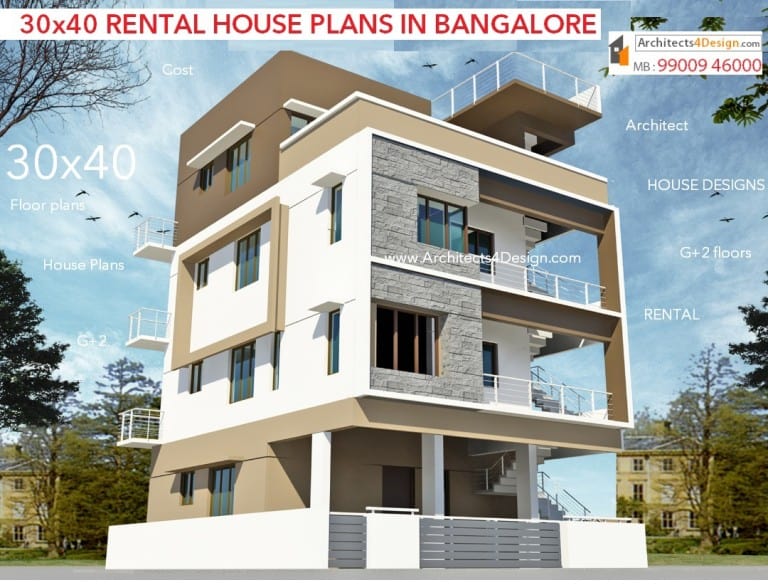 Ground Floor Rental + 1st 2nd 3rd Floors Duplex Floor Plans/House designs
Ground Floor : 1BHK 680 SQ FT : Parking area of 380 sq ft for 2 cars + 4 to 5 two wheeler parking + External open staircase for accessing duplex home + 1BHK concept 1 small living of 122 sq ft + Kitchen of 89 sq ft + Bed room of 12×12 + Common bathroom.
First Floor : Foyer area of 8×5 + Open living room of 16×14 or 190 sq ft + Large full height windows for living room + Spacious Dining area for 7 + Central puja room of 6×6 + Kitchen of 14×12 attached store and utility space + Bedroom with attached bath of 65 sq ft + Common bath with shower provision + Internal staircase to 2nd floor.
Second Floor : 1 Master room of 180 sq ft or 14×16 with a study area with attached bath + Kids / Children's bed room of 150 sq ft + 10×14 Guest room with bath room + Internal staircase to the Third floor.
Third Floor : Solar water heater provision + Elevated +7ft overhead tank + Utility area + Clothes dry area + Potted landscaping as per requirement.
30×40 RENTAL HOUSE PLANS on a 1200 sq ft site of G+2 or G+3 or G+4 Floors FLOOR PLANS BUA : 2800 to 4900 sq ft
This option has to be designed and executed commercially, which means that the 30×40 rental house plans in Bangalore should be effectively planned without much wasting much space and economically designed.
The role of Architects is very important as he needs to make sure that space is well utilized and rooms are designed in such a way that the wastage of space is kept to the minimum.
Architects while designing 30×40 rental House designs or House plans for a 30×40 site has to make sure that the utilized area and construction costs are well-balanced will designing floor plans, staircase concept, parking zone, bathroom sizes, room sizes, ventilation, natural light, the position of rooms, terrace area, etc.
The Owners/Clients' perspective while executing such kinds of rental houses on multiple floors would be purely for rental returns or simpler he would plan to get back the project cost which has been invested in building the house within a shorter time frame.
This also means that any unnecessary costs involved or modifications will increase the principal cost of the project and later on the building contractor who has been hired will also give cost escalation bills to the client.
The client has to also select basic materials for finishes like bath ware fittings, flooring tiles, wall tiles, kitchen tiles, Utility flooring, doors, windows, shutters, painting, gates, grills, railings, staircase, etc.
As any premium upgrades here would result in the escalation of construction cost. Hence, the client should sit, discuss and finalize all these things with the Architect and appointed building contractor before starting the project.
Also one needs to develop Floor plans of different combinations of 1bhks, 2bhks, Single rooms or 3bhks which are suitable for getting the maximum utilization of space.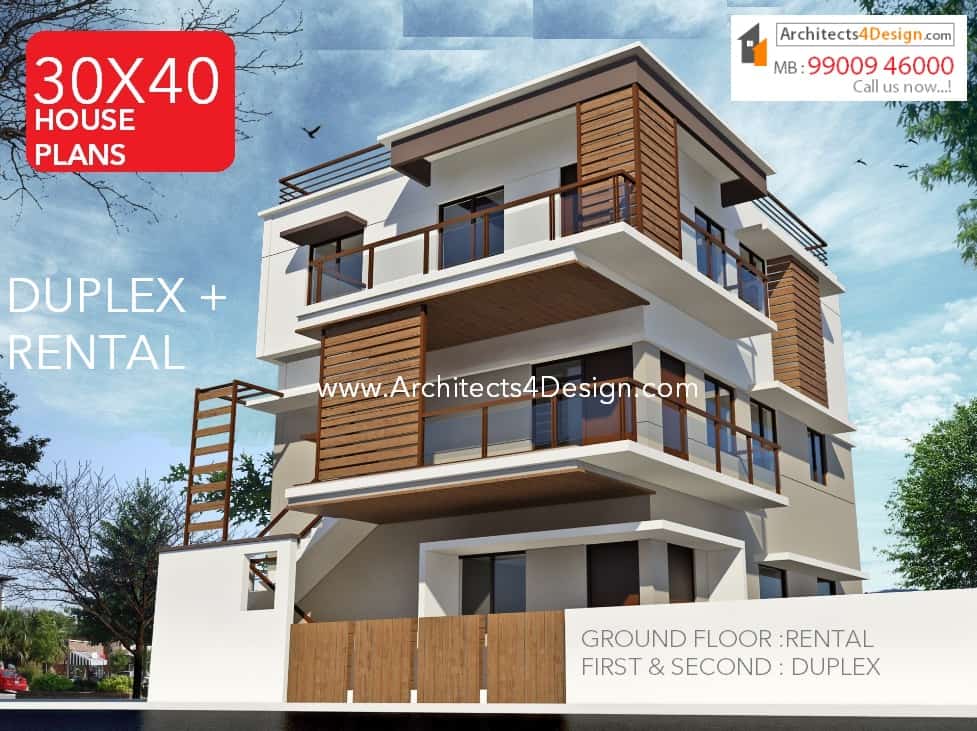 Rental Option of G+3/G+4 on a 30*40 site
Ground Floor : 2 Bhk house 666 sq ft + Parking for 1 car + 8 to 10 two-wheelers parking + External staircase for above rental floor + small servant washroom if required.
First Floor : 2bhk + 1bhk : Floor plan for 2bhk : 1 small living room of 98 sq ft + Kitchen area 10×7 +1 guest bedroom of 10×9 + 1 bedroom of 11*9 or 90 sq ft + common bath : Floor plan of 1bhk a simple 1 bhk of 200 to 250 sq ft 1 living room of 85 sq ft + kitchen area of 86 sq ft + 1 bedroom of 9.6×10 + common wash room of 5×5.
Second Floor : 1bhks x 3nos each of 220 sq ft : 1BHK details 1 living room of 13 x 9 + Kitchen zone of 50 to 85 sq ft + Small room of 99 sq ft + Common bath room of 8*6 .
Third Floor : 1bhks x 3nos Or 5 to 6 single bachelor rooms: Bachelor room details 1 single room on 13*9 with an attached bathroom of 5*6. The 1bhks can be designed the same as the Second floor.
Fourth Floor : 1bhk + Servant quarters + Terrace with clothes wash and dry area + Staircase headroom + Overhead tank + Solar provision.
SAMPLE 1200sq ft / 30×40 FLOOR PLANS IN BANGALORE for RENTAL/DUPLEX HOUSE PLANS
We have shared a few samples of 30*40 floor plans/house designs which have been proposed to our previous clients. The below floor plans should be considered only as an input to understand how the floor plans are designed on a 30*40 site. One needs to visit Architects to get the Actual floor plans and building elevations prepared.
If one needs to execute the building as per the Architects proposal then the client/owner has to further take detailed working drawings which will be required by the building contractors to execute the project as per proposed building planning.
The detailed working drawings are given by the Architect as well as the Structural drawings given by the structural engineers these drawings will not only help the civil contractors to execute the project on time but also helps to decrease the cost of construction and avoid any unnecessary cost escalation in the future.
SAMPLE 1: 1200 sq ft / 30*40 Floor plans shared below SHARED BELOW :

Clients Requirement: The client's requirement for his 30*40 site was to have Duplex floor plans on the 1st and 2nd floor. The ground floor will have a 1bhk studio house for rental with a small car parking space. The 3D elevation of the proposed final floor plans is also attached as a small thumbnail.
Site Size: 30×40 / 1200 sq ft.
no of Floors: G+2  BUA: 2900 sq ft.
Ground Floor: 1BHK with parking.  First Floor and Second  Floor: Duplex House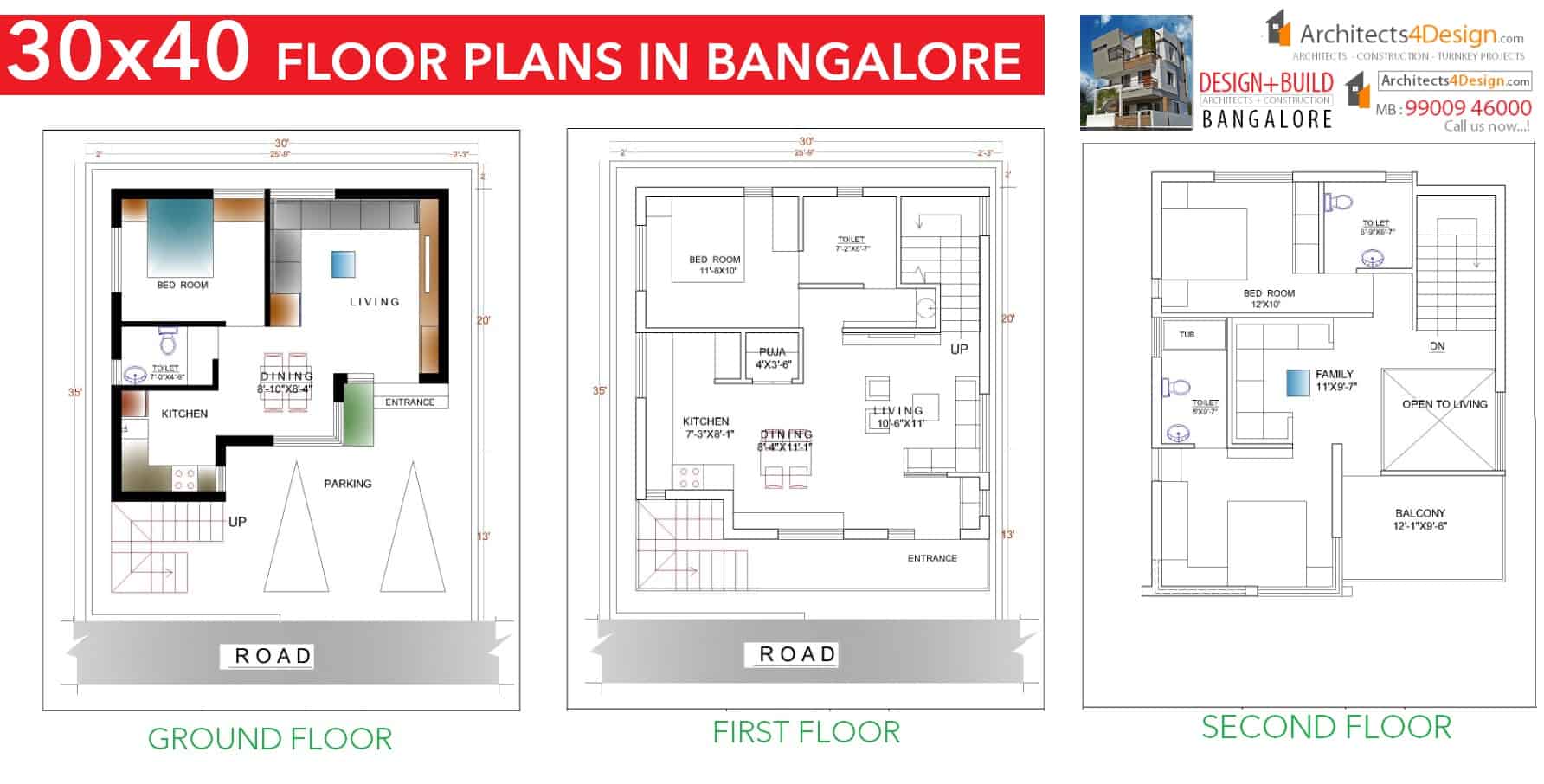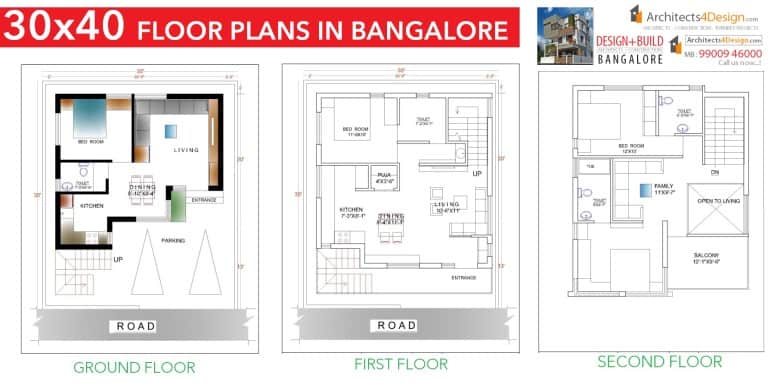 SAMPLE 2: 1200 sq ft / 30×40 DUPLEX FLOOR PLANS IN BANGALORE OF G+1 FLOORS BUA : 1850 SQ FT
Client's requirement: The client wanted a 30×40 simple duplex house without any rental units, The 30×40 floor plans we designed considering Vastu for all rooms and needed a large prayer room. As an Architect firm, we design 30*40 floor plans based on Vastu aspects.
Site size: 30×45.
no of floors: G+1 Duplex house.
Ground Floor: Foyer + Living + Dining + Kitchen with utility + Prayer room + Master bedroom with attached bath + Common bathroom + Internal staircase.
First Floor: 2 Master bedrooms with attached bathrooms + Family living room + Cutout looking below into the dining area + Large balcony.