COST TO BUILD A HOUSE IN BANGALORE 30×40 20×30 40×60 50×80 G+1 G+2 G+3 G+4 Floors HOUSE CONSTRUCTION COST
It's been the IT capital of India where it all started in late 90's form where the IT industry started to establish here, from then this City has seen an influx in qualified professions all over who were looking for a Job.
This has increased the Real estate market and the demand for housing for people who are looking to make this city their new home.
The current cost to build a house in Bangalore varies from Rs 1500 to Rs 1700 /sq ft for building a home. Today if one needs to Buy a Site or Plot which easily costs Rs 2500 / sq ft to Rs 20,000 / sq ft all depends on the locations and the amenities nearby like Schools, Colleges, Restaurants, Hospitals, General stores, Hotels, Parks, CA sites and Malls. These are the few factors that play a crucial role in determining the cost of a Plot/Site.
The Cost to Build a house in Bangalore varies from Rs 1550/sq ft to Rs 2000/sq ft.

Below you can read about the current cost of building a House on 20×30 30×40 40×60 50×80 and other dimesions.
Today one can see that there are high demand localities such as Koramangala, Indiranagar, Jp Nagar, HSR Layout, BTM Layout, Domlur, Old airport road, Jayanagar, HBR Layout, Electronic city, Outer ring road where the going real estate prices are anywhere between Rs 15,000 + / sq ft.
There are major roads that are contributing to the growth some of them are Sarjapur road, Hosur road, Kanakapura road, Tumkur road, International Airport road, Mysore road, Bellary road, Bannerghatta road, Inner ring road, Old Madras Road, Outer ring roads which are playing a crucial role in the development.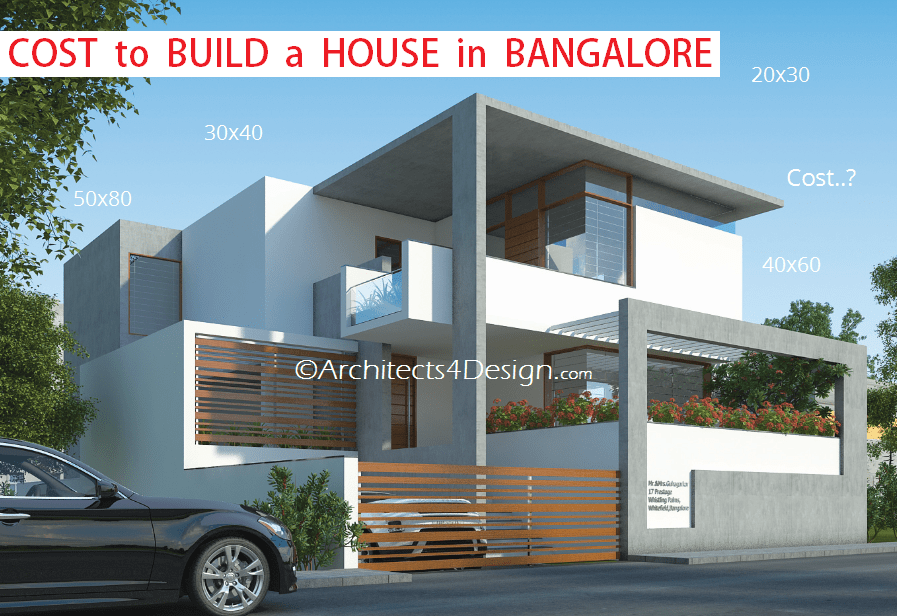 It's everyone's DREAM of Living under their own ROOF today one needs to have a modest Rs 60lcasand upwards to Rs 2.5 cr for a Luxury living. Bangalore offers you different plot dimensions such as 50×80 20×30 40×60 30×40 40×40 30×50 40×40 80×100 100×100 and other odd dimension plots.
Below we have put together the different possibilities of Building a House and the cost involved including the site.
Cost Factor Considered : Rs 1700 /sq ft (Basic).
BUA: Built up area. SQ FT: Square feet.
Note: Other than the mentioned costs one might have additional expenses like Plan sanction from BBMP BDA BMRDA, BESCOM connection, Temporary shed, Architects Fees, Structural designing charges, Working drawings, BWSSB Connection, Temporary electrical connection, Borewell, Solar, etc.
20X30 G+1 G+3 G+4 G+2 FLOORS COST TO BUILD 600 SQ FT SITE
Site Cost: Rs 23 lacs to 39 lacs.
We have considered the Site cost varying from Rs 3000 to Rs 6500 /sq ft it again depends or varies on the real estate market where the cost per sq ft for real estate depends on the amenities or facilities near the plot.
These are the smallest dimensions available, one can be prepared with a minimum budget of Rs 22 lacs to Rs 36 lacs if one is planning to build or construct Duplex houses or Rental houses.
These plots or sites have a small road approach in most cases the width of the road will be between 15 ft to 20 ft including drains. One of the disadvantages of these plots is that one can see already built houses with no setbacks left on either side of these sites.
Having a good set back helps to have good natural light and ventilation for the House. Below are all the possibilities which can be possible to execute on such kind of site dimensions.
DUPLEX HOUSE of G+3 / G+2 / G+1 Floors Cost : Rs 22 lacs to Rs 30 lacs
BUA: 1100 sq ft to 1600 sq ft

One can easily Build a House of G+2 or G+3 Duplex House on 20×30 or 600 sq ft plot having 2 to 3 bedrooms. One can also plan to leave the entire ground floor for parking and building First, Second Floor for residential usage.
If the Client has budget issues he can think of leaving space for one small car and starting the residence from the Ground floor itself.
Ground Floor: Entire space for Parking.
First Floor: Living area of 150+ sq ft + Kitchen and Dining + Common bathroom without shower provision + Small guest room of 10×10 + Internal Staircase leading to the above floors.
Second Floor: 1 Master bed of 10×13 with attached bath + Small family seating area with a small balcony opening towards the road + Guest room of 11×10 area.
Third Floor: Staircase headroom or Can have a provision for another room which might increase the construction cost by another 3 to 4 lacs depending on the area constructed.
Note: The Bedroom sizes that one might get on such small dimensions are around 10×10 or 10×13 Master bedroom.
As informed earlier that the setbacks might be an issue while designing the house, If one has sufficient budget he can opt to go for a corner site which might be 20% more expensive when compared to an intermediate plot.
RENTAL HOUSES G+4 / G+3 / G+2 Floors Build Cost : Rs 27 to Rs 37 lacs
BUA: 1600 sq ft to 2100 sq ft.

It's always advisable to have or provide the entire ground floor for parking if building rental houses on 20×60 / 600 sq ft land. One can construct One 2Bhk house on each floor the overall size of each unit of a 2BHK Home might be around 450 sq ft another 100 to 150 sq ft will be taken by Staircase and Setbacks given towards the front and back.
Ground Floor: 1 Car + 6 Two wheeler parking slots.
First to the Third Floor: 2BHK x 1 nos: 1 Small living of 120 sq ft area + One Master Bedroom + Dining area with attached Kitchen + Common bath + Guest room with attached bath.
Fourth Floor: 1 BHK x 2 nos (each unit's size of around 220 sq ft )
Note: If one is going for a Rental concept of G+4 floors then the Fourth floor can be designed for 1BHK x 2 nos as climbing might be a bit difficult if families move in. It's also important to note that as per Plan sanction was given by BBMP / BDA / BMRDA / Gram Panchayat it might be a building violation if the fourth floor is built.
But normally one can see or come across buildings having 4 floors this building deviation can be rectified once Akrama Sakrama is into implementation.
30×40 G+3 G+4 G+2 G+1 FLOORS COST TO BUILD A HOUSE on 1200 SQ FT SITE
Site Cost: Rs 42 lacs to 62 lacs

This is the most common plot dimension seen all across Bengaluru, It's highly preferred by the mid-income category hence these dimensions are always in demand.
Nearly 40 to 50% of these plots are of these sizes in layouts formed by the approval of BBMP BMRDA Gram Panchayat and BDA. One has to also note that one might also have an Option to by B Khata Sites which are generally much cheaper than sites in Approved layouts.
But there might be some risks for purchasing these of owning these properties such as Land might not be Converted, Land not approved for forming sites, It might be still under a green belt, No proper infrastructure, No Common amenities area created, Buildings might have deviations in construction, etc.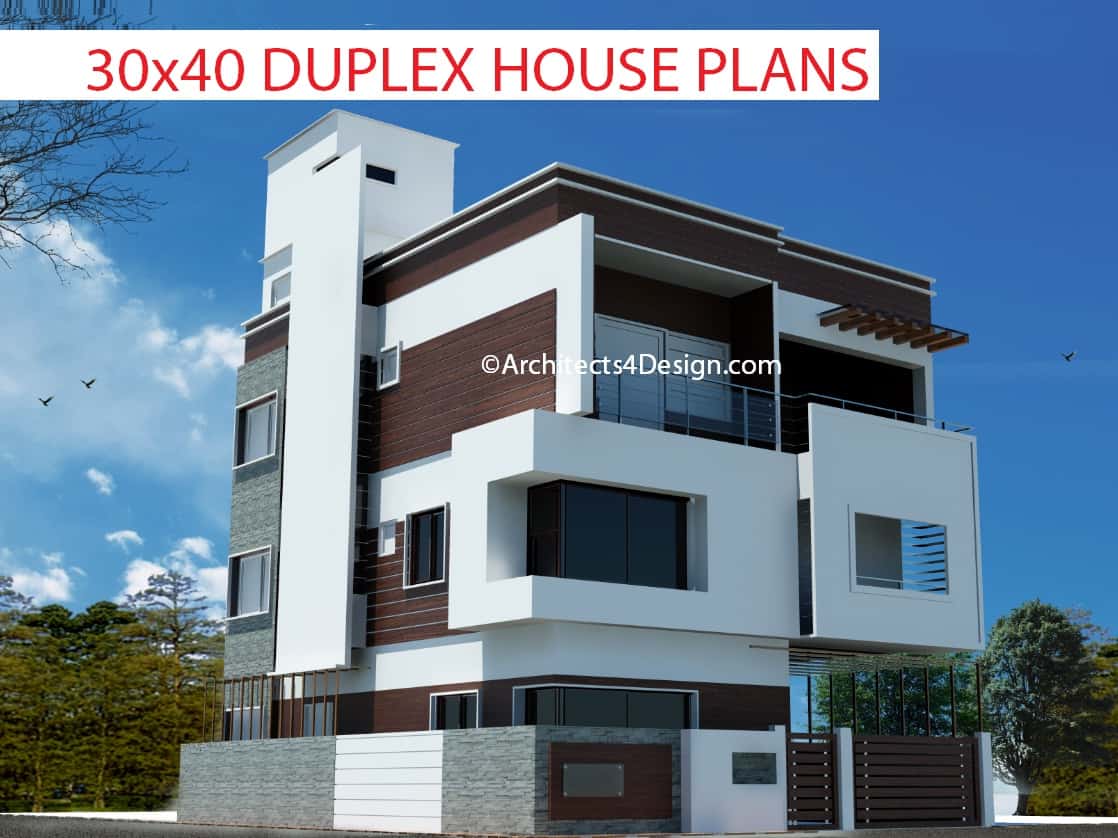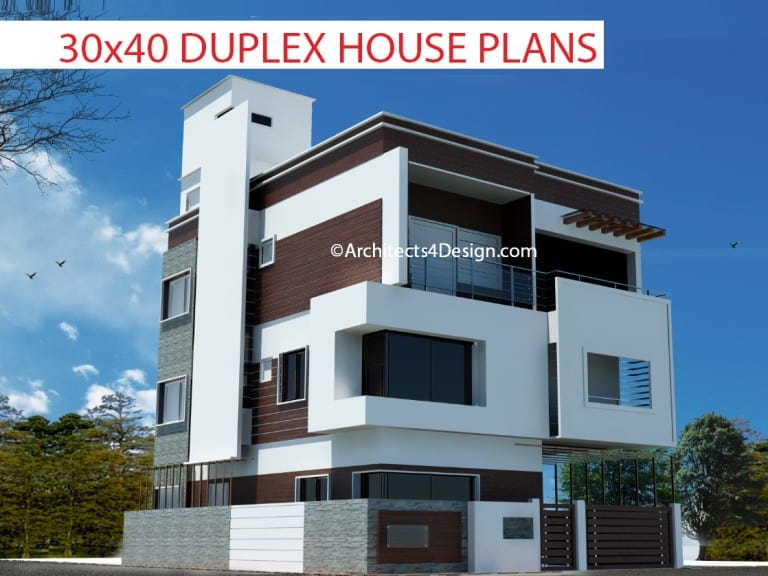 Generally, the current residential House construction cost for Duplex houses or Rental houses on a 30×40 site or 1200 sq ft area is explained below. If one is looking to Build a 30×40 Duplex house with decent Open spaces or Setbacks, this might be their best option as one can leave around 3ft setbacks on all three sides and 4 to 5 ft towards the roadside as per the Architect design. If you need to know more details then visit 30×40 construction cost page to read further details.
Having more open spaces always helps to have good natural light and cross ventilation. If building Rental houses, one can have multiple options on each floor like 3Bhk / 2 bhk / 1bhk x 2nos / Single Rooms x 4 nos. Different combinations of these options can be executed depending on the Kind of housing demands at the location.
DUPLEX HOUSE of  G+1 / G+3 / G+4 Floors Build Cost Rs 37lacs to 68 lacs.
BUA: 1800 sq ft to 3000 sq ft
Ground Floor: 1 Car park of 14'x17' area + Living room of 170+ sq ft for 8 to 10 seating arrangement + Dining area of 120 sq ft with space for having crockery unit + Open Kitchen with Storeroom and Utility for washing + Common bathroom + Guest room of 12'x10' sq ft + Pooja room + Internal staircase to access above floors.
First Floor: 1 Master bedroom of 14'x 12' size with attached bath + Family living of 140+ sq ft + 1 Small/large Balcony with minimum 5ftx10 ft or 50sq ft+ size + Smaller bedroom of 130 sq ft.
If Budget Permits one can continue with below requirements for above Floors.
Third Floor: 1 Master bedroom + Tv room of 13ftx19ft with 8 to 10 seating arrangement + Family room of 300 sq ft + Larger internal opening of 100 sq ft looking towards the below First floor + Balcony with 2 to 3 seating arrangement.
Fourth Floor: Gym area of 200 sq ft + Can have a provision for Bar area / Barbeque deck seating + Small terrace garden with a potted arrangement.
Note: The overall cost of building a residential Bungalow might be Rs 70lacs to Rs 1cr including the site cost.
As informed above the option of having Third Floor or fourth-floor having additional luxury amenities including the LIFT option again depending on the budget allocated by the Architect at the time of finalizing the House plans.
Hence it's always very important to finalize the floor plans and make sure whether the proposed project is fitting within the given budget. So that cost escalation during the construction stage is to the minimum.
RENTAL HOUSES G+2 G+4 G+3 Floors Cost Rs 40 to Rs 78 lacs
BUA : 2700 sq ft to 4350 sq ft

One can construct rental houses on a 30×40 plot with different design possibilities like 2BHK, 1BHK x 2 nos, Small 3Bhk with 10×10 rooms, etc.
If one is Building G+2 floors and above it's always recommended to provide the entire Ground floor for the parking area. The entire rental units are designed based on ROI (Returns on Investment) in today's scenario a 1Bhk can easily fetch a rent of around Rs 7000, and a 2BHK can fetch a rent of around Rs 10,000 in most parts of the city.
Ground Floor: Entire parking 8 to 10 two-wheeler parking (if building G+3 floors).

First Floor: Small 3BHK: Small living + 1 Bedroom of 10ft x 9.5ft with attached bath + 2 Small rooms of 10×9 + Kitchen + Common bathroom.
Second Floor : 2BHK : Living of 100 sq ft + Kitchen 80 sq ft + Common bath + 2 rooms of 10×11 sizes.
Third to the Fourth Floor: 1Bhk x 2 Nos : 1 living 105 sq ft + Kitchen 60 sq ft + Common bath + room of 10×9.
Note: Building the 4th floor would be a building deviation as the Plan approval can have only G+3 floors if the ground floor is shown as parking. But today we see structures that have built the 4th floor also, So it's always the risk for the Owner if he plans to construct the fourth floor which can later might or mightn't be rectified once Akrama Sakrama is implemented.
40×60 G+1 G+3 G+2 G+4 FLOORS COST to BUILD a HOUSE / APARTMENT on 2400 SQ FT SITE
Site Cost: Rs 73 lacs to 1.25cr

This is the best Plots to buy if you are planning to Build a 40×60 Duplex house, The main advantages of Constructing an independent Building on a 2400 sq ft is that one can leave adequate spaces right around the house which allows good natural light and ventilation.
The scope for an Architect to Design on such is much greater when compared to smaller sizes. One can also design landscaped gardens and other luxury amenities.
On such kind of sites, one will leave minimum setbacks of 4ft on all three sides and 6ft to 8 ft towards the road. The FAR for 2400 sq ft considering at 1.75 one can easily build 4200 sq ft.
The FAR can increase if the plot is facing a 60ft road. Building a Duplex house on can have a built-up area of around 3800 to 7000 sq ft is mentioned below.
DUPLEX HOUSE of G+3/G+4 /G+2/G+1 Floors Construction Cost : Rs 69lacs to Rs 1.30cr
BUA: 3800 sq ft to 7800 sq ft
Ground Floor: 2 Car covered park 300 sq ft + Landscaped garden + Foyer 90 sq ft + Living room 300 sq ft + Dining area for 10 seating + Pooja room + 400 sq ft Mater bedroom with walk-in closet with attached bathroom provision for shower enclosure + Spiral / Modern Internal staircase + Common bathroom + Second Bedroom of 300 sq ft + Island open Kitchen concept of 300 sq ft with Utility and Storeroom.
First Floor: Family Living of 400 sq ft with TV area + 14 ft x 7ft Balcony Overseeing the garden below + 2 Master Bedrooms of 360 sq ft each with attached bathrooms + Opening in Slab (Double height) at Living or Dining area.
(Below requirements are optional can be planned according to Budget)
Second Floor: 1 Master bedroom of 16ft x 18ft with attached power room walk-in closet + Slab opening overseeing the First floor Below + Family living area with a large attached balcony + Home Theatre with 10 seating arrangement + Guest Bedroom of 250 sq ft.
Third Floor: Terrace garden or Planter boxes + GYM area of 500 sq ft + Open bar counter with seating Deck + BBQ area + Semi-covered Jacuzzi or Steam sauna room + Solar provision.
RENTAL HOUSES / APARTMENTS G+1/G+4/G+2/G+3 Floors Building Cost : Rs 85lacs to Rs 1.90 cr.
BUA : 4000 sq ft to 9900 sq ft
Building rental Houses or Apartments or using it's of multi-dwelled units for Rent or Sale Purpose is possible on a 40×60 or 2400 sq ft plot.
If one is looking to Build houses purely for rental income or Roi's then it's recommended of G+3 or above floors having 2BHK x 2 nos on each floor with around 900 to 1000 sq ft for each unit, with a lift provision and a decent setback of around 3to4ft around the property which helps for Good natural and cross ventilation within the property.
In the other option of Build 4 Sale if one is planning to construct an Apartment complex of 3 to 4 salable units where one constructs a 3Bhk one unit on each floor. One needs to provide small common amenities like Security room at the entrance gate, Small kids play area, Small swimming pool, Terrace Gym area, a Common room of 300 sq ft.
Ground Floor: Security room + 5 Car parking spaces + Lift + Small play area for Kids + Small kid swimming pool.
First to Third Floor: 3BHK x 1 nos : Foyer at Entrance + 1 Master bed room 14ftx16 ft with attached bath + 2 rooms of 140 sq ft + Living room of 190 sq ft + Dining area for 6 + Open kitchen with utility of 60 sq ft + common bath room.
Fourth Floor: 2Bhk x 2 nos: Suitable of Rental concepts only: 1 living room of 160 sq ft + 2 rooms + common bath without shower + Small dining + Kitchen with small attached utility.
50×80 G+4 G+1 G+3 G+1 Floors COST TO BUILD A HOUSE on 4000 sq ft Site
Site Cost: Rs 1.4 cr to 2.5 cr

It would be a Dream for an Architect to work on these plot sizes of 50×80 or 4000 sq ft area as there is more than enough scope for implementing new and creative concepts while designing the House plans especially for Duplex houses.
The demand for these sites is high especially with HNIs who want their house to be built with good open spaces having all modern amenities that fit into their budget. The luxury amenities that can implement on such kind of budget and plot dimensions are landscaped garden, Portico, Swimming pool, deck area, Sauna, Professional Home theatre, Gym area, Bar counter, Terrace garden, etc.
One can get the best with respect to an Architectural concept in the House plans as one can leave sufficient setbacks and design the best elevation concept using the best cladding materials.
One can easily have a good 40ft road frontage for such kinds of plot sizes. The Cost to build Duplex house on 50×80 depends on the kind of footprint or sq ft area finalized at the time of final floor plan approval.
DUPLEX HOUSE COST on 50×80 Site Building Cost: Rs 1.20 cr to Rs Rs 1.9 cr
BUA: 7200 sq ft to 10,000 sq ft
Ground Floor: 3 Covered car parking + Garden with seating area + Portico overlooking the garden + Foyer with Shoe rack + Formal living of 300 sq ft + Informal living room 400 sq ft + Dining area of 10 seating arrangement + Open Island Kitchen concept with dinette + Utility with sinks + Storeroom area for groceries + Common bath with shower provision + Power room + 1 Master bedroom with pc table provision walk-in closet attached bath/shower enclosure + Architect designed Internal staircase + LIFT (if budget permits).
First Floor: 2 Rooms of 250 sq ft with bath shower enclosures + Family lounge area with cutout looking into the below G floor + Large Balcony overseeing the Garden below + Study room / Library of 200 sq ft for reading.
If Budget permits one can consider the below requirements.
Second Floor: Terrace Garden + Wooden deck with seating + GYM room of 300 sq ft + Covered Jacuzzi or Sauna room of 200 sq ft + Open Bar provision / Barbecue area.
RENTAL HOUSES / APARTMENT on 50×80 Site of G+2 G+3 G+4 Floors Cost : Rs 1.3 cr to Rs 2.40 cr
BUA: 7000 sq ft to 14,000 sq ft
Generally, not many people construct multi dwelled houses on a 50×80 or 4000 sq ft site in most cases it would be either a Single Independent house or an Apartment complex of 6 to 8 units. Hence below we are proposing different possibilities of building an Apartment on this site dimension. It could be either a 3Bhk x 2 nos or 2Bhk x 3 nos on each floor.
Ground Floor: Parking for 10 cars + 20 Two wheeler + Security room + Small play area + Swimming pool if required + Lift + External Staircase.
First to the Second Floor: 3 BHK x 2nos: 2 Master rooms of 180 sq ft with attached bath + One common washroom + Kitchen with utility.
Third Floor: 2Bhk x 2 nos : 1 Master bedroom of 10ftx14ft + Common washroom + Open Kitchen + Small dining area + Guest room of 10×12 / 120 sq ft.
BUILDING A HOUSE ON B KHATA / REVENUE SITES





Site cost:

20% to 30% Cheaper when compared to A khata properties in the same location.
Generally, layouts formed by BDA (Bangalore Development Authority) will come under A Khata because they have all land conversions and follow government guidelines while formation of layouts like leaving Open/Reserved areas for formation Parks, Playground, Kids play, Civic Amenity (CA sites) reserved for Schools, Colleges, Library, Marriage halls, etc.
There are many Builders and Developers who are involved in the formation for a layout in some cases these developers might not follow the proper government guidelines issued by government authorities.
Such as BBMP ( Bruhat Bengaluru Mahanagara Palike) / BMRDA Bangalore Metropolitan Region Development Authority / BDA (Bangalore Development Authority) / KIDB (Karnataka Industrial Areas Development Board) while developing the layouts like Land conversion, DC Conversion, Leaving open spaces for parks and playgrounds, reserving CA site, Appropriate road width, etc.
In such cases, these are Termed as B Khata properties, As the Khata is issued by BBMP after paying property taxes. Owners of such properties might find tough to a Home loan / Composite loan from Nationalized banks like SBI, Canara Bank, etc

In such cases, the owner might need to approach private banks such as ICIC Ban, HDFC Bank, etc for getting the loans at higher interest rates when compared to Nationalized banks.
One might also see a lot of building deviations with respect to Adding additional floors, Leaving minimum or no parking area, No Setbacks, Constructing more no of houses then approved, Deviating from Plan Sanctions given from BBMP BDA BMRDA KIDB or Gram Panchayat, No rainwater harvesting, Utilizing for Commercial purposes.
Hence considering all these points the Owner or the Client has the option of purchasing a B Khata site at 20 to 30% cheaper when compared to A Khata plots in the same location. One of the advantages of B Khata is that the Land purchase cost is much cheaper and one can do building violations easily.
So, It's up to you to Decide on What type of Property you need to Buy considering all the pros and cons.
What is the Cost for Building a House in Bangalore? Use our Building Construction Cost Calculator Tool to know your Budget
What is a construction cost calculator tool?
A Calculator tool is a software that uses algorithms and various information from the client's end to suggest the approximate cost of constructing a building.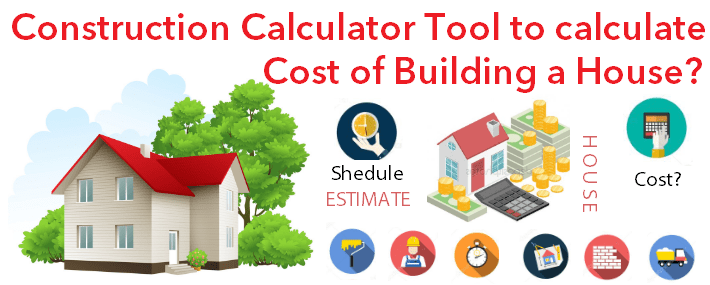 A construction cost calculator is a DIY tool that is designed to be intuitive and manageable by people with the least technical acumen.
" Click on the Below image to use the Calculator tool "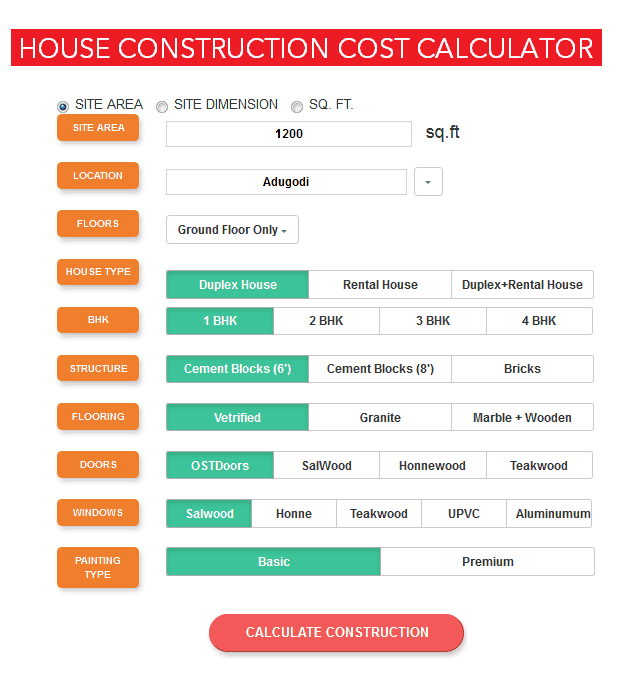 Before using the software, the user should have specific information handy such as the location of the site, the area of the plot, the type of materials they want to use for the doors, windows, and flooring, kind of house, no. of floors, and no. of BHK.
Once you have all the information, the process of cost calculation takes less than a minute. Follow the step below to calculate the cost of building your residential building.
Procedure for Using the Cost Calculator:
After you have visited the page, the interface of the website is simple and it displays the cost calculator tool. One can easily notice various fields or input areas that are marked in Orange, Green, and White. The fields marked in Orange color are the various parameters that one needs to fill or choose as per his requirements.
The Green mark indicates the various variables that you have selected except for site area, location, and no of floors, where your selection is only indicated in White. Follow the instructions to fill out each parameter accurately.
SITE AREA:
There are three ways you can fill this information by toggling on SITE AREA, SITE DIMENSION, or SQ. FT.
If you toggle-on site area, you can manually type the area of your plot. If you toggle-on site dimension, you can select the size of your site from a drop-down list, or you can toggle-on sq. Ft. to choose the area of your plot from a drop-down menu that displays area starting from 400 sq. Ft. to 20,000 sq. Ft.
Once you have provided the information, you can move to the second parameter
LOCATION:
In this input, one has to provide their property location of his plot or choose the appropriate locality from the various locations from the dropdown. This information is used as a location input to suggest the estimated cost of the building.
Filling this input area accurately is critical as the cost of the plot varies from one location to the other. If one fills the wrong area, the estimated value may be completely different from the actual price. Hence, always choose the correct location where you wish to construct your home.
NO of FLOORS:
The next step of the process or parameters is to choose the number of floors or levels that you want to build. Again you need to choose the correct option from the drop-down menu. By clicking on it which will show the various parameters.
One will have to choose from the four options – Ground Floor Only(G), Ground+1 Floors (G+1), Ground+2 Floors (G+2), Ground+3 Floors (G+3), and Ground+4 Floors (G+4). Depending on the number of floors you want to build in the home, choose your appropriate option.
For example, if you're going to build a ground floor and another one level on top, choose the option Ground+1 Floors (G+1), and so on.
TYPE of HOUSE RENTAL / DUPLEX HOUSE:
Here, one needs to choose the type of home he wants to build. A residential building is mainly of two types Duplex or Rental or a combination of both duplex + rental home.
A simple duplex house is of 2 or more floors in a building with an internal staircase that connects both the two levels.
Whereas, a rental home is built to rent out several units on the same floor or multiple floors.
A Duplex + Rental is the combination of both such units, where the first two floors may be a duplex, and the remaining levels such as three and four, might be rental or vice versa. One needs to select the type of home you want to build and move to the next option.
SELECT 1BHK/2BHK/3BHK:
The abbreviation BHK stands for Bedroom, Hall, and Kitchen. In this section, one has to select the number of BHKs you want in the residential building to be constructed.
The cost calculator provides you with four options – 1BHK, 2BHK, 3BHK, and 4BHK. Each option is essential and must be chosen precisely to obtain an accurate estimate.
Selecting the wrong value in any of the alternatives will completely throw away the cost estimate, and all the effort will be futile.
STRUCTURE BRICK/ CEMENT BLOCK:
In this option, one needs to select the building materials that will be used in building the structure of the house. As the cost of different types of materials varies, this parameter is significant in the cost estimation process.
The options available for one to choose are Cement Blocks (6'), Cement Blocks (8'), and Bricks. It is advised that before you decide on the type of material you will use, consult with your architect or if you do not have one, give us a call.
Some materials may cost you less upfront, but the maintenance cost will be high, whereas some materials cost more initially but require very little maintenance.
FLOORING VITRIFIED/GRANITE:
After you have selected the material for the structure, next, you have to choose the material for flooring. The options available in the cost calculator are Vitrified, Granite, and Marble + Wood. Select the type of flooring you want in the house.
DOORS:
Similarly to the flooring option above, one can also select the material options for the doors for your home. Some materials may cost you a lot more than others but will be more durable and can last the whole life of the building, whereas, others are cheap but might require regular maintenance. Do your research and select the option.
The cost calculator provides options such as OST Doors, Sal Wood, Honne wood, and Teakwood.
WINDOWS:
Like the doors, you also have to select the materials for the windows. In the cost calculator, you have options such as Sal Wood, Honne, Teakwood, UPVC, and Aluminum.
PAINTING TYPE:
The last in the list of parameters you need to fill is the type of painting you want on the house. The options available with you are basic and Premium. Select your choice.
After you have filled all the parameters, click the red button that says " CALCULATE CONSTRUCTION COST" and scroll down for the total estimated cost of construction. Scroll further down for a detailed break-up of the construction cost based on the various stages of development.
Building a House? Know about the factors that influence the Construction cost during building construction
The process of House construction:
The process of House construction in Bangalore includes getting an accurate Cost estimation done pretty early as it's necessary before you decide to start your home construction.

It's essential in the process of budget planning/cost estimation. One should have an accurate cost estimate even before any physical work stats on site as it allows you to plan the budget more accurately, which in turn provides your project financial stability and wards off any mid-project financial problems.
The accuracy of the cost estimate is vital as an inaccurate cost estimate can be futile for the project. For this purpose, you need to identify the factors that influence the cost of a building to arrive at an estimate.
Although one might come across numerous factors that can affect or influence the construction cost of a project, we will consider the top six that constitute a majority of the price.
As the process of cost estimation is complex and requires expertise in the field of construction, we advise that you hire an Architect to perform this pivotal part of a project.
Here are the top 6 factors that influence the cost of building a house:
Location and Current Condition of the Site:
If you are yet to purchase a site or plot, Then you need to know that the location also plays an essential role in the total cost of the project. As you must be aware, the cost of land varies from one part of the city to the other.
Suppose a piece of land in HSR layout will differ significantly from a piece of land in K. Narayanpura. In some areas, the cost of the plot will be a large chunk of the total cost.
Therefore, consider the location and the market value of land for the site. One needs to be wise in taking this critical decision and make sure that you have sufficient budget left over for the construction of the House after purchasing the site.
The condition of the site is another essential factor. It can increase or decrease the cost of construction. Depending on the state of the land additional work may be required to bring the plot to a condition where development activity can be initiated such as the site can be in a wetland.
Other site conditions that can influence the cost are buried storage tank in the location, poor soil condition, loose soil, overhead lines, dumped earth, existing bore well or natural well, conflicting utilities, road width, etc.
The role of Architects before and during Building Construction:
Like any other profession, there are different types of civil professionals with a different level of expertise and skill set. Some Civil engineers and Architects are highly qualified and reputed; they will charge a considerable sum of money.
The trick here is to determine the right Architects for your getting your house pans designed and constructed under his guidance. He needs to also help in appointing all the right contractors and consultants required during the project.
Hiring, a very reputed Architectural firm that charges more than 4% on the project cost to build a simple residential building is not wise. Instead, One should hire a professional or an experienced freelancer who has completed similar projects to the one you are about to start.
During the initial meeting with him, one can enquire everything about his previous works and experience including the fees and if they have a contractor in mind. Most of them prefer to work with contractors they have an association with previously, as it's easy for them concerning project coordination.
There are generally three ways an Architect charges the fees for a project fixed lump-sum, a percentage on the overall project value, and an hourly basis.
In a fixed sum, he considers the responsibilities and provides you with a fixed price; on the percentage basis, they charge a percentage of the total cost of the project. As per regulations, one cannot charge more than 5 percent of the total cost of the project.
On an hourly basis, one's charges depend on the number of hours they spend working on your project – drawing designs or onsite.
Cost of Building and Construction Materials:
The cost of materials is another factor that weighs heavily on the total cost of the project. When we talk of the cost of materials, it includes the tax levied, transportation cost, and any other additional cost incurred to get the materials to the site.
The distance between the site and how close the source of construction or building raw materials is, can also increase or decrease the project cost. It's always recommended that you choose to purchase materials from a vendor that is closest to the site;
It will significantly reduce the cost of materials. In addition to being cheap, if the materials are easily accessible, they can be bought easily in case the stock depletes.
One would not have to halt the project due to a lack of materials, which may add to the cost in the form of idle equipment and labor charges.
Labor Charges:
The wages of labor can vary from one location to the other. Depending on the size of the project, you may have to bring the workforce from other parts of the country, which can increase the cost of the project.
Apart from the remuneration, labor charges also include the food, lodging, and other facilities you have to provide to the workforce.
If the cost estimation is done several months before the start of the construction.
The wages of the labor may have fluctuated due to various external factors such as minimum wage revision by the government. Hence, consider the current cost of labor when the actual construction begins.
Market Inflation and Economic Factors:
As we mentioned earlier, the process of cost estimation is complex, and several things can go wrong.
Moreover, most of these things are not in our control. Economic factors are one of the essential aspects that can change the cost of a project. Economic factors such as inflation, where the price of goods can rise will have an impact on the value of the project.
Due to inflation, the cost of materials, equipment, labor, and tools can vary during the project.
Duration of the Project:
The size of the project and the period it takes to complete the project can also have an impact on the cost. If a home project is completed quickly that can decrease the cost, whereas, if a project takes a long duration to complete that can also increase the cost of the project.
Hence, it is necessary that you follow the specific deadline of the project.
These are the top 6 factors that influence the cost of building a house, as the process of cost estimation is complex.
We recommend that you hire an Architect who can provide the necessary recommendations and take the burden of cost estimation or reduce the chances for a possible increase in cost escalation.
How can Architects Help in Reducing the Construction Cost in Bangalore during building construction?
Most people think of Architects as an additional cost or something for the rich and famous with fancy desire.

However, that is not true at all. An Architect helps reduce the cost of construction in several ways – directly and indirectly.
He acts as a guardian and an experienced guide for while building your house, He oversees every house construction activity proceeds as per the final plan/concept and completes the predetermined budget estimated before the start of the project.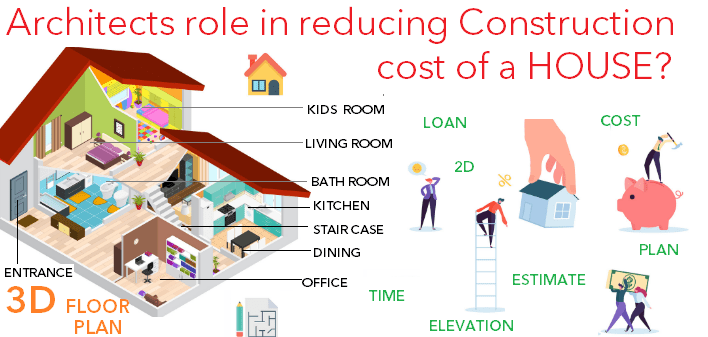 He coordinates with the selected building contractors and discusses his rates, even bargains the charges of the contractor on your behalf. He ensures that the design obtains the necessary permissions from various local government bodies like BBMP, BDA, KIDB, BMRDA, Gram panchayat, etc.
Apart from these responsibilities, he also ensures that your home is completed in time and as per the right specifications without compromising on the quality of construction. He advises changes and redraws the design to eliminate problems that arise during your home construction.
On top of all this, an Architect also reduces the cost of construction, which we will focus on in this article. Here are the top reasons why you should hire an architect and save money in your construction project.
Improves Health and Quality of Life:
An architect designs and constructs a house that the residents enjoy living within. He creates beautiful interiors and thoughtful designs that elevate the experience of living in the house, and the holistic well-being of the residents.
An Architect follows all the safety measures to ensure that the house is safe to live. He ensures that the home has proper ventilation and adequate natural light. The various rooms within the house need different levels of light; the architect keeps this in mind.
A house designed with the right HAVC systems, acoustical properties, and light levels ensures that your ears, eyes, and the body remain healthy.
A poorly designed house can also cause physical danger to the residents. Professional plans safe spaces that prevent falling and trapping. With all these health benefits, the architect helps you cut costs on medical expenditure and thus, saves money.
Reduces Construction Cost:

He can help reduce the cost of construction in various ways. He ensures that the project does not exceed the predetermined budget.
He designs efficient floor plans, provides cost-effective materials choice, and simple home designs. Apart from these activities, there is so much more an architect does to reduce the cost of the building.
An excellent way to reduce the cost of a project is during the designing stage. The Architect changes the scope of the design; It's so much easier to reduce the cost before construction when the walls and the foundation has been constructed.
Architects do conduct regular meetings with all the contractors appointed to work for the project and other parties involved in the construction to discuss the fees. He negotiates with them using facts and previous experience to bring down the fees charged by them.
He also ensures that the project is completed as per the plan. If a project takes too long to complete the cost of the project can increase.
Architects also help you plan and get approvals from various authorities to construct the building. This enables you to avoid any unnecessary fines after the project is completed. The Architect ensures that the workers are performing as directed which can help prevent any mistakes and problems during the construction and saves you money.
Improves Productivity and Functionality:
We often fail to see the time saved as money gained. Architects can save you time performing various activities within the house to enhance your productivity and as you will spend less time accessing multiple parts of the house.
One can use this time to perform other activities such as work, which can help you achieve better at your job and earn more.
An Architect who is good at what he does can design spaces within the house in a practical manner which will allow you to access the various parts of the house quickly. He will utilize the space more thoughtfully.
So everything within the home is easily accessible, and you do not have to walk from one end of the house to the other to access the bathroom or the kitchen.
Here are a few ways How the Architect can help increase your productivity:
• In the kitchen, the Architect will understand how you will be using the space and minimize the distance between appliances so you can cook efficiently.
They will create a design that will provide you with more space for storage within the kitchen.
• If you spend too much time on specific tasks such as laundry, the architect will provide space for the dryer and the washer, so you spend less time traveling to the washer and the dryer after using the laundry.
• If you like getting up early in the morning or work at night and want to wake up late in the afternoon, then, he will place the bedroom in the east, where the sun can hit your bedroom early, or in other direction so you can have a sound sleep and not be disturbed by the sun.
An experienced Architect will think of everything while designing the house to increase your productivity and efficiency within the home.

Reduces Maintenance Cost:

The total cost of the project is only 25 per cent of the lifecycle cost of the house. Hence, to reduce cost, it is essential that you try to cut the remaining 75 percent of the cost of the project.
He can suggest materials that might cost you higher upfront but will save you money in the long-run in the form of reduced maintenance costs.
Increases the Resale Value of the House:
Architects design the house, keeping all things in perspective – amenities, adequate water supply, proper drainage, aesthetics, etc. Due to this, the resale value of the home increases.
Having an architect design the house is a good investment. Studies have shown that a house designed by an architect is much easier to sell and achieves a higher amount than a home that is not developed by an architect.
Building a House depends on the demand and supply in the real estate market
The cost involved in building a house in Bangalore including labor and material is priced around Rs 1350 to Rs 1450 per sq ft. Mumbai, Delhi, Chennai, Hyderabad, and Kolkata are important metropolitan cities of India.
Obviously, day to day living is more expensive in these cities in comparison to that of the other cities. But every coin has 2 sides and so do these cities. Though they are expensive, they provide a lot of opportunities for earning daily bread to millions of people.
However, owing to a large number of people migrating every day into these cities, the current cost of building a house Bangalore depends on the real estate industry seems to be shooting up. It is next to impossible to find accommodation within budget in this city.
It has turned into a nightmare. The architect's role is to plan and design house plans which can reduce the cost of the building to a certain extent.
The current Cost to Build a House is Rs 1400 / sq ft onwards
The current construction cost to build a house in Bangalore is Rs 1500 to Rs 2400 / sq ft. There is no denying the fact that real estate prices are touching the sky all over the world. Of course then, in the metropolitan cities, the prices of real estate will be much higher. This city capital also faces a similar kind of brunt. This is a situation beneficial for some and worrying for others.
The construction cost in Bangalore is increasing skywards day by day. For instance, the builders are sure to make a profit but the buyers are definitely going to be in a crunch.
Unless one has bundles and bundles of money, it is not so easy to buy property in a metropolitan city. Even though the sky-rocketing rates have shot down a little, it isn't enough for the common man, yet. Whether one wishes to buy residential or office space, one has to scratch their head over it for ages. There is going to be oodles and oodles of research involved before buying a property.
The construction cost of a House majorly depends on the real estate market
The Residential building construction cost has seen a 10% rise in the past few years due to the demand of the real estate market. The research will involve asking all sorts of real estate agents in the market, and not just asking but asking the right questions is very important.
Building construction cost in Bangalore will give you some insights into the property rates. Just relying on these agents won't be helpful; you should also use the internet. Gobble up all the information available on the internet. Then, mix and match the information you have received from the estate agents and the information that is there on the net. You are going to construct property and hence, all such knowledge is of absolute importance.
Building House Construction cost has increased by 10% in the past year
Building construction cost Bangalore has seen an unprecedented increase in the construction cost, The cost of the building depends on house plans, residential building elevations, and market conditions. Make a record of all the items that will be required to construct the house.
The current House construction cost in Bangalore will always depend upon these items. Thus, after the research has been done, if you are using antique pieces or materials such as Italian marble then make sure you calculate these materials as well. These days, one ought to spend somewhere around 17, 00 per square feet in order to build a house in Bangalore.
This is a rough estimate of an unfurnished house. The cost will increase 2 folds if one is looking for a fully furnished construction including interiors.
Come what may do not rely on rough estimates. You need to be specific. Hence, all the minute details such as area, materials and the number of materials have to be accounted for. And one can definitely not leave out labor charges and transport costs. All of this is very important and hence, has to be kept in mind when looking at the average cost of house construction.