CONSTRUCTION COST FOR BUILDING A HOUSE ON 20×30 30×40 40×60 50×80 30×50 30×60
Do you need to know the Construction cost in Bangalore for building a Duplex house or rental house on 20×30 30×50 30×40 40×60 50×80 of G+4 G+2 G+1 G+3 floors? This article explains the cost of construction for building a house in Bangalore.
The Basic House construction cost for G+2 floors is Rs 1500 per / sq ft to Rs 1700 per sq ft. The cost is based on various factors and selection of materials suggested by the selected Architects hired to design the project.
One can build Independent Duplex houses on plots approved by BBMP or BDA (Bangalore Development Authority). The measurement of the site will be 1200 square feet. It is also popularly called a 30 x 40 site. You can find 70% of the plots in Bangalore to be of the size of 30 x 40. 25% of the plots are 2400 sq. ft and above.
These are also called 60 x 40 plots. Below are details to Know the current Cost to Build a Duplex house or Rental floors in different plot dimensions.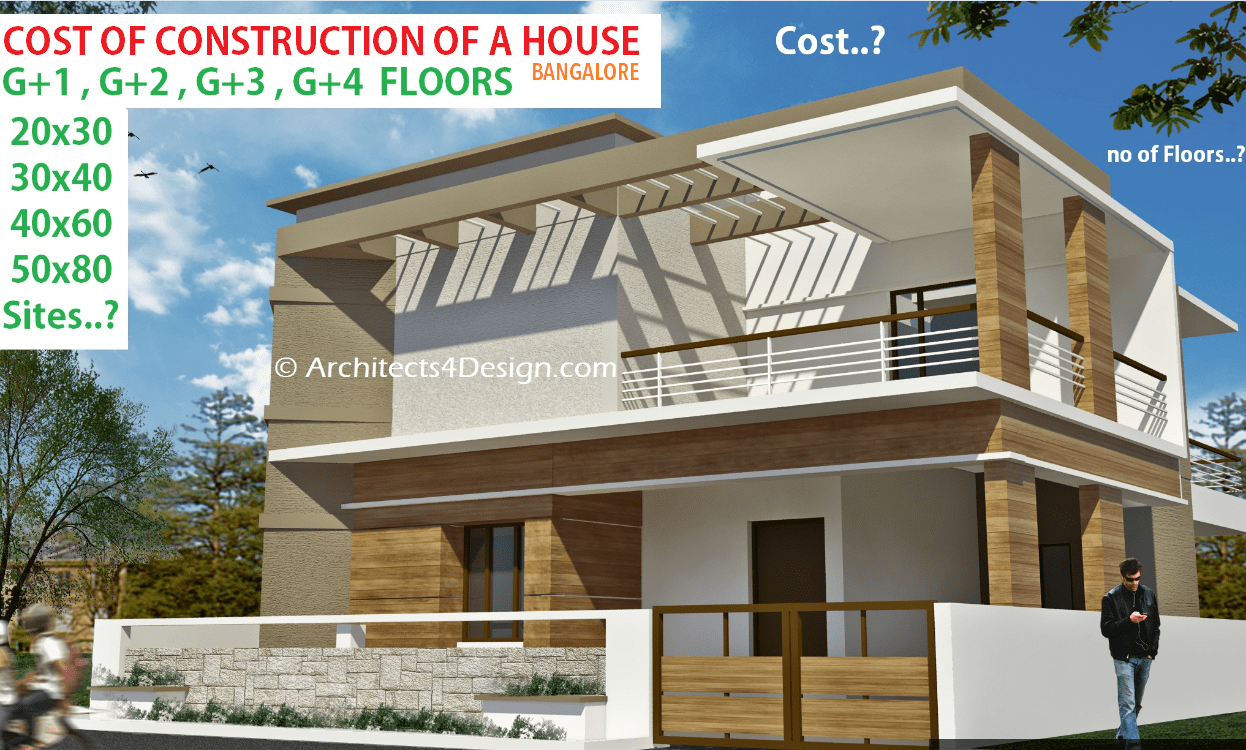 Know about the current House construction cost in Bangalore on 20×30 30×40 40×60 50×80 30x50x 40×50.. for building a Rental or Duplex house of G+1 G+2 G+3 G+4 floors 
What are the Different Plot Dimensions available in Bangalore..?
20×30 Site or 600 sq ft Plots

Generally, most of the 20×30 Sites are allotted by BDA (Bangalore Development Authority) are allotted to Lower-income groups.
In Bangalore, one can come across 20*30 plots where they don't leave Setbacks and Follow the wall to wall construction.
These small sites generally have narrow roads within 18 ft to 25 ft Depending on the Layout master plan design.
Cost of Construction for a 20×30 Site for G+2 floors varies from Rs 25 lacs to Rs 35 lacs.
30×40 Site or 1200 sq ft Plots
These are the most sought-after site dimensions in Bangalore, As there is a huge demand by Mid-income families.
Nearly 60% of all Sites formed across all layouts in Bangalore are of 30*40 dimensions. One can design and Construct a Good Duplex house of 3Bhk or 4Bhks on these 1200 sq ft plots.
Generally, these Sites have a minimum of 25 ft to 30 ft roads and are Planned with a Descent setback of 3 ft on all sides. As per BBMP or BDA Bylaws, a 30*40 Site can have a Built-up area of around 2100 sq ft at 1.75 FSI or FAR.
Construction Cost in Bangalore for 30×40 Site G+2 Floors varies from 40 lacs to 55 Lacs.
40×60 Site or 2400 sq ft Plots
These 40*60 sites are mostly affordable for Upper middle calls, and The road dimensions vary from 30ft to 60ft width. One needs a Budget of Rs 45lacs to Rs 1.2 cr for purchasing a 2400 sq ft Site in and around Bangalore.
In terms of Planning, these sites can have the Best duplex houses designed for 3bhks up to 5bhks with adequate parking with good landscaping.
Most of the city's Layouts have around 15% to 20% of these Plot dimensions, which BDA, BBMP, or BMRDA approve, etc. Many unapproved layouts or B Katha Sites are typically not formed based on the Bylaws from their respected authorities.
In these cases, you will come across sites that have less than 3ft road width.
Construction cost for G+2 floors on a 40×60 site varies from Rs 55lacs to Rs 1cr.
50×80 Site or 4000 sq ft Plots

Generally, Most of the Approved layouts are designed to have a maximum of 5% to 10% of these Site dimensions as few can afford them.
These plots have a good road width varying from 40ft to 100ft. The FAR/FSI for these 50*80 Sites is about 1.75 to 2.25 as per BDA or BBMP Bylaws.
Most of these Plots have Independent Houses / Multi-floor apartment complexes. Architects have the Freedom to design good Duplex houses on a 4000 sq ft site, As there is ample space for planning all kinds of needs required by the Client.
The Cost of Construction for a 50×80 Duplex house varies from 1.2 cr to 1.5 cr.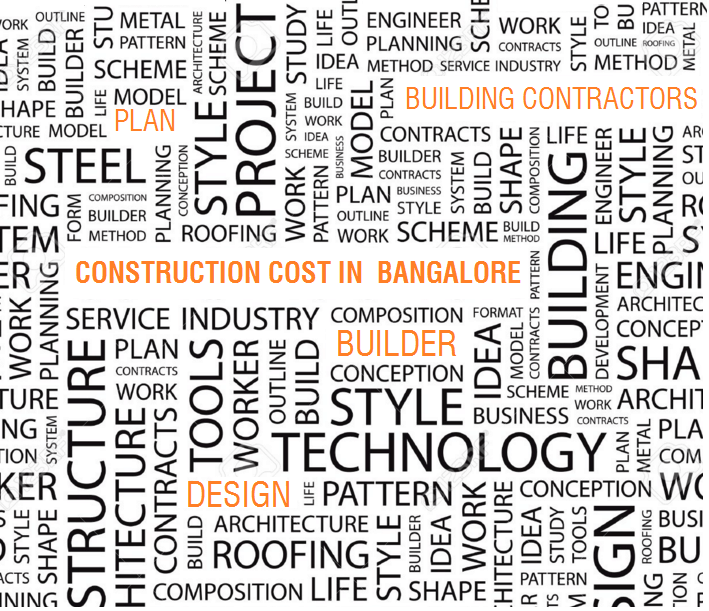 The Cost to Build a House in Bangalore of G+2 or G+3 floors..?
Bangalore is one of the fastest developing cities in India. Because of the great success of the city's IT sector, there is a great craze for commercial property and residential property. You can find many serviced apartments as well.
Due to the cleanliness, Bangalore is the most preferred city in India.
The Cost to Build a House in Bangalore varies Rs 1600 and Rs. 1900 per square feet. It is a planned city, and the expansion is taking place in a well-planned manner. The pleasant and comfortable climatic conditions make it one of the best places for work and residential purposes.
If you would like to construct a new house, you should know the current Building contractor rates for building a residential house.
The construction cost has increased in the recent past because of the booming real estate cost. It is easy to find buildings at cheap rates on the outskirts of the city.
If you would like to Cost to build a new house in the prime locality, the cost would be between Rs. 2500 to Rs. 3500 per sq. ft. Middle-class people occupy a large portion of the city. You can construct villas, independent houses, penthouses, apartments, and duplex houses so that your housing needs will be fulfilled in a very efficient way.
What are the factors which influence the Construction Cost..?
You should be aware of various factors which influence the house cost of construction. If architects design the elevation, there will be an additional cost. The cost is dependent upon the house plan and features.
The shape and size of the building will have an impact on the construction cost. If you go for very high-quality materials, the construction cost will go up.
Before constructing a house, the site should be prepared. You should want to hire engineers and contractors to develop the site. The services of architects and labourers must be evaluated very carefully. If there is more stress on finishing quality, the cost will also increase.
The construction cost has increased due to the increase in service tax. For new constructions, you are required to pay service tax at 12.36%. Based on the budget, you can choose the plans and features so that the construction can be done as per your expectations.
You should hire a reliable contractor to execute the contract as per the terms without any issues.
If you go to G+2 houses in Bangalore, the total constructed area will be 800 sq. ft. (ground floor) + 1000 sq. ft. (1st floor) and 1000 sq. ft (2nd floor) = 2800 sq. ft.
If the cost of sq. ft. is Rs. 1400 (Basic), the construction cost of a G+ 2 Residential house will be Rs. 39 lakhs.
How to Calculate residential Construction cost for 20×30 30×40 40×60 50×80 Site/Plot for Building G+1 G+2 G+3 G+4 Floors?
We have reiterated the significance of estimating the cost of building a home time and again. And still, we will do it one more time because it is vital for a project. A cost estimate helps plan the budget of the project.

Click on the image to use the calculator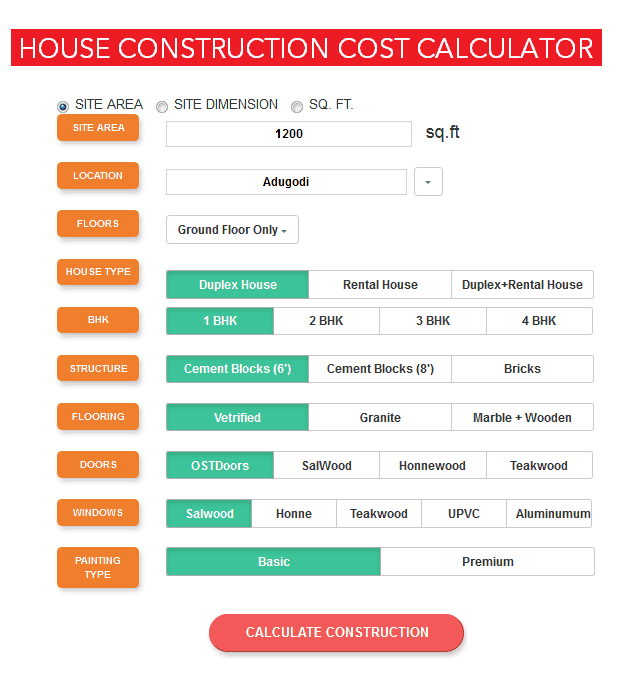 Knowing what the project will cost allows you to arrange for the appropriate funds and decide the building you want. You can also change the cost of the building once you have the final cost of construction.
The process to determine the cost of a building is complex; you have to consider a wide range of variables.
Even so, you may not achieve a final cost. A professional such as an architect is educated and experienced in cost estimation and can perform the task on your behalf.
However, there are other ways to estimate the cost without all the hassle and calculations, using the cost calculator.
The cost calculator is a smooth and easy-to-use solution that provides you with a cost estimate for your project within seconds. The tool does not just give the total cost of the project, but a break-down of the entire value into various construction sections such as:
Total Super Structure Cost.

Total Steel Structure Cost.

Total Roofing Cost.

Total Wall Construction cost.

Total Tiles Cost.

Total Wood Work Cost.

Total Plastering Cost.

Total Flooring Cost.

Total Painting Cost.
Once you have obtained all the information regarding the cost of a project, you can alter the materials and other construction factors to achieve the cost that suits your budget.
What is a Construction Cost Calculator?
A cost calculator is software available as an interface on our website. The software uses advanced algorithms and various other parameters required for building a house. These details help you in calculating/suggesting the approximate cost of building a house in Bangalore.
With this tool, cost estimation is greatly simplified, making the task easy to perform by even a novice who does not have a technical understanding of the construction industry.
The tool requires the user to input information such as the location of the site, type of house, no. of floors, painting type, materials used in the door, window, flooring, etc., to calculate the project's estimated cost.
The software also uses regularly updated information on the price of land, materials, labour charges, amongst other variables, during the process of ascertaining the cost of building your house.
Factors Considered by the Cost Calculator:
After dedicating decades to the construction industry, the leading Architects, structural engineers, and building contractors collaborated to develop the software. This software considers the essential factors that influence the cost of a project. Let us look at the top eight factors considered by the cost calculator to estimate a building's value.
LOCATION OF THE SITE:
The location of the site is one of the essential factors while estimating the cost as the price of land varies from one location to the other. The cost of building a house in a posh locality will be much higher than in the outskirts of the city.
We have a dedicated team that continuously monitors land prices across the city, including changes in the cost of materials and labor cost.
TYPE OF HOUSE:
Depending on the kind of house you want to build, the cost can vary. A residential building can be categorized into three main types – Rental, Duplex, and a Hybrid combination of duplex + rental. A duplex house is two floors with a connecting staircase leading from within the home.
A rental house is an apartment with all the apartment facilities; this is constructed to rent. Depending on the type of residence, the estimated cost of the building can fluctuate.
NO. OF FLOORS:
Based on the number of floors you want to build, One can choose no floors like G+1 G+2 G+3, or G+4.  the software calculates the materials and labor charges. It uses this information to suggest the most appropriate cost of construction for your building.
TOTAL AREA OF THE SITE(sq ft):
The site area is also an important factor based on which the cost of construction increases or decreases. If the construction area is substantial, resources required to construct the house will be more such as duration of labour on a site, the fee for hired equipment, materials, etc.
Whereas, if the area of the site is small, the resources required will be less. Hence, the cost calculator also uses your site area as a factor to determine the total cost of the project.
No. of BHK:
Similarly to the above factors, the number of BHK (1Bhk 2BHK 3BHK or 4BHK) you want to build also increases the cost of the house in terms of the duration the project takes and materials required.
DURATION OF THE PROJECT:
The software has an inbuilt algorithm that decides the period it will take to complete the project based on the information you provide, such as the no. of BHK, type of house, size of the plot, and the number of floors.
Depending on the duration, the tool automatically calculates the number of hours the labour force will work on the project and uses this information as a factor in the final cost.
LABOUR CHARGES:
The cost calculator app is regularly updated with data on labour remuneration in different parts of the city. Based on the information you provide, such as the location of the plot, size of the plot, no. of floors, BHK, and type of house, the software calculates the hours and number of labor will be required to complete the project.
This information is calculated into the final cost of construction.
COST OF BUILDING MATERIALS:
The software also factors the material choice and its value for flooring, door, and windows in the house.
Using these metrics, the construction cost calculator helps to determine the cost of building a house in Bangalore. For more information and assistance, you can consult one of our architects who will lay down your house plans.
How Architects save on Construction cost while building a house in Bangalore
In general, Architects have possessed unique creative skills and years of experience in offering benefits to a specific project. There are several different ways wherein Architects could restrict the construction costs involved in constructing a house few of which are mentioned below.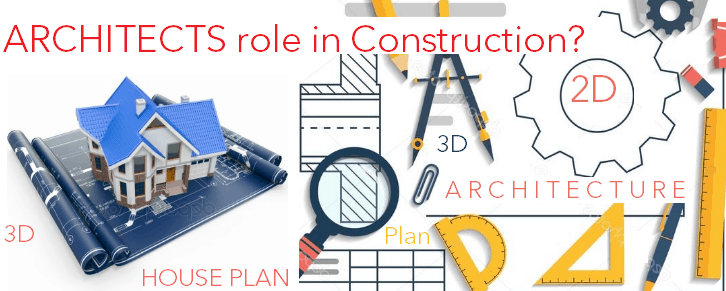 ADVANTAGES OF HIRING ARCHITECTS FOR DESIGNING:
An authentic and reliable Architect would always make sure there are adequate air and ventilation within the interiors. It is also beneficial in reducing strain to the eyes and prevents glare.
.
 A well-equipped space containing a proper HVAC system, lighting patterns ensures our body is in a healthy condition, thereby reducing medical expenses.
.
He focuses on designing buildings that are free from falling, slipping, and tripping. It is closely related to eliminating the risk factors associated with it, thereby cutting down medical costs.
.
The planned Spaces are created, which could provide easy access for the guests. It helps enhance the comfort level with optimum safety. One can save money on expensive renovations.
.
Their experience will assist the clients in improving the value and saving money via enhancing productivity and efficiency. They help in placing appropriate layouts and functionalities in an optimized way.
.
A major benefit of the personalized layout is that it allows people to divert their attention in spending quality time with their friends and relatives.
.
If spaces are properly utilized, overall square footage can be reduced and ultimately cutting down maintenance and construction expenses.
.
SOME OF THE BEST WAYS TO IMPROVE PRODUCTIVITY ARE AS FOLLOWS:
Architects place layouts that would minimize the gap between appliances and spots where one spends most of their time.
One can develop a layout that is capable of harboring storage space.
.
An architect does help in locating a spot that is meant to wash and dry clothes. It is instrumental in narrowing down the total distance taken to travel from one place to another.
.
Designing and developing energy-efficient buildings that consume less energy.
.
Construction costs could be reduced to a great extent if the Architect emphasized picking cost-effective materials, appropriate floor plans, and simple yet elegant designs.
.
Optimum performance is ensured through cost analysis along with performance related to assembling walls and materials.
.
CREATE A ROUGH SKETCH OF A BUILDING:

During the initial stages of creating concept plans, the Architect concentrates on developing a rough sketch structure. This helps the clients keep track of the cost involved at the time of constructing a house.
Unnecessary assumptions can be avoided by putting forward a systematic and up-to-date series of construction drawings.
If the client can comprehend the actual price of a project before the commencement of construction, it's helpful for them to conclude whether to proceed with the project or not. They have the option to switch over to other core spots that could bring down the cost.
CUT BACK THE UP-FRONT COST:
Another best alternative to save money is through a reduction in up-front costs. If necessary, the client may approach the design team to execute wise decisions related to quality materials and equipment to restrict expenses.
Those who desire to limit the budget may select energy-efficient materials that contribute towards huge savings in the end.
Construction supervisions are performed by Architects to make sure that the house is developed as per industry standards. Some of the other means to cut down long-term expenses are through minimizing gaps to prevent air leakage.
It is highly recommended to consult an experienced Architect or a Structural engineer to perform a site review before purchasing land.
To ensure optimum efficiency in house design, it is essential to execute the below-mentioned ideas:
Install windows on either side of a unit to bring in adequate air and ventilation. Cross ventilation helps cut down cooling and heating expenses. Replacing galley kitchen with L and U shaped kitchen to save square footage and accommodate storage space.
Square footage can also be saved via narrowing down hallways as well as stairways. To develop an aesthetic design, integrate layers overhangs and decks at a nominal rate.
WHAT IS MEANT BY THE TERM 'MODULAR CONSTRUCTION?
Modular construction is defined as how pre-fabricated materials are used to construct or design rooms, lifts, and toilets. It adds more value and improves productivity, thereby minimizing the wastage of resources.
To put it into practice, proper planning and organization are required. To ensure proper construction of modular units, the concerned contractors need to interact with the project team about documentation.
Bridging the communication gap between Clients and Architects:
There should be open and effective communication between customers and architects to rectify any sorts of problems that might arise when constructing a house. Architects should take into consideration the needs and requirements of the clients and act accordingly.
Factors that influence the Cost of Building a House on 20×30 30×40 30×50 40×60 40×50 30×50 50×80 Site?

Are you building your Dream house? Or is Planning to have one? Is yes then you should read this till the end.

SIMILAR CONSTRUCTION PROJECT:
If you are familiar with new houses being recently constructed in your locality, you can use them as references for preparing the estimates, house plans, elevations, structural drawings, etc. This can help as several factors will be similar, including the labor charges, raw materials, etc.
Once the final cost is prepared, the past project must be factored with the present construction indices.
SIZE OF THE HOUSE:
It is well known that the bigger the house, the higher the construction cost. Usually, the cost of the house is calculated per square feet.
Here are some of the items on which the overall cost is directly dependent:

Total square feet.
Slab area.
Bathware fittings.
Elevation design.
Structure.
Roofing.
Electrical work.
Walls.
Interior work.
Painting.
WELL PLANNED HOME DESIGNS WITH MINIMUM SPACE WASTAGE:
The house plans designed by Architects play a vital factor that determines the cost of building the house. The design structure usually includes the shape and layout.
For those whose house design includes many corners, offsets, and complicated rooflines will definitely be costing more compared to those with a simpler design, wasted areas refer to the long hallways, bigger bathrooms where there is an area to stand in front of the sink, and another to enter the shower instead of using the same area for both purposes.
The wasted area will result in square footage, which means more money.
FINISHES AND FEATURES:
The finishes and features are also factors for the cost of a building in Bangalore. The cost can vary from those calculated with square footage, e.g., the flooring, to those counted as single-item like the fireplace or appliances. Also, having more exterior walls will mean higher costs.
If you plan to install wood-like tile, granite, marble, which mimics the original wood floor planks, it will cost you more than the standard tile, which comes in a consistent pattern.
CONDITION OF THE SITE:
The site location largely influences the cost of a building. It can either increase or decrease due to the following probable conditions:
Loose soil.
Conflicting utilities.
Soil conditions.
Sourced materials.
Overhead lines.
Drains.
Groundwater.
Road width.
At times the location of the site also becomes vital. For example, if your location is a high-value property, you might want to build a high-value property. This will cost you more in comparison to building a low-value property in a low-value area.
MATERIALS:
Construction material cost consists of the raw materials cost, shipping charges, and taxes, if any. These parameters play a significant role while determining the cost.
The transportation of materials is also important whether the raw materials are available within proximity.
Reducing the transportation cost of the materials cost can play a big change in determining the overall budget.
LABOUR COST:
Labor cost for house construction varies from Rs 250 to Rs 380/sq ft which can fluctuate from place to place or depending on the design. Proper labor cost calculation should be done. And always get ready for unpredictable scenarios.
If due to some reason, the project gets delayed, the probable variation in wage rates has to be included.
Generally, the cost of labor in urban areas is higher than the rural areas, mainly due to the higher cost of living in urban areas.
PROJECT SCHEDULE:
The construction process may get delayed due to unpredicted delays in the project duration by the contractor. This can, in turn, increase construction cost estimates.
Make sure to have a word with the building or civil contractors before starting the project to avoid such circumstances.
PROBABLE INFLATION:
In a volatile economy, it becomes tough to peg the prices of material, which affects the final cost of construction. If you are not in a hurry and plan to construct your house at a slow pace, the price variation shouldn't be avoided.
If the construction continues for 2-3 years, the construction prices of materials, tools, labors, etc., might vary in the period.
Moreover, if you plan to use foreign materials for construction, which need to be imported, determining the prices can be difficult. It will either go up or down. In most cases, there is always an arbitrary rise in cost.
Consider these variations during the cost estimation process.
GOOD QUALITY PLANNING:
A project that both the owner and contractor do not well understand will lead to some unavoidable errors which affect the cost of construction. Preparing a good quality plan with the proper specification can reduce the construction time to a large extent.
Not only this, but it will also lead to better execution of the site.
If your planning is poorly done, it will not delay the project but can create confusion and doubt in the contractor's mind, which generally results in higher construction costs.
OPERATIONAL EFFICIENCY:
Last but not least is operational efficiency. With higher efficiency, more money is saved on a larger home than a small house, as in smaller houses, there's less room for error.
A builder who solves design problems on paper instead of relying on on-field personnel can end up saving money more than you can imagine.
The same applies to the building contractor who is careful in all orders and inventories, making sure they're accurate.
You will get surprised by how much money is wasted with inaccurate material deliveries.
The builder who is efficient in his/her business can build your house within your budget while making better than average profit for the company.
How Architects play a crucial role during House Construction on 20×30 30×40 40×60 50×80 Sites/Plots?
When you plan to build your Dream House, you make all sorts of arrangements for it: What construction material you plan to use, How big or spacious you want your home to look, Will it be a ground floor or double floored house, etc.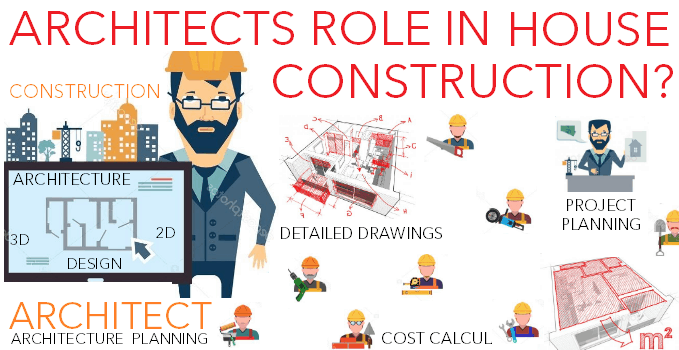 When it comes to the minute details and finishes of your residence, you need someone to guide you when an Architect comes into the picture.
An Architect is mentally artistic and functional for the design of structures.
Why one needs to Hire Architects:
It's a crucial time for you when you need him the most. Architects create house designs that look aesthetically creative. They use the simple formula of Vision + Creativity= Masterpiece.
He mainly aims at bringing a sense of art and creativity into your home to make it look more beautiful. He can transform simple building plans into amazing and unique ones.
The work carried out by them will be well organized: this work can include records of contracts, details, and insights of the project, construction cost and project time frames, time limit for completing the construction, and the daily progress report.
In the construction of a house, an Architect has the following roles and responsibilities:

Helping a client formulate a strategic brief, which is a process of defining what the client wants.
.
Based on this, consultants or client advisors are appointed. Then feasibility studies are carried out based on their comments.
.
Accomplishing feasibility studies, whose purpose is to check the project's viability and help identify feasible alternatives.
.
 Carrying out options appraisals. The purpose of this is to contemplate the various potential options before creating a design, like site surveys or information, planning advice, engineering advice, etc.
.
Advising on the requirement to further appoint other professionals, special designers, and contractors to the consultant team.
.
Preparing the Concept house designs and drawings as mentioned below.

The location: access to the construction site, abutting roads and buildings, and landscape.
.
On-site: The building's relationship with the adjoining boundaries and spaces, landscape, car parking, position of various trees, accessibility of the site, and construction layout on energy consumption.
.
Buildings: the height, width, length, and exposure of buildings, their appearances, distribution across the site, flexibility. The lighting, texture, and contrast concerning the accessibility.
.
Landscape and its relation to the location.
.
Sustainability: waste handling, methods for reducing electricity consumption, use of recyclable materials, and low carbon and reusable energy resources.
.
The buildability of the design and the potential risks which can be faced in the future.
.

Preparing planning applications: planning permission is the process of determining the permission of the proposed construction. This can be the biggest risk on a construction project.
.
Preparing drawing: the drawings must be prepared before work on the construction site begins, as the drawing has to be cross-checked several times before it's put into actual effect.
.
The drawing must be made and submitted as soon as possible. Delay in submitting the drawing will lead to a delay in the construction. The sketch will reflect how actually the house will look with its current landscape and surroundings.
.
Estimating the cost of the construction of the house: at different stages of construction, it's good to keep a record of all the costs and expenses involved for the various purposes.
.
This helps control the cost and keeps the client and the architecture and his team alert before facing high-cost issues.
These are thus the typical roles and responsibilities of an Architect. The prime focus of an architect is generally the looks and aesthetics of the building to bring about a well-structured building.
How many Apartments/Houses/Flats/ can be constructed/built on 20x30 30x40 40x60 50x80 Site/Plot in Bangalore?
One can build multi dwelled units or rental units on 20x30 30x40 sites/plots in Bangalore. On a 40x60 or 2400 sq ft if one is planning to build Flats/Apartments then one can get approval for 4 units only.
How much is the construction cost for a 1200 sq ft / 30x40 G+1 G+2 G+3 G+4 Floors in Bangalore?
The 30x40 house construction cost for G Floor: Rs 17 lacs | G+1 Floor: 35 lacs | G+2 Floors: 49 lacs | G+3 Floors: 64 lacs | G+4 Floors: 79 lacs.
How much is the construction cost for a 2400 sq ft / 40x60 G+1 G+2 G+3 G+4 Floors in Bangalore?
The 2400 sq ft 40x60 house construction cost for G Floor: Rs 27 lacs | G+1 Floor: 60 lacs | G+2 Floors: 94 lacs | G+3 Floors: 1.30 cr | G+4 Floors: 1.61 cr.
How much is the Construction cost in Bangalore?
The construction cost in Bangalore varies from Rs 1550/sq ft Basic to upwards of Rs 1700 / sq ft for premium finishes. The construction cost depends on the materials used for finishing works such as Flooring, Bath ware fittings, Wall cladding, Architectural elements etc.
How much does it cost to build a House in Bangalore?
The cost of building a house in Bangalore varies from Rs 1500 per sq ft for rental houses with Aluminum windows and Rs 1650 per sq ft for a standard construction with solid wood windows.
What is the cost of construction per sqft in Bangalore?
The cost of construction in Bangalore starts from Rs 1499 per sq ft onwards for a residential building and Rs 1000 per sqft for a commercial building.
How many floors can be built in Bangalore?
One can build G+3 Floors (Ground floor is shown as parking in approval drawing) for a road width of 30 ft with a FAR of 1.75 and One can build G+4* Floors for a road width of 40 ft (adding *4th Floor depends on if the site is coming under commercial zone).
How many floors can I Build/Construct on 20x30 30x40 40x60 50x80 Site in Bangalore?
One can build or Construct G+3 Floors on a 20x30 site/plot | G+3 Floors on a 30x40 site/plot in Bangalore |G+4* Floors on a 40x60 site/plot. Note:* 4th Floor possible if the road width is more than 40ft with a FAR of 2.25, and the property comes in a commercial zone where the 4th floor is permissible.
What is FAR in Bangalore for building a House on 20x30 30x40 40x60 Site/Plot?
FAR means the total plot area to the building area. The FAR depends on the road width and site dimension of the site/plot such as 30ft/40ft/60ft/80ft/100 ft road width and the site/plot dimensions such as 20x30 30x40 30x50 40x50 40x60 50x80 etc. As per the existing master plan the maximum permissible FAR is 3.2.