It's everyone's DREAM of living in a DUPLEX House rather than in a single floor house.
In today's market where the Cost of construction of a House and the Real estate cost is also moving skywards. One of the major reasons for this is that the Demand for housing is increasing Day by Day.
The cool, moderate climate and IT companies provide huge Job opportunities for people looking for jobs related to the IT sector, which has brought in lots of young Engineers who have made Bangalore their home. This has eventually increased to the real estate market.
Many government authorities are authorized to give approvals for land development like BBMP, BDA, BMRDA, KIDB, Gram Panchayat, etc. If you are looking for purchasing a Site or Plot then one can have the options of choosing from 20×30 30×40 40×40 30×30 40×60 30×50 50×80 80×100 or 100×100 Sites.
One needs to be prepared to shell out from Rs 2000 sq ft to Rs 16,000 sq ft to buy a plot. Generally, the cost per sq ft is dependent on the kind of location and amenities near the land like How far from Metro station, Parks, Schools, Colleges, Workplace, Malls, Hospitals, Multiplex, Road connectivity, CA sites, Playgrounds, Closer to the city center, Medical stores, General stores, etc.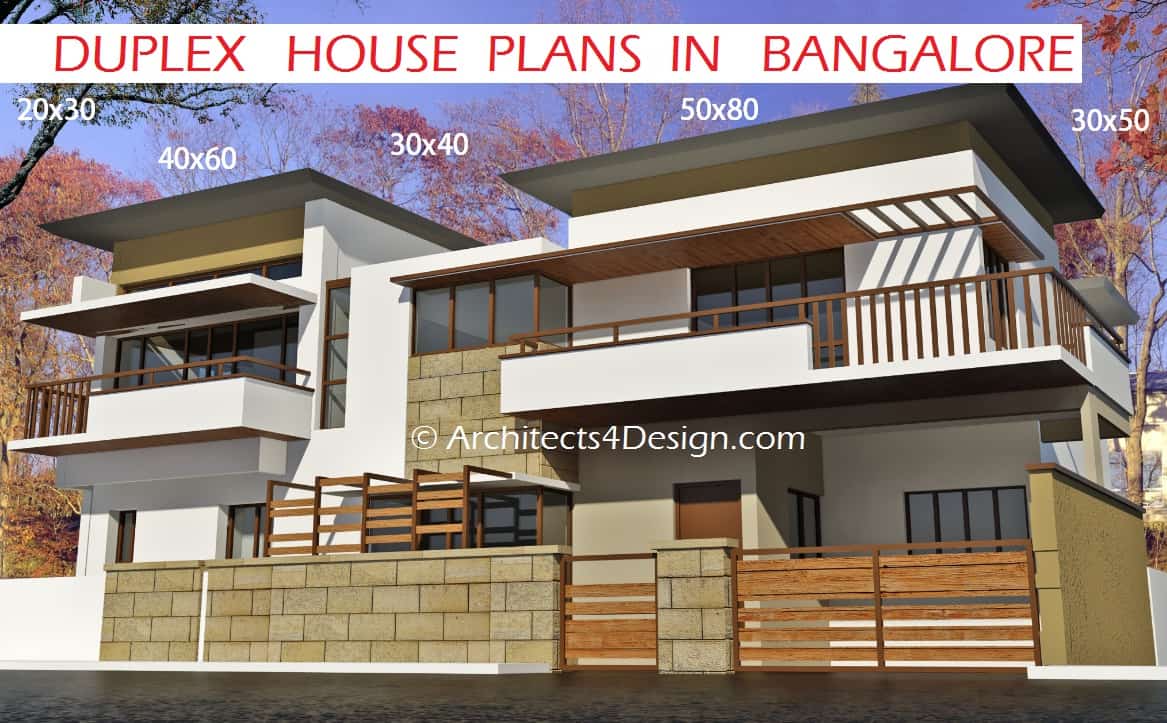 One can look at an option of purchasing a site which is close by to one of the major roads connecting the city like Sarjapur road, Kanakapura road, Tumkur road, Bellary road, Hosur road, Inner ring road, Mysore road, Old airport road, Outer ring road, NICE road connectivity, Bannerghatta road, etc.
If one has sufficient budget for his residential house constriction, which might cost Rs 1800 / sq ft on the built-up area and an additional 15 to 20% on the overall budget total for additional works like Plan sanction from BBMP BDA BMRDA, Architectural charges, BESCOM connection, Borewell charges, CC and OC certificates, BWSSB water connection, Rainwater harvesting, Solar provision, UPS, etc.
Also, if one has a budget of Rs 12,000 Rs 16,000+ /sq ft, then he can shortlist areas such as Whitefield, HSR Layout, Koramangala, Jayanagar, JP Nagar, Btm layout, Airport road, Indiranagar, Domlur, which is well-connected to the rest of the city.
Below are some of the possibilities for designing Duplex house designs in Bangalore on 1200 sq ft 600 sq ft 2400 sq ft 4000 sq ft and other odd dimensions having G+1/G+3/G+2 or G+4 floors. The current House construction cost for a Duplex house varies from Rs 1550/sq ft to Rs 2500/sq ft, again depends on the kind of finishes and material specifications.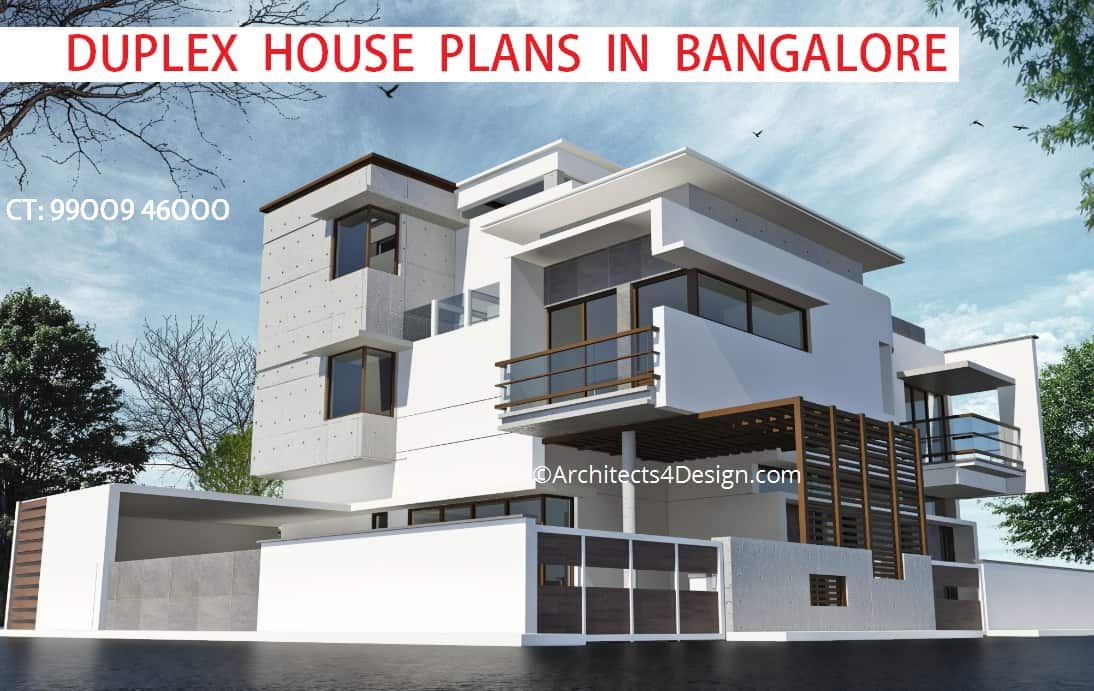 20X30 DUPLEX HOUSE PLANS IN BANGALORE G+1/G+2/G+3/G+4 FLOORS ON 600 SQ FT SITE
Plot Cost : Rs 25 lacs to Rs 45 lacs
Built-up Area: 1000 to 1650 sq ft.
Construction Cost : Rs 23 lacs to Rs 29 lacs.
It's the smallest plot dimensions available for building a duplex home; generally, in most cases, a 600 sq ft or 20×30 Site will have no setbacks on either side of the building, which is generally required to have good natural light and ventilation.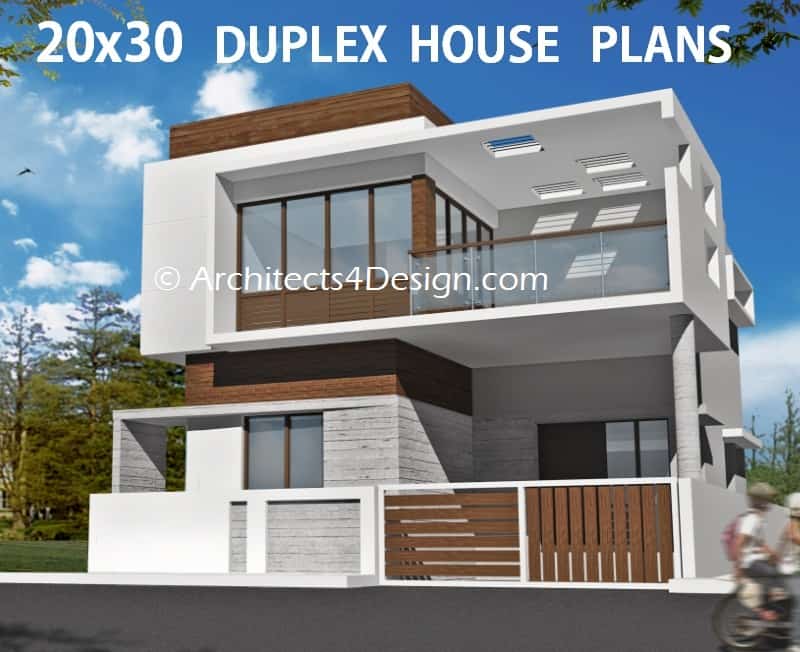 These sites will have smaller approach roads when compared to site dimensions of 30×40 or 40×60, which will have a minimum word width of 30ft. One can have 1 Car parking space with + 2 to 3BHK house starting from the ground floor.
If the parking requirement is for 2Cars, one can even think of leaving the entire ground floor open to take care of all the parking issues and design the house from the first floor onwards.
The overall minimum budget for constructing a residential building on such plot dimensions, including site cost, will be approximately Rs 55 to Rs 70lacs.
Ground Floor: 1 small Car park + 2 two-wheeler parking option.
First Floor : Living of 12*16 or 160 sq ft + Small dining 10×8 + Kitchen 8×11 + Utility 4×6 + Common bath room + Guest room 10×12 + Staircase for above floor access.
Second Floor: 1 Master bedroom 150 sq ft + Guest room 11×13 + Family area + Small balcony towards the roadside.
Third Floor: 1 Guest room + Staircase headroom.
Informative : Sample House designs on 20×30 | Elevations of 20×30 Site
30×40 DUPLEX HOUSE PLANS IN BANGALORE on G+4 G+2 G+1 G+3 FLOORS 1200 SQ FT SITE
Plot Cost : Rs 44 lacs to Rs 65 lacs
Built-up Area: 1850 to 3050 sq ft.
Cost of Construction: Rs 38 lacs to Rs 60 lacs.
It's one of the most common plot dimensions seen across the city, and the demand for these plots is very high Since most of the middle and upper-middle class can afford these sites.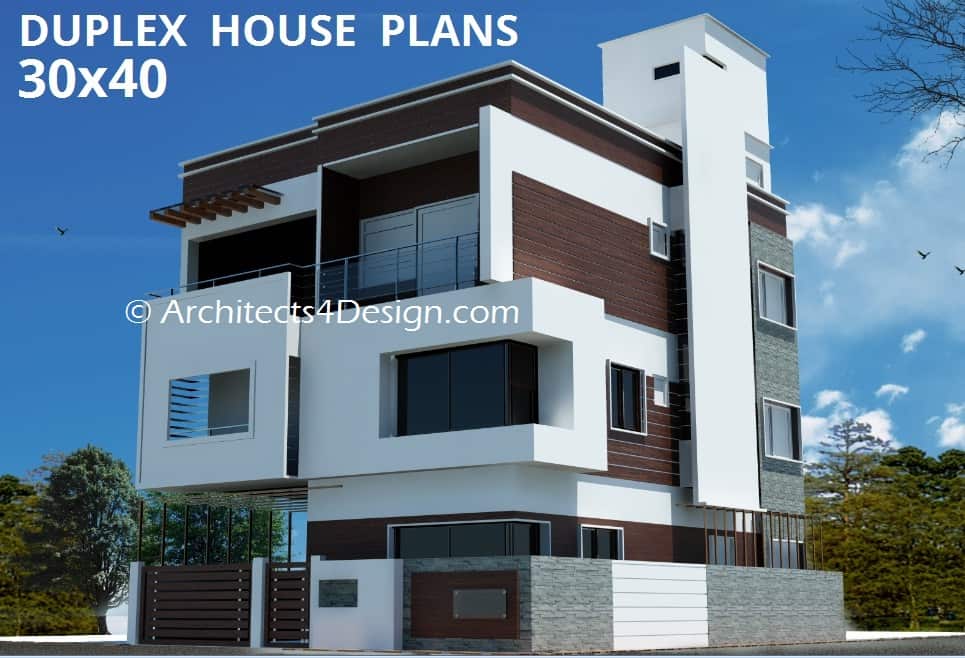 The road width can be between 25 ft to 30 ft with a FAR of 1.75; one can easily have a built-up area of 2100 sq ft on a 30×40 or 1200 sq ft plot.
It's always recommended to hire an Architect to get the Duplex house plans done. They will be the right professionals to understand the client's / owners' requirements of their budget restrictions and deliver on those lines. One of the most common floor plans of a 30×40 site is a 4BHK 2BHK 3BHK Duplex house built on the G+1 floor.
The overall project cost, including SITE+BUILD Cost, will be approximately Rs 75 to Rs 95 lacs. A Client can meet the appointed Architect and give all his requirements and likes, dislikes etc., for which he can expect Floor plans based on the given inputs.
It's also crucial to design floor plans with the right built-up area within the given budget. As an Architect, it's essential to meet the client and understand his given requirements and plan accordingly. One can leave 3 ft setback on all three sides and sufficient space of 4ft towards the roadside.
Ground Floor : 1 Sedan car + 2 Two wheeler parking spaces + Foyer 6×4 or 25 sq ft + Living room 18×14 or 190 sq ft with double height + 6 personas seating Dining room + Utility 4×8 for washing + Kitchen + Common bathroom + Guest bed room 12ftx14ft + Internal staircase.
First Floor: Family living of 130 sq ft + 4ftx12ft Balcony with French window provision + 160 sq ft Master bedroom of 14×12 sq ft with attached math of 35 to 40 sq ft + Guest Room with attached bath.
(Depending on Budget, one can consider the below requirements.)
Second Floor: Home Theater of 14×18 for 8 seating + GYM or Exercise room + Family seating along with a large balcony.
Third Floor: Staircase headroom + Overhead tank.
Info: House plans sample on 30×40 | Elevations concept design 30×40
40×60 DUPLEX HOUSE PLANS IN BANGALORE for G+2-G+1 / G+4 G+3 Floors or 2400 SQ FT
Plot Cost: Rs 75 lacs to Rs 1.26 cr
Built-up Area: 3400 to 6500 sq ft.
House Cost of Construction: Rs 59 lacs to Rs 1.20 cr.
Generally, almost 15 to 20% of 40×60 or 2400 sq ft sites are planned in any given layout.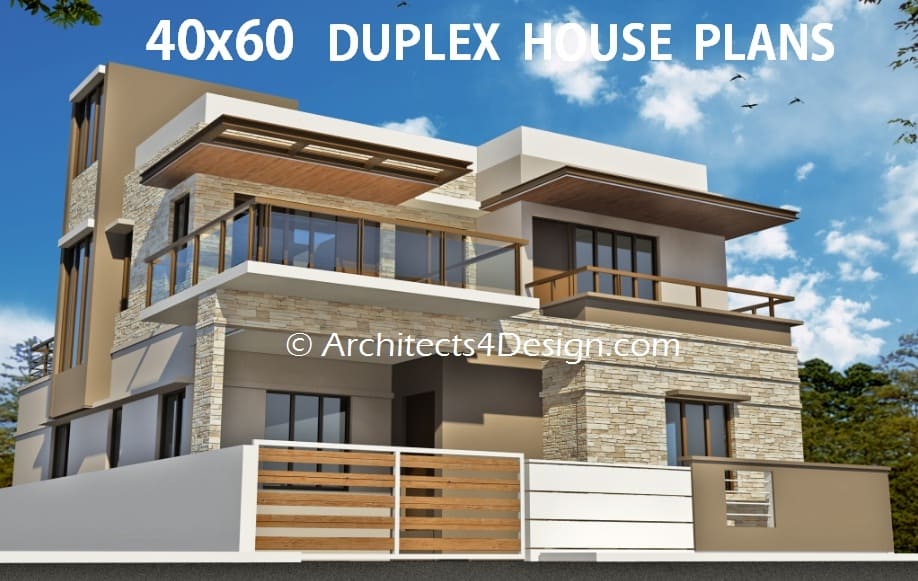 There is high demand among the upper middle class who can have a budget of Rs 1.2cr to Rs 1.8 cr for building their Duplex house in which a minimum of Rs 75 lacs can be allocated to purchase a plot.
The main advantage of having such kinds of plot dimensions is that one can have luxury amenities designed on it which can't be possible on other small dimensions such as 20×30 30×40, or 30×50 sites. One can have a landscape garden, Small water body, Sit outs, Kid's play area, covered car parking, wider setbacks.
One needs to consider Hire-Architect's of these dimensions as there is more than enough space to utilize for planning and better concept designing. One can easily have duplex floor plans between 3300 sq ft to 6500 sq ft again, depending on the budget panned by the Owner. One needs to leave around 4 ft setbacks on both sides of the plot and 5 ft towards the road.
Ground Floor: 2 covered Car parking + Small garden + Sit out + Foyer with shoe rack of 40 sq ft + Family living room having double height provision + Dining room for 8 seating 200 sq ft area + 14x 16 Kitchen with Storeroom of 50 sq ft + Master bedroom of 16 ft x 14 ft of 220 sq ft plus + 8ft x 6 ft common bath + Modern floating concept internal staircase + Puja room.
First Floor: Family living room with cut out looking into the living area below + Two master bedrooms 230 sq ft each with attached bathrooms of 10×6 or 60 sq ft + Guest room + Study room + Large balcony overlooking the landscaping below.
(One can consider the below aspects if as per one's budgeting)
Third Floor: GYM room of 200 sq ft or 15ft x 18ft + 1 Bedroom of 190 sq ft or 16×12 + 18 ft x 13ft Home theater with 10 seating provision + Balcony with gardening pots.
Fourth Floor : BBQ counter + Open bar + Terrace garden.
Details: 40×60 House planning concepts | Residential elevations of 40×60
50×80 DUPLEX HOUSE PLANS IN BANGALORE of G+4/G+2 G+3 G+1 Floors 4000 SQ FT
Land Cost: Rs 1.26 cr to Rs 2.5 cr
Built-up Area : 5900 to 11,000 sq ft.
Cost of construction: Rs 1cr to Rs 2 cr.
It's a Dream to Design and Builds on such bigger plot sizes; if one needs to buy such plots in good locations which are closer to all general amenities, then the plot cost itself might be around Rs 1.3 to Rs 3cr in locations such as HSR Layout, Sarjapur road, etc.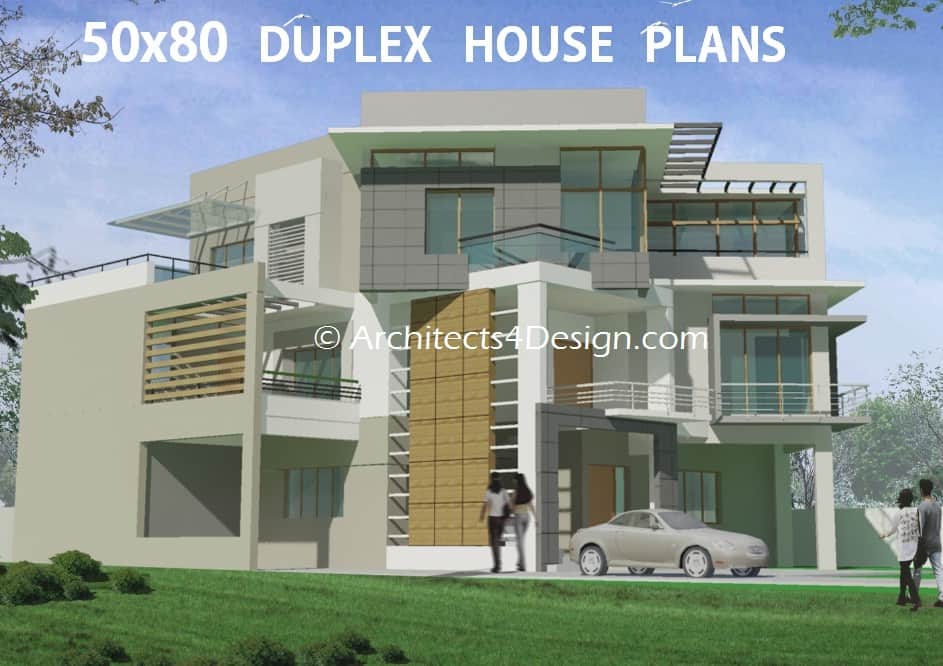 It would be a Dream for any talented Architect to work on this project where he has enough space and budget to implement his concepts.
The cost of construction or the current building cost per sq ft taken at Rs 1700 /sq ft one needs to be easily prepared between Rs 1 to Rs 2cr cost excluding interiors.
With this budget, one can easily design and implement all modern amenities required for comfortable living, including a swimming pool, play area, landscaped garden, covered parking, walk-in closet, Bathtub, Jacuzzi, Shower enclosures, Study/work area.
Ground Floor: 2 covered parking slots for 2 cars + Security room + Landscaped garden + Water body + Foyer of 80 sq ft with shoe rack + informal living of 250 sq ft sq ft + Formal living with TV area of 350 sq ft + Island kitchen concept with Utility of 90 sq ft + Storeroom of 8×6 sq ft + Dining room for 12 seating + Common washroom + Master bedroom of 17×16 with Separate work area and walk-in closet + Internal staircase + Guest Bedroom.
First Floor: Family lounge area with cutout or open area overlooking Informal living + 1 Master bedroom of 185 sq ft or 18ft x12ft + Guest Bedroom + Study room + Open library or reading area + Big balcony of 12 * 7 overlooking the lawn below.
(Below requirements can be considered if the budget is sufficient).
Second Floor: 12 ft x 19ft Home theater provision + Family seating area + 12×14 Guest room + Balcony + Playroom for games like TT snooker etc.
Third Floor : Stair case head room + Terrace Garden + Sauna / Jacuzzi room + Open terrace bar-counter + barbecue area + Deck area for seating.
Info:  House Designs on 50×80 | Building elevation on 50×80
DIFFERENCE between DUPLEX House Plans and Single Floor Plans

Real estate provides you with different types of investments and reduces the overall risks associated with each property type. Choosing the right kind of real estate investment is a crucial decision for calculating financial goals.
Two of the most popular type of real estate financial plan available is Duplex House Floor plans and Single floor plans. These two differ in terms of size and space. Duplex is generally for larger families, while single floor plans are well suited for small families.
PRACTICAL DIFFERENCES:
Duplex is considered a beneficial option when choosing an investment in the city or area that is less populated. Most of the homes in bigger cities are already on the expensive side, and considering the cost involved, it is often possible that a duplex is more costly compared to a single-story home.
Even when it comes to selling an investment, reselling a duplex may take a long time because you may not be able to find people with large families. Many families have started opting for single floor homes because of the small family size and ease of maintenance. Another reason is that duplex involves more cash flow or investment; therefore, it may not be possible to find a suitable buyer straightaway.
COST:
Investment in a home is always a reliable investment, but most people choose a small-sized home when choosing a rented real estate property. If you consider the selling price of duplex floor plans, it would definitely be costlier than a single floor plan, mainly because of the more area involved.
However, people choose a duplex floor plan mainly because it provides them more space due to family size and gives you a great feeling of having a bigger home. Also, a duplex can be used as a commercial complex as well.
Informative: Current cost of Building a House | Current rates | Plan Approval sanction procedure from BBMP BDA BMRDA
RETURN ON INVESTMENT (Roi's):

Deciding which home to choose is always an important call when it comes down to long-term investment and returns on investment. It all comes down to checking the current demand for duplex and single floor plans.
The good idea is to advance the minimum ROI you need and then calculate and compare the capitalization rates of a single floor and duplex homes that you are considering. Most of the time, it is seen that a duplex is better in terms of ROI if you have plenty of money to afford it.
ADVANTAGES OF SINGLE FLOOR HOUSES:
Single floor plans are accessible for elder, sick, and disabled people as per the amenities required and space included.
.
A single floor home also provides you with a good option of natural ventilation and lighting capacity.
.
It is easier to approach the terrace in single floor homes.
.
Single floor plans can have better architecture compared to multi-storied duplex houses.
.
If any existing green trees are not required to be removed during construction, they can also provide effective shade from the sun.
.
It can be a better option for single floor plans compared to multi-storied ones. You can even enjoy the climatic conditions in much better ways.
.
A single-story home is always a cheaper option if you have any expansion plans. However, if required, you can even resize your single floor homes if required using vertical expansion.
.
DISADVANTAGES OF SINGLE FLOOR HOMES:
If the terrace is open, then it can make your home quite hot during summers and even too cold during winters, so basically, you need to face extreme climatic conditions on a single floor.
.
If the neighborhood lacks proper height regulation and set back or if the housing pattern is not set, it can result in poor ventilation and lighting.
.
 The foundations are not planned according to future expansions, which may prove costly if you plan to expand your single floors.
.
ADVANTAGES OF DUPLEX HOUSE PLANS:
There are various benefits associated with duplex house plans, and some of them are mentioned below.
One of the biggest advantages of having a double story house plan is that you can easily have the luxury of setting up your home for a bigger family accordingly.
.
Duplex provides you with more flexibility to expand your home and even give the upper floor or lower floor for renting purposes.
Better regulation is provided in terms of temperature control by using the terrace effectively. You can shift to any floor according to climatic conditions.
.
In the unplanned neighborhood with height and setbacks, duplex houses provide you with a slight advantage of following others' same pattern.
.
One can adjust your floor lighting and ventilation in much better ways.
.
Duplex homes can cater to the population in much better ways. It helps save costs of living since more people can be adjusted in a small piece of land. It is a much better option in metropolitan cities where the cost of real estate is extremely high.
.
Details: What would be the current cost for Building a House..? | How to Get a Temporary electrical connection from BESCOM..?
.
DISADVANTAGES OF TWO STORIED HOUSES:
Having a duplex house designs or plans increases the cost of the home since you need to manage a larger section of the house. Therefore the maintenance costs will also increase.
.
There will be a difference between the facilities and are available in duplex home plans. So it is possible that this could lead to problems. For example, the top story of the home will be hot in the summers.
.
The lower story rooms will be cold during winters. It is hard to manage the difference and judge accordingly.
.
Multi-storied homes often block sunlight, and even ventilation is not up to a great extent to lower stories. Therefore it can even lead to further difficulties in living.
.
Overall: Buying a home or Building one: be it a duplex or single floor, depends on various factors such as family size, current financial condition, affordability, ROI, the cost involved, etc.
It is important to consider all the factors involved before finalizing your decision on choosing a duplex or single floor plan.
.
VASTU CONSIDERATION for LIVING ROOM, KITCHEN, BEDROOM, MAIN DOOR etc. in Duplex House Designs

Vastu is a science of dwelling homes for humans. It defines the natural way by which different energies such as solar and celestial are balanced to bring more peace and prosperity to the home.
A home constructed on the principles of Vastu gives residents more enjoyment and heavenly bliss in life. Balancing the energies in the House can help you create a better atmosphere and brings more positivity.
One can understand the importance of getting Vastu based Duplex house plans in Bangalore; It again depends on How or How much one needs to consider Vastu while Designing their floor plans. Below are some of the steps.
Duplex Houses are those constructions that have double story designs. Designing duplex homes under the guiding principles of Vastu require spending the time to search regarding the foundation, appearance, and location of every part of your duplex home. A duplex house complete in all respects.
Vastu can bring more PROSPERITY, HAPPINESS, POWER, AND WISDOM in your LIFE…!
Below are some of the directions and shapes that can affect your home design
A shape of the plot on which construction is performed: Preferred structure types are generally rectangular or square.
.
Water Bodies: Bathroom and water tanks must be placed in the north or east end.
.
Obstructions: Pillars, trees, open well, and posts must be avoided while constructing a home.
.
Apart from this, Vastu also doesn't recommend designing homes or plots in L shape.
Several misconceptions are there when it comes to Vastu, and everyone seems to have a certain opinion about it. To make it easier and simpler, let's look at the different parts of construction under Vastu.
PRE-CONSTRUCTION PHASE:
Before starting the construction of your home, it is important to conduct Bhoomi puja to seek blessings from Gods and ensure that the land is free from any bad omens.
Vastu experts consider performing certain good rituals on the land to be an auspicious beginning to your home. It can be an excellent start to your proceedings.
HOME ENTRANCE:
To bring more optimistic energy and light to your home, it is recommended to position your home to your entrance. Another positive estimation is that sunrise from the east is always in an auspicious direction. Another suitable direction is North East.
When you decide to plan the entrance to your home, you must decide where you want to have a home entrance since it plays an important role. The same applies to door positioning as well.
INFLUENCES OF OTHER DIRECTIONS:
Most Vastu experts do not recommend the southwest direction since it is often related to negative energies. Doors are not recommended to be facing the southeast direction.
South facing doors are also considered to be providing more usher to the sharp energies and therefore may cause disagreements or arguments under Vastu science.
IMPLEMENTING VASTU for KITCHEN LOCATION IN DUPLEX PLAN:
If you plan on building the kitchen in the house plan, then the southeast corner is an ideal location. However, it is a common belief that cooking must be performed while facing the east. Vastu experts also recommend not constructing a kitchen directly in front of the main door of the villa or bungalow.
VASTU considered for MASTER BEDROOMs in MODERN DUPLEX HOMES:
One of the best locations for building master bedrooms is the southwest corner of an east-facing home. Besides building a master bedroom, it is recommended to have a rectangular or square shape of bedrooms, quite similar to your plot's construction.
One of the prime objectives is to have a home built with the main entrance, bedroom, and kitchen placed in a perfectly placed location so that one can sleep peacefully without any noise.
VASTU of WASHROOM / LAVATORY LOCATION:
Vastu has proper information about the positioning of the bathroom or lavatory. From a general health perspective, many emphases have been kept on your lavatory location in the home. Apart from all directions available, the north-west location is the most suitable location for the toilet.
The other possibility is to construct a lavatory or toilet in the southeast direction. Extra precautions must be taken to not place the home temple room and kitchen exactly in the adjacent location to one another to keep your home free from any negative energy and to keep it healthy.
Informative: Hiring Architects in Bangalore for Designing..? | Know current Labor contractors rates 
CIRCULATION IN DUPLEX HOME:
There should be a proper well-designed core to the duplex homes, and there should be a staircase to make the circulation easy.
According to Vastu, it is best to have a staircase in the south-west corner of your duplex home because this direction act as keeping the sun rays away from interiors and act as buffer zones.
WATER STORAGE TANK:
It must be placed in the northeastern direction at the terrace of a duplex home. Plastic material must not be used as a water storage tank, and in case it is plastic, you must keep it a dark color such as blue and black to allow absorption of sun rays and kills bacteria.
BUILDING POSITION:
It is important to leave more space towards your home's north and east side compared to the west and sound side. Leaving a space all around the house is always a good option, considered a good Vastu, and this also helps in getting proper ventilation and air circulation.
Vastu also helps advise the orientation and size of a particular structure concerning the surroundings, length, breadth, soil, and plot. It tells you direct proportions and minute details about the buildings and how they must be manufactured.
OVERALL CONCLUSION:
If you are planning to build your beautiful home, it is better to follow the principles of Vastu. However, proper care must be maintained if you plan your home according to Vastu. Designing in the wrong way or not following the complete Vastu design may make your home unsuitable for living.
Many people consider that Vastu is a superstition, but it has technology associated with it that makes it a proper science of dwelling your home in the best possible manner.
Some illiterate people just vaguely follow any Vastu without consulting an expert. Instead, one must follow suggestions and expertise from a person who has proper knowledge about Vastu.
How much do Architects charge for designing Duplex house plans in Bangalore?
Architects charge from Rs 10/sq ft onwards for concept designing which includes Floor plans and 2D elevation residential Duplex house plans on-site dimensions such as 20x30 30x40 40x60 50x80.
What is the Duplex house construction cost on a 20x30 30x40 40x50 50x80 Site/Plot in Bangalore?
The Duplex house construction cost in Bangalore for building a 3BHk Duplex House on a 20x30: G+2 Floors Rs 24 lacs | 30x40: G+1 Floor Rs 32 lacs | 40x60: G+1 Floor Rs 59 lacs | 50x80: G+1 Floor Rs 90 lacs.
Do Architects follow Vastu factors while designing floor plans of a Duplex house?
YES, Architects do follow basic Vastu principles while planning a duplex house like the position of Kitchen, Main Entrance, Puja, Master bedroom, Waterbody, Study, etc.
What is the BUA (Built up area) for a 3BHK Duplex house plans on 20x30 30x40 40x60 50x80 Site/Plot?
The approximate built-up area BUA for building a 3BHK Duplex house in Bangalore 20x30: G+2 BUA: 1450 sq ft | 30x40: G+1 BUA: 1840 sq ft |40x60: G+1 BUA: 2390 sq ft |50x80: G+1 BUA: 3600 sq ft.
What is the ideal Site dimensions for designing Duplex house plans/Floor plans in Bangalore?
The site dimensions can vary from 20x30/600 sq ft, 30x40/1200 sq ft, 40x60/2400 sq ft to 50x80/4000 sq ft. One can buy an ideal site dimension depending on the overall budget for building a duplex house.
What is the Architects Fees for planning 20x30 30x40 40x60 Duplex house plans/Duplex Floor plans?
The overall charges that the Architects charge of a Duplex house for the entire project might vary from 2 to 5% on the overall project cost. It all depends on How experienced the Architects or Architectural firm is.
How can I get a Sample Duplex house plans on 20x30 30x40 40x60 50x80 site/plot in Bangalore?
To get a sample duplex home plans or floor plans in Bangalore, one can request your Architect to share the previous project floor plans and elevation designed. This will help you to get an idea before you proceed.
What is the Ideal Plot/Site dimension 600 sq ft 1200 sq ft 2400 sq ft 4000 sq ft for getting Duplex house plans?
One can build a duplex house on selected site dimensions such as 600 sq ft 1200 sq ft 2400 sq ft or 4000 sq ft. The Site cost can be 50 to 60% on the overall project cost required for the construction of a duplex house.