The Process of Getting Plan Sanction in Bangalore from BBMP and BDA
BBMP PLAN SANCTION IN BANGALORE
If you would like to construct a building in Bangalore, you should get approval from the concerned authorities. (Bruhat Bengaluru Mahanagara Palike) BBMP Plan approval procedure within its jurisdiction to issue approval letters to Builders / Site owners for construction of a new building, the authority after verifying all the documents and fulfillment of legal requirements.
If there are no sanctions from BBMP or the deviation is more than 5%, BBMP has the authority to demolish the building or levy a penalty for unauthorized construction.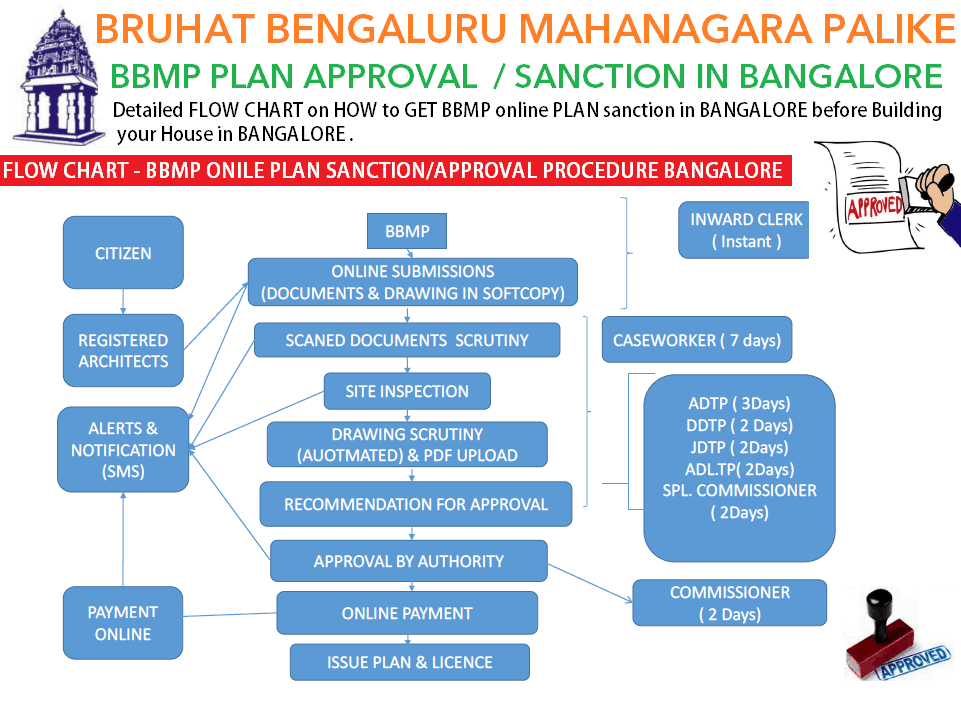 BBMP will manage the civic and infrastructural assets of Greater Bangalore. It exercises administrative control and orderly development of the city.
You get several BBMP Plan Approval agents who do the roaming around and get all required paper works required as mentioned below, along with the Blueprints drafted as per the Architects final approved plan.
Read about How to get Plan Sanction in Bangalore? / Plan approval from BBMP BDA and the process and stages involved in getting it.
BDA PLAN SANCTION IN BANGALORE
Bangalore Development Authority (BDA) is the principal planning authority in Bangalore. Below is also a detailed procedure for getting BDA plan sanction in Bangalore or BDA plan approval. As a regulatory body, it will prepare a comprehensive development plan.
In addition to planning and development, it will also supervise development related sites and services.
It will also ensure that the needs of underprivileged citizens will also meet without fail. It was created in 1976 under the Bangalore Development Authority Act 1976.
The layouts in lands and approvals will be done through BDA. The layouts that fall outside the Bangalore city limits will be looked after by the Bangalore Metropolitan Region Development Authority (BMRDA).
The BDA plan sanction fees or charges vary depending on the project's scale, whether it's an Apartment project, Sites, Layouts, Schools or Institutions, Colleges, Rowhouses, Villas, etc.
Today, many middlemen or Agents get the BDA plan approval done, including all the required documents needed.
HOW  TO SUBMIT BUILDING PLAN APPROVAL APPLICATION
Applications for BBMP Plan approval forms can be downloaded from the official website of (BBMP)Bruhat Bengaluru Mahanagara Palike. Once the Building sanction plan application is filed, it can be submitted online or offline. To submit the application through online, you should fill name, email id, and mobile number of the applicant.
There will be different kinds of forms that should be used as per the size of the building plan. The BBMP plan sanction application will be approved based on certain terms and conditions.
The applicant should fulfill certain obligations as well, which will be mentioned below. If you submit an online application, it should be printed, and signatures should be affixed. You should submit the original application along with the following documents.
GENERAL DOCUMENTS REQUIRED FOR BBMP PLAN APPROVAL:
Title deed / Possession Certificate.
.
License fee Challan.
.
The site plan shows the existing trees, well, and block levels to be furnished in cases where basement/cellar floors are proposed below ground level.
.
Latest tax paid receipt.
.
Latest Khata extract Certificate.
.
Previous sanctioned plan.
.
Affidavit & Indemnity Bond under Karnataka Urban Land (ceiling. and Regulations) Act 1976.
.
Foundation Certificate.
.
No objection certificate in case of building proposals abutting to neighboring properties.
.
There is no objection certificate from agencies like BDA, BESCOM, BWSSB, KSPVB, ULC, authorities, and Dist. Magistrate., BUAC, Inspector of Factories Controller of explosives Railways, Fire Force Department and any other authority wherever applicable.
.
Schedule II of the National Building Organization (NBO).
.
Development charge receipt.
.
Any other information.
.
If you submit through the BBMP building plan online application with the above particulars, concerned authorities will do the verification. If there are any missing documents, you will want to submit further information, and you will be communicated in this context.
If you submit proper documents and pay the prescribed fee, the service will be completed within 30 days. You should print all the forms after submitting the online form. You are advised to submit the application to the BBMP office; you should request printed acknowledgment from the office.
MANUAL PLAN SANCTION APPLICATION/ BBMP OFFLINE APPLICATION PROCEDURE
If the application is submitted through offline, you should submit proper forms, including the attachments that you are mandatory for the approval of the plan.
The documents that are to be submitted include BBMP schedule II (Bye-laws No. 3-2-1). It will be addressed to the commissioner, BBMP, Bangalore.
The registered Architect or Engineer's name or licensed supervisor should be mentioned in the requisition letter. One should provide the name of the owner, the signature of the owner, and the address of the owner. The occupancy of the building, sources of water to be used and stocking building materials and duration should be mentioned.
As per schedule II, you should submit another application to the Ministry of Works and Housing, Government of India. National Building Organization will process the form so that the occupation certificate will be issued.
The name of the construction or additions should be mentioned in the application. The type of construction such as residential buildings, industrial buildings, commercial buildings, institutional buildings, and public buildings should be mentioned in the application.
The plinth area (square meters) and total floor area (square meters) should be mentioned. The number of stories of the building, number & type of dwelling works should be mentioned in the respective columns. You will provide complete details of each room (new construction or additions), and a total plinth area should be mentioned before getting the occupation certificate.
One should submit more particulars, including estimated construction cost (optional), number & date of issue of the authorization certificate, date of commencement of construction, and completion date.
BBMP schedule III (Bye-law 3.2.2, 15) is required to confirm the supervision. The certificate should be issued by the registered architect or engineer, or supervisor. Name, signature, address, and license number should be mentioned in the certificate.
HOW TO APPLY FOR KHATA . . ?
Below is the detailed Procedure for Applying for Khata extract at Bangalore; if you would like to purchase property, you should mention the Khatha of the owner. It is nothing but a legal identification certificate issued by BBMP. The certificate consists of all details of the property, including the owner's name, the size of the building or plot, location, and other important particulars.
If you would like to get a building license or trade license, you should submit Khata. The certificate should be submitted to get a loan from banks and financial institutions as well. The ownership of property is declared through the title deed.
It would be best if you understood the difference between the title deed and Khata. While the title deed signifies the property ownership, the assessment of property for tax calculations will be done through the Khata certificate.
If you own a property, you should get Khata from the BBMP. It can be obtained online or from the BBMP office. You should submit a Title deed, Tax Paid, Sketch of the property clearly showing the site's boundaries and location, Improvement charges, Encumbrance Certificate for vacant sites, and Flowchart of title to get a Khatha certificate. It will be issued within 15 days from the submission of the application form.
WHAT IS A KHATA EXTRACT AND B KHATA EXTRACT . . ?
There are two types of properties. A-Khatha certificates are issued for properties that have been developed as per the sanctions. There will be valid licenses and approvals.
If you possess the A-Khata certificate, getting a trade license or building license very easily is possible. You will also be able to take loans from banks and financial institutions without any issues when you have access to the A-Khata Certificate.
If there are valid sanctions and approvals, B-Khatha certificates are issued. The certificate denotes that the tax to the property is being paid to the Government. B Khatha is not a valid Khatha extract. You will not be able to get loans from financial institutions.
If there are minimal deviations in B-Khatha properties, they can be converted into A Khatha through building regularization. To apply for A Khatha certificate from B Khatha certificate, you should submit documents including DC converted property, complete tax paid statement, and betterment charges for conversion needs.
Application for Khata extract Registration/ Transfer / Bifurcation /Amalgamation can be made through online or offline. If you apply online, you should provide an Old PID Number, the Applicant's Name, and the Email ID of the applicant, along with other particulars. The original form can be submitted along with other forms to be processed, and necessary clearances will be obtained. The following certificates should be submitted in this process.
DOCUMENTS REQUIRED FOR KHATA CERTIFICATE:
Certified copies of registered title deed.
Up to Date Tax paid receipt.
Certified Possession Certificate.
Flow Chart.
Improvement charges paid.
Sketch showing location and Measurement of property.
Affidavit of succession/ inheritance/gift court decree.
Original Death Certificate.
Affidavit regarding blood relationship.
NOC from BDA for amalgamation or bifurcation.
Verification or scrutiny of the application will be done, and you will get consent within 15 days. If you submit the form online, all forms should be printed and kept as backup for ready reference after submitting the application form. If there is any missing document or additional information is required, you will be communicated.
WHAT IS A KHATA EXTRACT AND B KHATA EXTRACT . . ?
To get BBMP Khatha extract, one should select the concerned citizen service center online, or nowadays, it's available at Bangalore one centers. You should mention the information such as in whose name the Khatha was registered at the moment.
The old property identification number (old PID) should be mentioned. The Khatha Extract number, old ward number, and ward name should be mentioned to get the extract form the concerned authority. Khatha can be transferred from one person to another person in various cases, including the deed, will, family partition, and release deed.
You can also follow the required guidelines to obtain Khata amalgamation and Khata bifurcation certificates without fail. The prescribed application and other copies should be submitted so that the concerned authorities will release the necessary certificates. If the property is located within the BDA Layout, NOC from BDA should be submitted.
What is Procedure of Getting Plan Sanction/Approval in Bangalore?
The process/procedure of getting Plan sanction/Plan approval in Bangalore from BBMP, BDA,BMRDA, Gram panchayat at involves submitting necessary ownership documents, Blueprints along with application form.
What documents are required for Plan Sanction/Plan Approval in Bangalore?
The documents required for getting Plan sanction in Bangalore are EC (Encumbrance certificate), Khata certificate, Site plan, Title deed etc.
What is the Time duration for getting a plan sanction done?
The time duration required for getting plan approval done is around 30 to 45days from the date of submission of application.
How many floors can I get a Plan sanction/Plan approval in Bangalore for 20x30 30x40 40x60 site/plot?
The no of floors one can get a plan sanction or plan approval for a 30x40/1200 sq ft site is G+3 Floors with a FAR of 1.75 Note: 3rd floor approval is given only when ground floor is shown as parking. | 40x60/2400 sq ft site on can get G+4 Floors approval with 2.25 FAR. Note: 4th Floor approval depends on zone on which the property comes.
How much does it cost for Getting a Plan sanction or approval done?
The cost for getting plan sanction in Bangalore varies from Rs 20,000 to Rs 80,000 it depends on various factors such as site dimensions, residential /commercial approvals, built-up area, Authority under which the property needs to be approved like BBMP, BDA, BMRDA, Gram panchayat etc.
What is a Sanction Plan or Approval plan?
If one needs to build or redevelop or renovate the owner of the property has to approach the respected Civic authorities like BBMP, BDA, BMRDA, Gram panchayat, etc, and get a plan approval done before starting any construction.
Can one build/construct or get a 4th Floor Plan approval/sanction done for a 20x30 30x40 40x60 site/plot in Bangalore?
Its not possible to get a plan sanction in Bangalore for a 4th floor especially for site dimensions such as 20x30 30x40 or less than 40x60 site dimensions. However, one can get a 4th Floor approval for a 40x60 site with a road facing more than 40ft width and comes under the commercial zone.
How can I get Plan sanction in Bangalore?
The first step is to submit the application with all the required documents along with the proposed site drawings given by the Architects. The next step involves either physically submitting these documents of the BBMP office or submitting them online.
BBMP Plan approval/sanction charges in Bangalore?
The BBMP plan sanction charges might be approximately around Rs 20,000 to Rs 80,000 dependents on the site dimensions, built-up area, residential or commercial approval.