Are you planning for House Construction in Bangalore?
This page gives you a clear picture of the procedure or process of building a house in Bangalore/ Hosue construction in Bangalore, along with valuable tips that might help in choosing the best method for constructing your new home.

Note: If you want to read more about building a house in Bangalore in-depth, right from choosing the Architect to Settlement of final bills to the contractor, visit our " Home Page ", where the process is well explained.
Many things come into the picture before you start planning to construct your Dream House. At Architects4Design.com, we must understand his requirements and the sufficient area required to execute the construction work.
As an experienced Architectural firm, we must go through the Basic homework required to start constructing your dream house based on our experience all the years.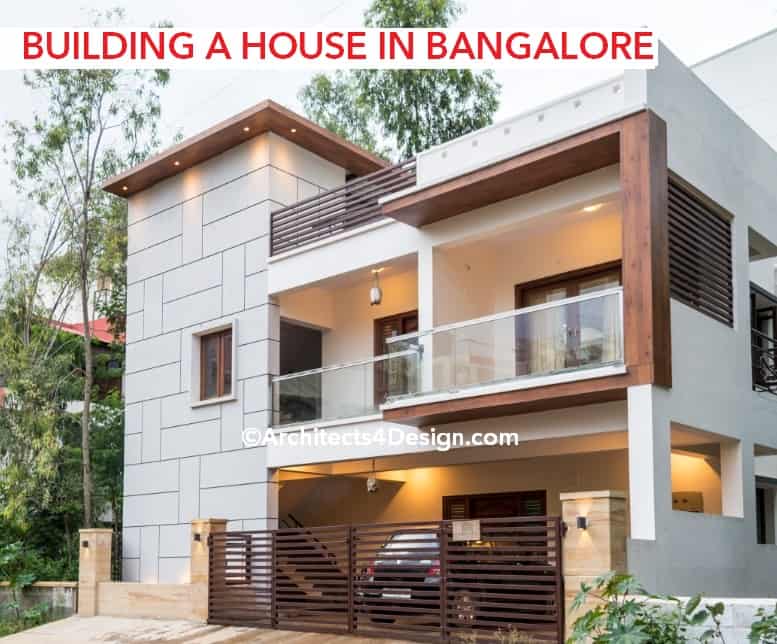 One has to go through the below points, making one understand the procedure it Starts and Ends.
How does one go about selecting and finalizing the right Site?

ACCESSIBILITY / LOCATIONS:
This would be the first basic qualifying criteria to shortlist a location. The proximity to your area of operation, like work, client accessibility, vendor convenience in case of business premises; schools, etc. with support facilities like hospitals, shopping bazaar areas in case of residences; and many other criteria consisting of personal preferences help you to zero down on the most convenient location.
ROAD WIDTH/SITE ORIENTATION:
One should also consider the road's width as wider roads with good location access leads to better property appreciation in the future.
Generally, 30×40 sites have a road with 25 ft with 2'6" stormwater drains on either side. For bigger site dimensions like 40×60 50×80 40×50 etc. usually, have 30 to 40 ft roads.
Site orientation plays a key role as one can choose from site facing options like East facing, North facing, south-facing and West facing properties.
Generally, East facing and North facing sites are more preferred, and hence such sites are almost 10% more expensive compared to west and south-facing plots.
INTERMEDIATE OR CORNER SITE:
While you are on the lookout for Buying a Site in Bangalore, You will come across options such as intermediate sites with a road on the onside.
Also, you will see the site will be surrounded by plotted development on all three sides. Your ventilation and natural light for your house will depend on the kind of setbacks given by your neighbours.
If you are planning to opt for a Corner site which will be more than 15 to 25% expensive when compared to intermediate sites.
The main advantage is that the site will have 2 or more-sided roads, better natural light, ventilation, and good building front elevation.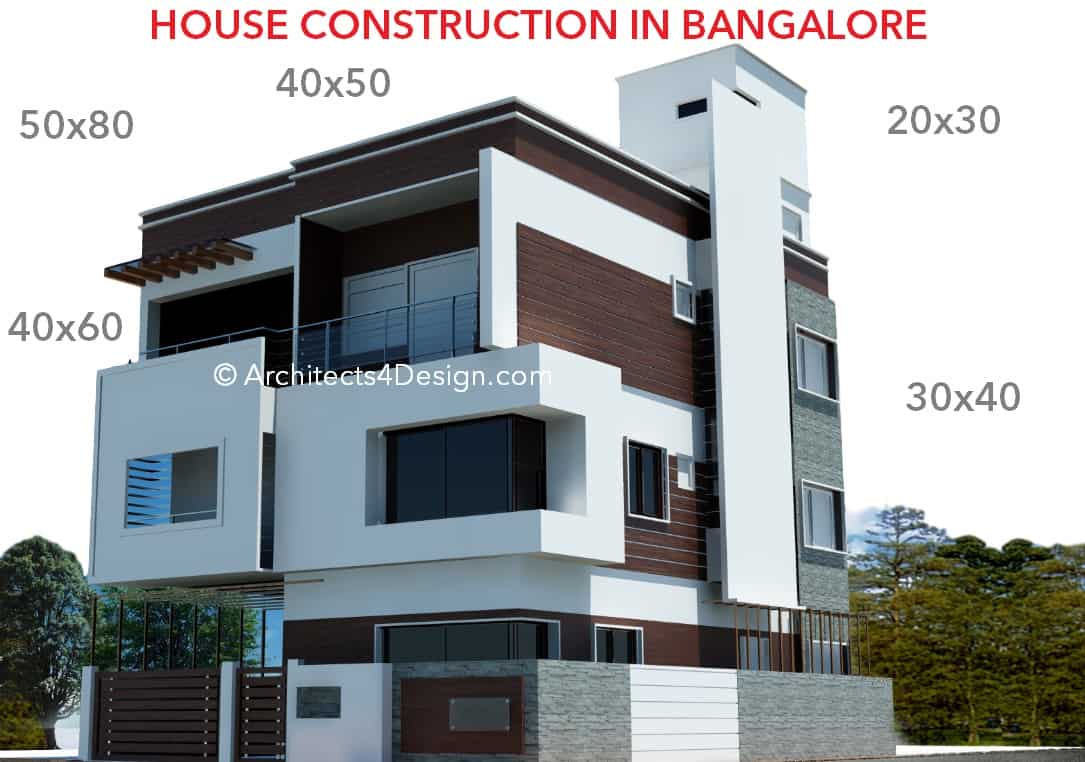 SOIL CONDITION:
This can impact the construction cost in a major way. The softer the soil, the deeper and stronger the foundation will have to be.
Mostly in Bangalore, you will come across the red soil, but there are instances where you come across the loose soil. Hence, it's highly recommended that you go for a soil test before building starting house construction.
TYPE OF SITES:
In a city like Bangalore, where many layouts have been formed under government approvals Like the Bangalore Development Authority (BDA), Karnataka Housing Board(KHB), Bruhat Bengaluru Mahanagara Palike (BBMP), Bangalore Metropolitan Region Development Authority (BMRDA), Gram Panchayat, Housing societies, etc.
Most of these developments or sites will come under "A Katha" which will help you in getting loans from banks easily at lesser interest rates compared to "B Katha properties".
Other than these approved plotted layouts, many layouts are formed by private developers that are unauthorized and such properties or plots come under "B Khata." These sites or plots' costs are much cheaper in cases 10 to 35% cheaper than "A Khata" sites in the same surrounding areas.
VASTU FACTOR:
Though this would be an option for you if you believe in Vastu, this should be important for an investor and could affect the resale ability or rentability in the years to come.
LEGAL ISSUES:
If the land is land allotted by the statutory authorities like the BDA, things are more straightforward, as only the transfer formalities need to be considered.
If not, it is advisable to avail of a competent lawyer's services to advise you on the pitfalls. Registered Sale deed, Khata, and Encumbrance Certificates are some of the documents that scrutinize.
How does one proceed further after the finalization of the Site in the case of a residential building?

Once the site has been finalized, you need to conceptualize House plans done by professional, experienced Architects.
THE MORE QUALITY TIME SPENT AT THIS STAGE, THE BETTER:
This shall save many costs, breakage, remodeling, improve efficiency, and achieve proper synchronization at work.
Ask QUESTIONS to yourself?

Talk to your family members about their requirements and also try to forecast your future needs.

Conceptualize your house by visualising and observing your lifestyle.

Know what your basic requirements are before meeting the Architects.
LIVING ROOM:
If you have regular visitors, you may require two living room areas, formal and informal. If there is a first floor, then the staircase should not come down into the living rooms, undermining the home's privacy.
Do you throw parties regularly; you would require a party area either on the terrace, a large living room area continuing into a garden, or a first floor living within a large balcony. Maybe a bar in some cases.
The living area should have a washroom to avoid having guests go to one of the bedrooms to use the toilet. Teenage Children may require rooms with study areas.
SERVANT ROOM:
Do you have a household help / Driver who lives with you? Do they need separate toilets/bathrooms?
Is the lady of the house a housewife or working? If she is a housewife, then the kitchen may assume a lot of importance.
ADDITIONAL ROOMS:
Do you have the elderly staying with you now or in the future; do you have relatives and friends visiting over regularly? You can't ask your children to vacate their rooms when there are visitors?
Are you of the type who watches a lot of movies, TV, or music? Then you would want a private home theatre area.
RECREATIONAL AREAS:
Do you require open play spaces? Gardening enthusiasts will require gardens, and nature lovers would like spacious verandahs, terraces, large balconies, large windows.
One should, therefore, use the terrain to your benefit. If you work a lot from home, a big study area with a mini library arrangement may be required.
WATER CONSERVATION:
This assumes great significance in today's world. Everybody should take up Rainwater harvesting. Not only does it recharge the groundwater, but also you get some incentives on your water bills.
Do you require any specific climate controls, like centralized A/c, heating, running hot water in all faucets, fire control equipment, garden/lawn sprinklers, solar energy planning, inverter or generator wiring, etc.?
FUTURE NEEDS:
Are you married or planning to get married, with kids, with parents, or expect them? Do you plan to rent it out, partly or entirely, or planning to sell it shortly?
So it's always better to be building your house based on future needs. If this is not considered at this stage, then it might lead to house renovation in the future to take care of your additional needs, which might work out as expensive.
HOW RELIGIOUS YOU ARE:
If you have a religious bent of mind, having regular rituals at home, you would like to have a pooja room and some area for Homas and people to sit and watch.
The design would also have to be modified with a high roof so that the smoke does not discolor the paint in the Homa area.
The smoke can seep through every nook and corner of the entire house so that the beneficial effects of the Homa reach every part of the house.
Maybe a meditation room is apt for the spiritually inclined. A Muslim household may require an area for namaaz facing Mecca.
VASTU FACTOR:

This is of paramount importance. To make the most of your site or deflect the negative energies, Vastu can consider Vastu the best solution to harness the positives and have a harmonious and healthy living.
If you are not very particular about this, even then, Vastu assumes a lot of importance. This is because it enhances the resale ability of the house.
BUILDING BYLAWS:
It's best to stick to the statutory requirements or get the house plans designed based on the respected authorities' bylaws.
Ensure that you build a house based on plan sanction provided by BBMP or BDA, or any other authority.
Building violations will rise to future troubles once the Akrama sakrama bill is passed or implemented, resulting in hefty fines or cases.
Building a House as per Bylaws has many advantages are many like. Not only is it hassle-free, but in the long term, it may turn out to be safer.
The various setbacks on all sides, leading to better ventilation and natural light, would also help fire prevention/control, safety from electrical wires drains, etc.
Hiring Architects for House Construction in Bangalore?

The most crucial aspect of the house construction process in Bangalore is to appoint a professional Architect for designing and handling the project from start to completion. An Architect is a right guide for any project making sure that his/her Dream Hosue is built.
Choosing the right Architects are also essential for a successful project. If you are thinking of building a house, don't cut corners at the wrong places by trying to avoid Architect services for house plans and supervision.
IMPORTANCE OF AN ARCHITECT:
An Architect brings as much value to a house as they do to large complexes or flats. He will do site studies, help secure planning and zoning approvals, execute various pre-design jobs, and make approval plans, sanction plans, and work drawings.
This will give you a clear idea of building up, and you can contribute better concerning ideas.
COORDINATION WITH CONTRACTORS:
The most important part is there will not be any communication gaps. The structural consultant is another integral part of the design, which is engaged by the Architect.
The two have to work in tandem. The structural consultant is more required for buildings with pillar construction.
Also, work along with several contractors in tandem so that the project is on schedule; some of the different contractors one can come across during the building of a house are Building contractors, Labour contractors, Plumber, Tiles layer, Electrician, etc.
DESIGNING A HOUSE AS PER BUDGET:
The tighter the budget for building a house in Bangalore, the more imperative is an architect's skill. The general belief is that the money paid to an architect is an avoidable luxury.
But the fact is that it is money well spent. The value and savings received in return are much more in value.
Architects help you identify what you want to build and give shape to your ideas and wants.
An Architect can give you alternatives you would never have thought of and help get the best out of your investment.
Architects don't just design four walls and a roof; they create complete environments, and comfortable working/living spaces with interiors and exteriors.
More so, spaces that are functional and stimulating places to work and live based on your lifestyle. Without an architect, you could end up spending an additional 50% and still not get what you want.
EXPERIENCE AND CREATIVE DESIGN:
The services of a qualified, experienced architect and his structural consultant are critical for a host of reasons. By training and experience, the architect is competent to lead the project, planning, and design process in its entirety.
An Architect is trained in the kinds of skills that will result in a well-designed, aesthetically appealing building and having optimum functional utility.
He is creative and resourceful. He or she will bring in fresh ideas and explore options that may not have crossed your mind.
An architect cuts down building costs by avoiding unnecessary expenses on-site and enhances the future resale / rental value by good design. An architect will be very familiar with the building codes and local laws and coordinate the site's work.
The DESIGN process during House Construction- Elaborated?

FIRST MEETING with the ARCHITECT on What to discuss:
Be very clear about your budget.
.
With an Architect, you know exactly what your costs will be once you have frozen the design.
.
As far as communicating precisely what you need is your primary responsibility. Remember, the Architect shall only build up and develop your ideas and wants.
.
You have to be very clear on your budgets. Once the designs are frozen, then any change or addition shall result in addition to the estimate.
.
You have to participate very actively in giving your viewpoints and ideas. Finalize the architect's fees and payment stages of the same.
.
In advance, the interiors should also be planned for placements, cost, and appearance. The more you prepare, the better because there shall be no breaking, rebuilding, and additional costs and time overruns.
MEETING with the Architect after the House Plans are finalized:
Once floor plans and Elevations are finalized now, you need to discuss the budget and consider what construction materials to be implemented on-site.
.
At this stage, the Architect can release house construction Boq's based on item work. These need to be issued to various shortlisted building contractors who get various proposals from different contractors. This will help you to get the best proposal.
.
Discuss preparation blueprints that are needed for submitting for plan sanction from BBMP / BDA. Also, discuss if there will be any building violations that will be there concerning actual sanction drawings.
.
Discuss project scheduling and work timeframes. These preparations will ensure that the project is always on a given schedule, leading to completing the project as per plan.
.
Finalize and discuss what construction materials should be used in construction works such as Flooring, Plumbing, Electrical, Cladding for elevation, Lighting fixtures, and Wood for windows and doors.
Things to consider while Designing House Plans?

Lots of light and open space. It should be comfortable on maintenance, user-friendly, and beautiful to look at.
A terrace garden.
Have as many electric plug points as possible, and plan their locations.
Have large windows, and lots of glass; they let in lots of light air. They also give a nice feel-good factor.
A spacious kitchen with appliance placements well planned.
Spacious bathrooms, walk-in closets/wardrobes.
Bedrooms without much clutter, maybe with a TV at 10 feet in height.
One entry and exit door, apart from the balcony doors.
Easy access to the entire house.
Rain Water harvesting
A Home Theatre room.
A water body (a small waterfall or fountain).
Solar Water Heating and Lighting.
An open to the sky in the house, with a small, sit out.
A big garden for pets
Ensure the Home Loan if the House is in Home finance.
House Insurance.
.
Vastu Positions or Factors Considered during Hosue Construction in Bangalore

Vastu Shastra, or "the science of architecture, " has been used in India for generations when designing and deciding a home's arrangement. This science is supposed to preserve energy in a house and bring peace, prosperity, and luck.
Vastu Shastra doesn't only deal with the position and direction of rooms but also helps you choose colours and decorative items.
Below are a few critical Vastu Shastra tips that will run you through the crucial points while building your home, which will help you create a beautiful and serene house that will make sure you reap the best of everything.
The position of KITCHEN as per VASTU:
This is the most important part of a house as this is where you will get your nutrition from and, in turn, your health. It should ideally be located in the south-east corner of the house. If this is not possible, the north-west portion is your next choice.
All electrical appliances should be connected to the southern wall as this is the best direction for fire elements, while the gas and exhaust fan should be in the south-eastern corner of the kitchen. Blue, green, red, and yellow are the best colors to be used in the kitchen as these are primary colors that are supposed to improve the health and eating habits of the people in the house.
The door of the kitchen has to be in the north-eastern direction, preferably. While cooking, it is essential that the face of the person cooking looks in the east direction.
The position of MASTER BEDROOM as per VASTU:
The location of Master Bedroom should be located in the southwest part of your home. This gives strength and stability to the people using the room. Calming and soothing shades of colors should be chosen for the master bedroom. Often pink is the choice which represents love, joy, and happiness.
While sleeping, you can place your head towards the south, east or west directions but not towards the north, which may cause nightmares and disturbed sleep. Also, make sure your bed is not directly below a window. Peace and prosperity are ensured by designing a square or rectangular room. Also, having live plants in this area is not advisable, according to Vastu Shastra.
The position of PUJJA ROOM as per VASTU:
This is the most sacred and peaceful room in your home. The proper design of this room will ensure the overall well-being of everyone in the house. The position of the Puja Room should be on the north-east corner of your house.
The idols should never face each other. They should be facing either the east, west, or north direction. Only an idol of Hanuman can face the south direction. White, light yellow or combinations of light blue and light yellow are the colors of choice for this room.
The flooring needs to be mostly made of marble. Broken idols or torn photographs should not be kept in the room. The ground floor is the most preferred location, while the basement is strictly prohibited.
The position of STAIRCASE as per VASTU:
The staircase, both indoors or outdoors, should not be located in the north-east corner. It should always be from north to south and from east to west. The number of steps should always be in odd numbers.
Doors should be constructed at the beginning and end of the staircase and ensure that the stairs do not touch the northern or southern walls.
Bedrooms, puja rooms, A kitchen should never be built under the staircase. That area should be used only as a storage room. The staircase should not be visible to visitors as it is considered to be inauspicious. Only light colors should be used for staircase designing.
The position of WATERBODY / SUMP TANK as per VASTU:
The presence of water increases the aesthetic value of your home and acts as an energy generator. It can have severe negative effects if ignored and can positively affect the house's inhabitants if appropriately designed. The water body placement and the direction of water flow are the two main aspects that determine its Vastu.
The ideal location of a swimming pool is the north, east, or north-east direction. In fountains or ponds, the water flow should be from the north to the eastern direction. The directions that work best for underground water tanks are the same as above. But if these storage tanks are above ground level, they should be in the south, south-west, or south-east directions.
The position of the LIVING ROOM as per VASTU:
It should ideally be located in the east, north, or west direction. Light shades of color to paint the walls are advised to bring togetherness and affection. In case you are insistent on a dark shade, use it only on the east wall. Any electrical items should be located in the southeast corner of the room.
Seating for guests should essentially be in the south-east or north-west corners facing the west or the south.
To elevate the mood and spread positive energy in the room, display nature and scenery's wall paintings. This room should be lit brightly. So, hang a chandelier in the south or west part of the room, avoiding the exact center.
The position of STUDY ROOM as per VASTU:
Thus, a study room should be in the north-east, east, or west part of the house. While studying, face towards the east or north direction. The bookshelf should be made on the southern or western wall. For better learning power, use a light or neutral color scheme.
The position of the MAIN DOOR as per VASTU:
The main door is something that builds the first and lasting impression of your home. This door should be taller than all the other doors of the house. The main door should be in the east or north direction. No obstructions should be present in front of the main door. It should always have a threshold or door sill.
Your home will be Vastu friendly, and peace, prosperity, and good health will always be permanent residents in your home with the tips mentioned above.
How to Select a Building Contractor for building your Hosue?

The Architect can only give the overall design and assure structural stability with the structural engineer's drawings.
How it's carried out lies in the hand of the Building contractor who takes up the job. Finding and hiring the right building contractor is the most critical procedure of building a house in Bangalore and is of paramount importance to completing your dream home.
Selecting a civil contractor is no easy job. Generally, the house construction industry as in many others runs through references. Be sure of the credentials of the Contractor before the job is awarded to them, as several amateurs could exist in this business too.
The "Contract Agreement "with the Contractor would typically specify the job to be done along with the materials to be used for the building. In this regard, an Architect would help in wording out the contract and check the contractor's bills at every stage to the client.
Supervising the construction may be left to the Architect. He would better understand the materials' nuances than individual clients, leaving no room for overpricing and other undesirables. Involvement from the client's side is an added advantage.
How to BUDGET a Project before House Construction?

The most important step would be to appoint an Architect who can design your Dreamhouse. An architect's fee is usually between 3 and 7 percent of the built-up area's cost.
SCOPE OF ARCHITECTS DURING BUILDING A HOUSE:
Discuss with the client and understand the needs.
Give preliminary design concepts.
Changes to the concept drawings.
Discuss, Analyze, and Finalize the Floorplan.
Proposing 2D Interior layout and showing internal furniture arrangement.
Proposing a 3D elevation for the project.
Preparing detailed BOQ's for the project.
Selecting or appointing a building contractor.
Scheduling the project and implementing it on time.
Preparation of detailed working drawings for project execution.
Coordinating with a structural engineer to prepare structural drawings.
Visiting the site during building construction.
Select construction materials for the client during the finishing stages.
The final bill of settlement to the building contractor.
At the current trend, the ongoing construction cost in Bangalore is varying between Rs 1600 to Rs 1900/sq ft for basic A+ quality construction.
If you opt for such an arrangement, there would likely be some jobs pointed out as extra towards the end, which was not there in the original plan, therefore, leading to unjustified estimate overruns.
The design determines the final budget: The design, style, size, aesthetics, fittings, etc., are the factors, which determine whether your final cost comes to 1600/- or 2500/- per sq ft.; and never the other way round.
How to Calculate the Cost of Building a House in Bangalore?

One can easily calculate the approximate cost of building a house in Bangalore by calculating the overall built-up area x Rs 1600 to Rs 2500 /sq ft(Premium). This will more or less help you understand the approximate project cost.
ADDITIONAL COSTS TO BEAR DURING HOUSE CONSTRUCTION:
Borewell drilling approximately Rs 1 to 1.9 lac.
Getting Plan sanction from BBMP/BDA (cost as per actual).
Paying BESCOM deposits for meters.
Getting BWSSB connection for sanitary and water.
Electrical wiring works up to the main meter.
Solar water heaters.
Rainwater harvesting provision.
Interiors/furniture as per actual.
INCREASE IN HOUSE CONSTRUCTION COST:
As in general practice, the contract is given to a contractor to build at, e.g., 1700/- per square feet.
This is calculated at an assumption of a specific constant rate of materials like steel, sand, and cement. The current house construction cost in Bangalore for a residential building is Rs 1750 / sq ft.
Even in a specific situation of an increase in the necessary raw materials of sand, cement, and steel, there would be no basis for recalculation leading to losses on one side, whether in money or quality.
Since there is no basis for the rate calculation, 1700/- per sq ft cannot be adhered to. This can lead to a lot of compromises on either side. There would be misunderstandings, confusion, and losses in quality and money.
Therefore the square feet cost is only a dividend of the total cost divided by the square feet constructed and not a base for any contract.
Note: One needs to ensure that the building contractor in the "contract agreement "mentions the costs of necessary construction materials.
Some of these building materials include Steel, Cement, River Sand, M Sand, Flooring material, granite cost, etc. Any variations here can be billed directly to the owner as per the actual quantity.
House Construction on Square feet contract or Itemized Bill (Boqs)?

The below table illustrates the distinct differences of a contract based on Square Feet rates Vis a Vis an itemized bill approach.
Know which is ideal for giving your building contractors based on the Sq ft vs. Item rate. Know here the construction rates in Bangalore for a building contractor and Labor contractor at Bangalore.
Extra work measuring is not practical, or in some cases, one might pay a Lumpsum amount, which will be expensive compared to boqs.
Construction on SQUARE FEET basis
Construction on ITEM RATES BOQ's basis
This is a prevalent method adopted by most Building contractors or labor contractors during construction without any theoretical and analytical knowledge.
This is a professional, analytical, and scientific method of working. Anybody can adopt it since it can be followed easily, even by a layman. In this, the house owner will be billed for the specific work done only.
In simple words, persons like masons with sound knowledge of work but no educational background must present and calculate scientifically.
This estimate is based on specifications/requirements, which are the basis for arriving at item-wise quantities/rates. This gives a total cost projection.
The risk factor mainly for the person awarding the work is high since their money is involved.
There is absolutely no risk for the client and the contractor because money is paid in basic calculations.
Advance paid for work and the actual work completed, tallying the two is challenging, not practical, and sometimes impossible.

These agreements are quite vague and with a lot of loopholes that, more often than not, in the end, do not work in favor of the client.

Simple logic says that nobody would do anything at a loss.

Certain works would turn out to be extra and out of the agreement, which therefore gets charged extra on the premise that it was not part of the contract or the job is deserted halfway, leading to only confusion and complications.

There is a method for paying, and even this is a part of an agreement. E.g., initially, an advance of 8 to 10 % of work has to be paid to the contractor.

At every stage, say on completion of the foundation, the contractor raises a bill on actual work measurement.

In this, the house owner has more flexibility and control over the ongoing construction work on site.

A certain percentage amount is deducted as a mobilization amount. A certain percentage of the amount is deducted as a retention amount (to be claimed after completion of work, to ascertain commitment and good quality work), ensuring the contractor invests part of the capital required.

Any extra work carried out can be billed by the contractors on a lump sum amount only.
Any extra work can be added to the project and billed as per actual BOQ's proposed by the civil contractor when signing the project.
Terminating the contract is tough if the contractor has by then received advance more than what was required. In cases, disputes can only settle on a Lump sum amount.
Terminating the contract or even apportioning part of the work to another contractor is simple since there is a checklist of payments made in running bills, plus contractors' money is with the client.
Only the plinth area is measured in square feet basis contract, and item-wise calculations are not made. If differences arise, measuring the work after completion is not practical since whatever is below the ground level can never be measured.
Measurements happen at every stage, and these are actual item-wise measurements. So one can easily track every construction or civil work carried on site.
The item-wise billing is a system wherein the cost of everything is calculated forwards from the raw materials unit-wise. More simply said, it could be called the Bill Of Quantities (BOQ). An experienced Architect can handle this systematically.
Payment /Project Schedule during Construction of a House?


Equally important is the project schedule. This has to be taken from the contractor and finalized after the Architect has Okayed it.
It takes into account the actual raising of the structure and the curing of the raised structure. It would be wise for the client to track the work in progress with the project schedule.
In case the work is progressing slower than planned the schedule is something to worry about. It could mean that somewhere some shortcuts have been taken. Resultantly, the end product would be of poor quality. Sometimes to save time, the curing process gets the go by.
PROJECT SCHEDULE:
As informed above, the schedule of work is prepared by the Architect. To achieve or meet the plans on time, it's essential to coordinate with the Architect, Contractor, and Client.
Some of the things that might affect the construction schedule:

Supply of construction raw materials.
Payments to vendors on time.
Clearing of dues to the contractor by the client.
Select materials well before the schedule.
Avoiding redo works on site.
Purchasing of materials well before schedule.
PAYMENT SCHEDULE:
It may also be a good idea to work out the payment schedule based on the job done so that even in case of delays, the payment is made only after the job is finished.
What is the Process/Procedure of Building a House in Bangalore?
The process or procedure of building a house in Bangalore involves Finalizing a Site > Hiring an Architects > Concept designs > Plan Approval/Sanction > Architectural working drawings > Hiring contractors > Project hand over.
How does one finalize the Ideal a site or a plot for building a House?
One needs to but a site which is nearly 40 to 60% of his overall budget for planed for building his Dreamhouse. The cost of the site depends on the amenities nearby like Schools, Hospitals, Malls, Parks, etc and How close is it to the city center.
What are the different site dimensions in Bangalore for building a House?
The different site/plot dimensions available for building a House are 20x30 600 sq ft | 30x40 1200 sq ft | 40x60 2400 sq ft | 40x50 2000 sq ft | 50x80 4000 sq ft.
How much time does it take to build a Duplex House in Bangalore?
Generally, if you are building a Duplex house on a 20x30 or 30x40 or 40x60 site with G+1 Floor it would take a minimum of 6 months to 9months.
How much time duration does it take for building G/G+1/G+2/G+3/G+4 Floors in Bangalore?
The time duration required for building a New House in Bangalore on 20x30|30x40|40x60 site/plot for construction of Ground Floor: 3 to 4 months | G + 1 Floor: 5 to 7 months | G+2 Floors: 7 to 9 months | G+3 Floors: 9 to 12 months | G+4 Floors 12 to 14 months.