In today's modern where the real estate or housing demand is moving skywards, Its one's Dream to have his or her own House built under the guidance of residential Architects. Bangalore real estate sector has seen the same.
Since the start of mid 90's where the Actual foundations were laid to become the " Silicon Valley of India " in these years, there has been a continuous supply of Jobs in the IT sector which is resulted in migration large people seeking jobs and making Bengaluru their new Home.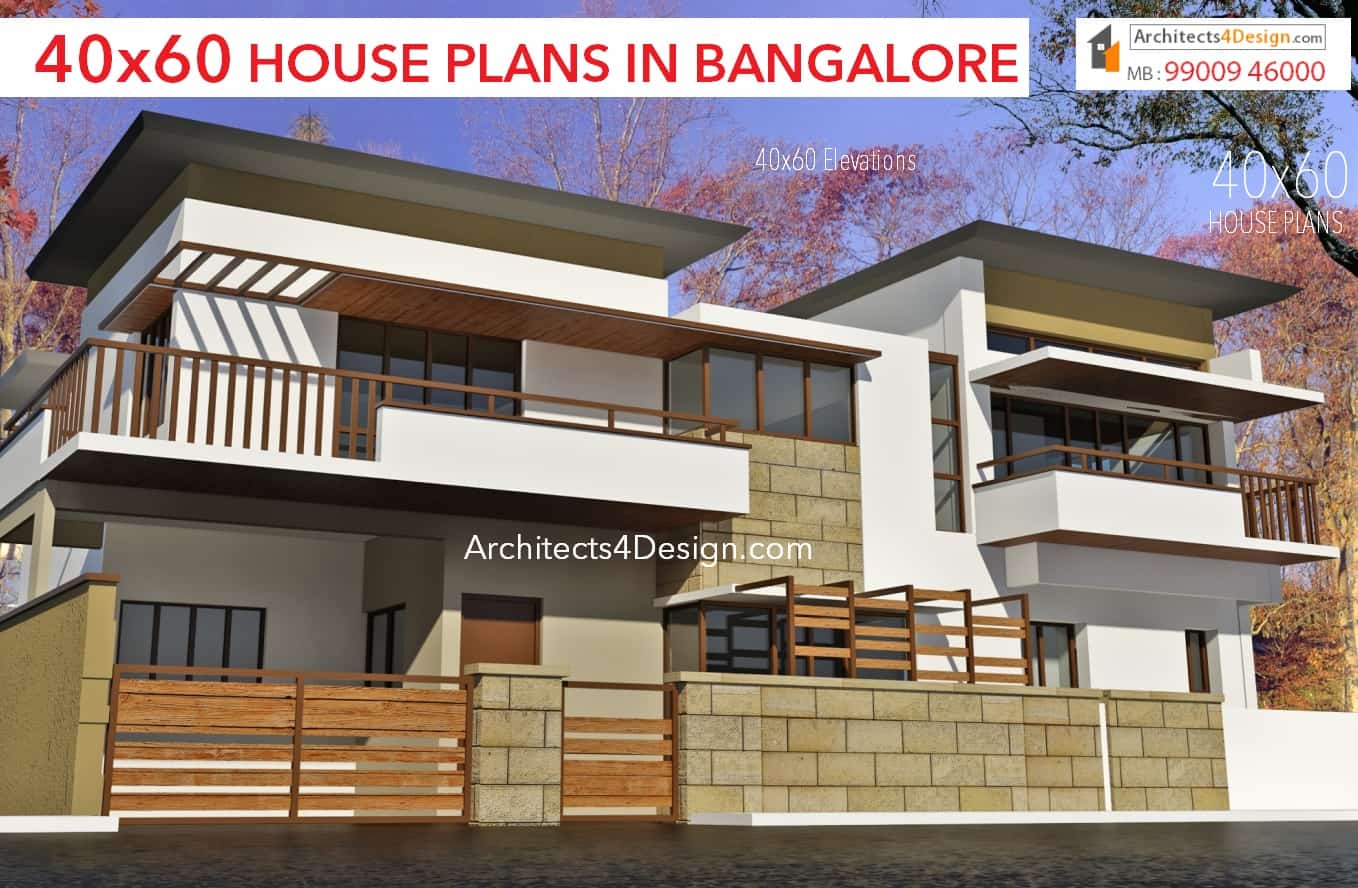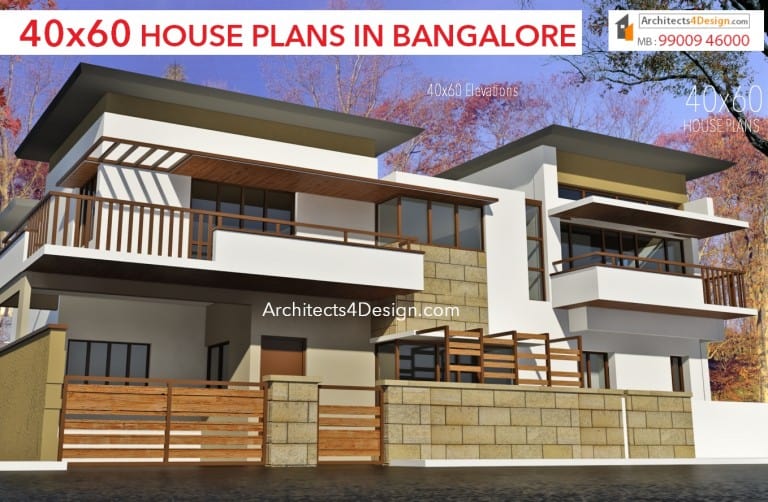 This has increased the demand for the Housing sector; There are many plot dimensions to choose from like 20×30 30×40 40×60 50×80 and other odd dimension sites.
In this page, we shall explain about the different planning possibilities on 40×60 sites and its facings advantages like East facing, North facing, South facing, West facing house plans.
If one needs to buy a 40×60 / 2400 sq ft Site in and around Bengaluru one needs to spend around Rs 2000 /sq ft to Rs 15,000/sq ft if looking out for prime locations such as HSR layout, Koramangala.
At present, the Cost of construction for building a residential house varies from Rs 1600 to Rs 2600 /sq ft depending on the finishing materials one chooses like flooring, bath fittings, cladding material etc.
WHAT CAN YOU BUILD ON a 40×60 SITE in BANGALORE?
Considering that you already here because you Own a 40×60 site and now looking out for the possible options that one can build a House on it.
Generally, a 40×60 or 2400 sq ft large enough to build a comfortable, spacious house of 2bhk to 4bhk Duplex house with all modern amenities like garden area, lift, Architect design, Spacious rooms etc. The scope for an Architect to design 40×60 House plans in Bangalore is much better when compared with 30×40 house plans.
When compared to a 30×40 a 40×60 House designs can be more customized as the available area is twice as much in comparison with a 30×40. There are many options that one can build their House on a 2400 sq ft plot like Duplex House plans, Rental house plans, Apartment plans or a combination of Duplex with rental portions. Below are some of the options.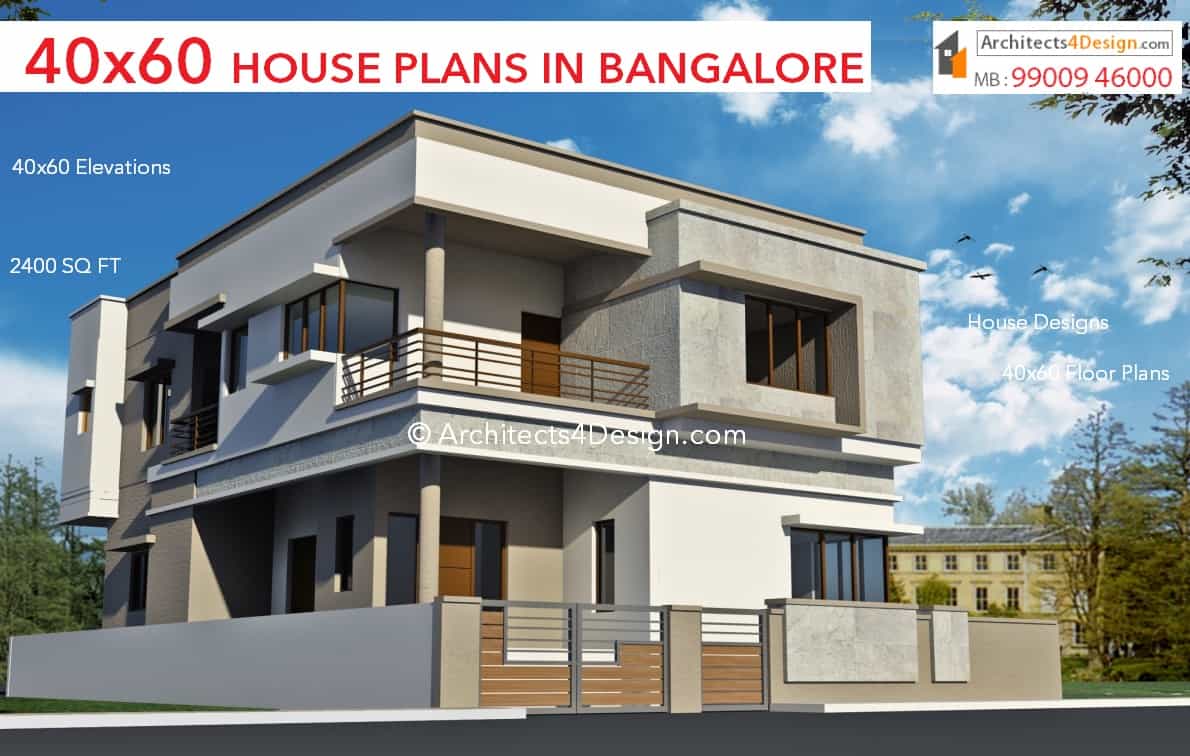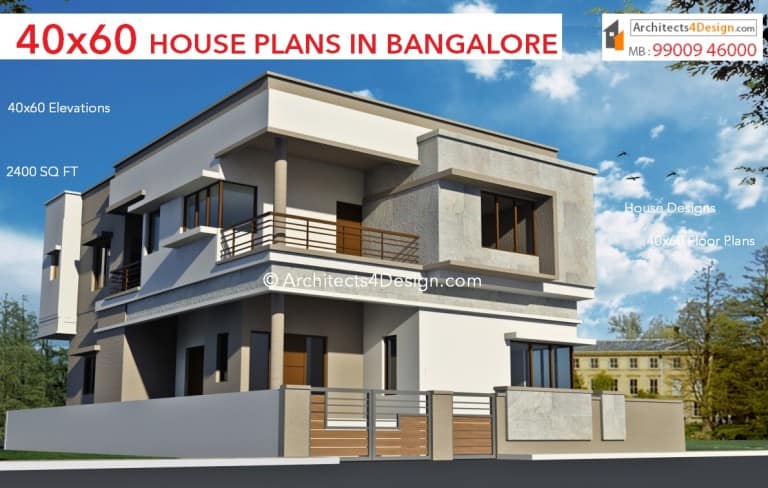 OPTION 1: CONSTRUCTION OF AN INDEPENDENT DUPLEX HOUSE ON A 40X60?
This will be the best option if you are planning to build an Independent house of a 3bhk or a 4bhk Duplex house in Bangalore. A 2400 sq ft site can accommodate all requirements for a spacious and comfortable living like parking, garden, terrace garden, large balconies, verandah etc. One can have more privacy on this option because its only one single independent unit and hence the owner will have more privacy.
OPTION 2: CONSTRUCTION OF DUPLEX HOUSE + RENTAL HOUSES ON 40*60?
This option is better if the Owner/Client wants to Build a Duplex house along with the rental concept. This possibility is more advised to a client who thinks of Building his own house as well as some rental units which can generate some rental income which can help the client to replay his home loan. There are multiple options possible in this concept like G+1 Duplex House Plans 2nd and 3rd Rental etc. which is explained in detail as you read below.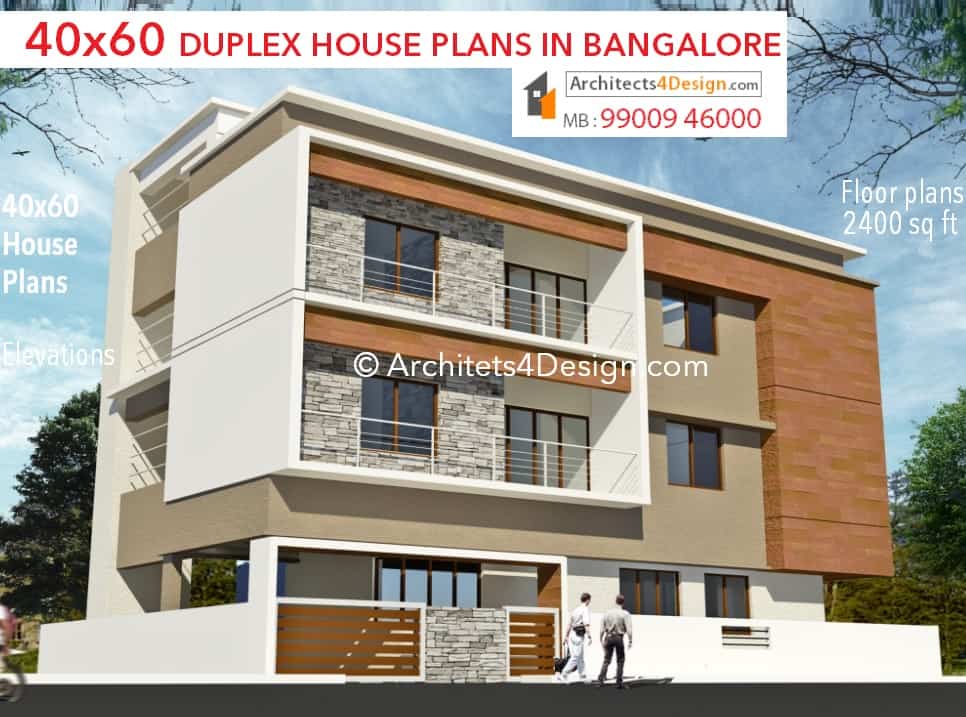 OPTION 3: CONSTRUCTION OF RENTAL HOUSES ON 40X60?
If the Client thinks that the property or construction of houses for investment purposes, then this would be the best option for an owner when compared to the above two options.
The client can build different possible options of 2bhks / 3bhks / 1bhks on a 40*60 site on different floors making sure that space is well utilized by the Architect's who design the house plans.
One should also make sure that the 40*60 house designs are done in such a way that the maximum no of units can be planned and no unnecessary design elements are planned. This will make sure that the project is executed efficiently and reduces the risk of cost escalation for the project.
OPTION 4: BUILDING INDEPENDENT APARTMENTS ON 40X60?
YES, It is possible to build an Apartment on a 40×60 and SELL them independently to individual owners, But one has to make sure that the Building has to be built as per bylaws and with no deviation.
These Independent houses/Apartments can be registered independently to each client. An Architect has to design in such a way that each apartment gets one car park, lift, small kids, play area, common lobby, Terrace should have some common amenities etc. This option is more suitable for Builders / Developers who do land development and sell the project as independent units.
There are Different possibilities of Building on a 2400 sq ft / 40×60 Site in Bangalore like Duple house plans Rental house plans on G+1 G+3 G+3 or G+4 Floors.
BUA : Built Up Area.
FAR for 40×60 Site: Generally FAR is a minimum of 1.75 .
2400 sq ft x 1.75 FAR : 4200 sq ft.
Note: The FAR for a 40×60 with less than 12mtr road width will be 1.75. If the road width is more than 12mts or its in a commercial zone then the built-up area might even go up to 2.25 which will result in a built-up area of 40×60/2400 sq ft x 2.25 FAR: 5400 sq ft.
40×60 HOUSE PLANS in Bangalore on GROUND FLOOR only of 3BHK or 2BHK BUA : 1800 sq ft
If you want to build a 2BHK of 3BHK house on a 2400 sq ft site then this would be a suitable option on a 40*60 plot. However, it's very important to get the house designs done by the Architect even for the above floors if it's for a Duplex house or Rental units.
The Client needs to have a detailed discussion with the Architect discussing his budget for the entire project and in how many phases he can build, the above floors along with the house construction proposed for the entire project.
Note: If you are Planning for construction of a G+1 Duplex house but you are executing the Ground floor only or Planning to build only 3BHK but renal houses above that make sure that the internal and external Staircases, parking requirement, passages etc are well planned by the selected Architect's.
One needs to also take all the floor plans, elevations and structural drawings for the above floors in advance. So that it would be easier to execute " Phase 2 " of the project which is nothing but building above floors.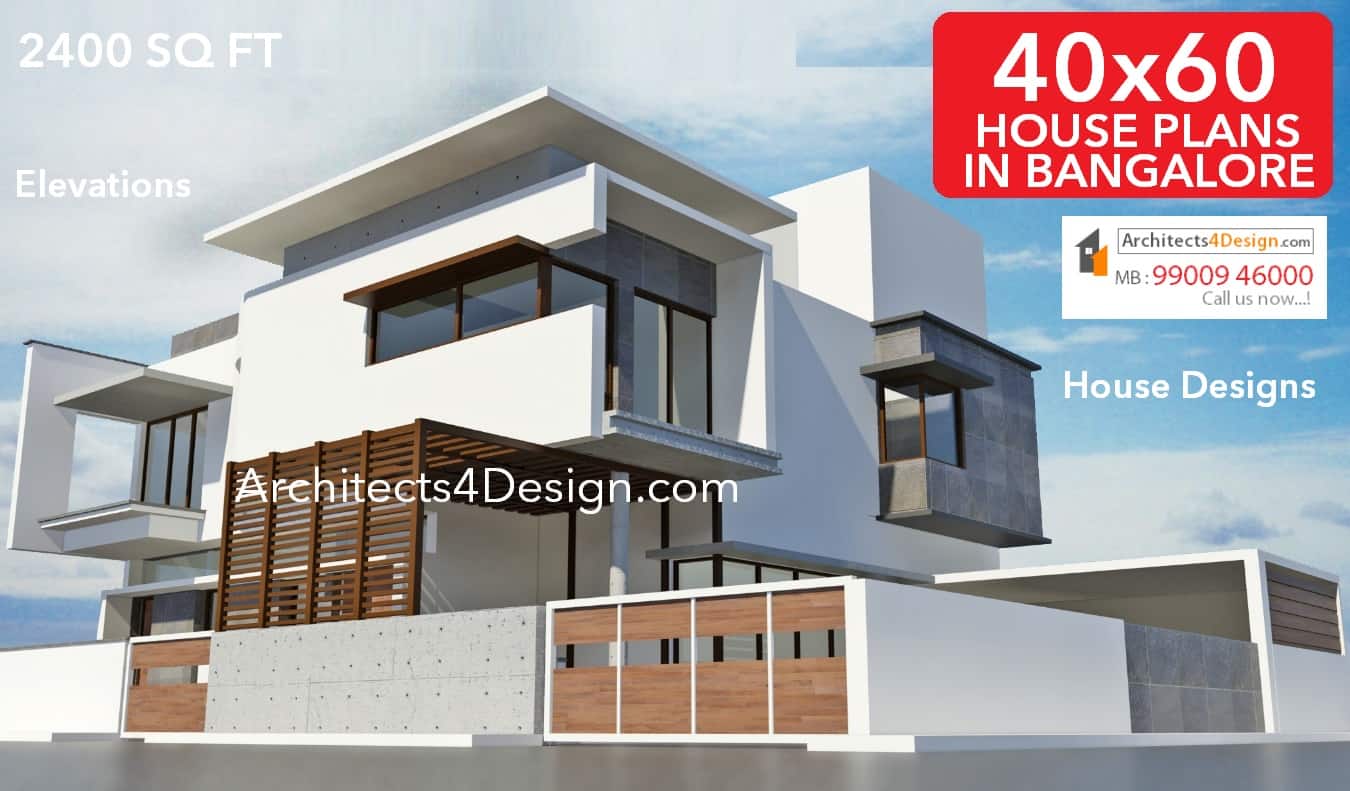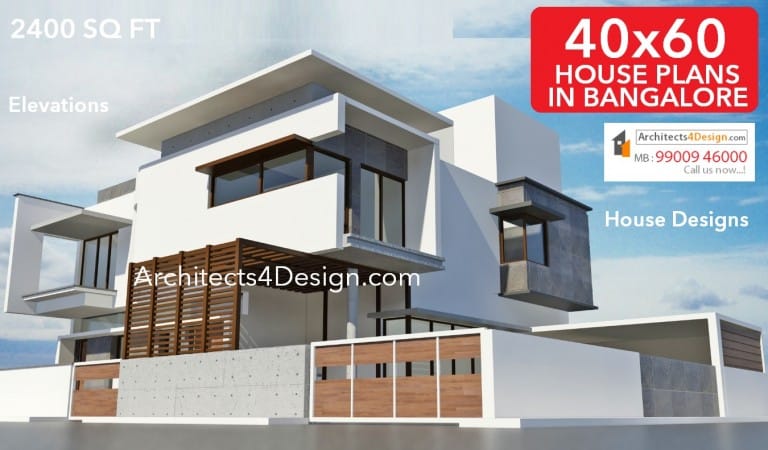 GROUND FLOOR 2 BHK:

1400 sq ft: Parking for 3 Cars + 5 Two wheelers + Living room of 200 sq ft + Kitchen of 125 sq ft with attached utility + Dining room of 120 sq ft + 2 Bedrooms of which one would be Master bedroom with 150 sq ft both having attached bathroom with shower + Common bathroom + Pujja room of 50 sq ft.
GROUND FLOOR 3BHK:

1700 sq ft: Parking for 12 Car + 4 two-wheelers + Small foyer of 8×5 + Living area of 12*17 + 2 Rooms of 12×14 with attached bath + 1 Master bedroom of 160 sq ft + Common washroom + Kitchen of 10×14.
40×60 DUPLEX HOUSE PLANS IN BANGALORE on 2400 sq ft of G+1 Floors
If you are planning on 40×60 Duplex house designs, then this would be the best option for you to choose, As one can have their own private space without any tenant occupation. The main advantage of this would be that the Owner or the Client can get more privacy for himself and better utilization of space by the Architect.
However, before choosing this option one needs to make sure that the client has no intention of building any rental units on the upper floors as adding any external staircase later on while doing renovation will be more expensive and might also compromise the structure regarding space planning of the existing building.
Hence, it's always advisable for a client to discuss all these options and make sure that the requirement given to the Architects will meet all your future plans.
In this, the Architect can give better architectural floor plans as there is enough scope for him to plan the house designs with all needed modern amenities and taking care of clients requirements.
One can construct/build a better house in this option with better house plans, elevations, interior layout, landscape etc. In case,  if you have a 1200 sq ft then visiting this page of sample residential 30×40 house plans in Bangalore will help you know what you can construct on a 30*40 site.
4BHK DUPLEX HOUSE PLANS on 40*60 OF G+1 FLOORS BUILT UP AREA: 3600 sq ft
In this option, the floor plans will be prepared for 4 bedrooms with 2 car parks and 2 to 4 two wheeler parking.
Ground Floor: Parking for 2 cars and 2 to 3 two-wheeler + minimum landscaping + Foyer of 8×7 + Living area of 17×15 + Dining of 130 sq ft + Open kitchen 17*17 with utility and attached store + Common washroom + Pujja room of 70 sq ft + 1 Master bedroom attached bath of 150 sq ft with walk-in closet + Guest bedroom + Internal staircase.
First Floor: 300 sqft x 2 Master bedrooms with study area walk-in wardrobe with attached bath + Family living area of 350 sq ft + Large semi covered balcony of 200 sq ft facing the road and overlooking landscape below.
5BHK LUXURY 40×60 DUPLEX HOUSE PLANS STILT+G+2 FLOORS BUA: 7200 sq ft
This option would cost a minimum of upwards of Rs 1cr, As of today the construction cost for 40×60 G+3 floors of 7200 sq ft will cost Rs 1.25cr. When compared to the above options the amenities and requirements would be more with the option.
Other than the basic amenities one can have Home theatre, Gym, Island Kitchen counter, Bar counter, Terrace garden, Bbq counter, Covered terraces, Courtyard etc.
It's very important that the client informs and finalizes the final budget required for the project as to avoid any construction cost escalations which might come later on.
Hence, the Architect should finalize the actual final plan and prepare a detailed BOQ's (Bill of Quantities) in the process the client also informed about the total building construction cost for building his house on a 40×60 site.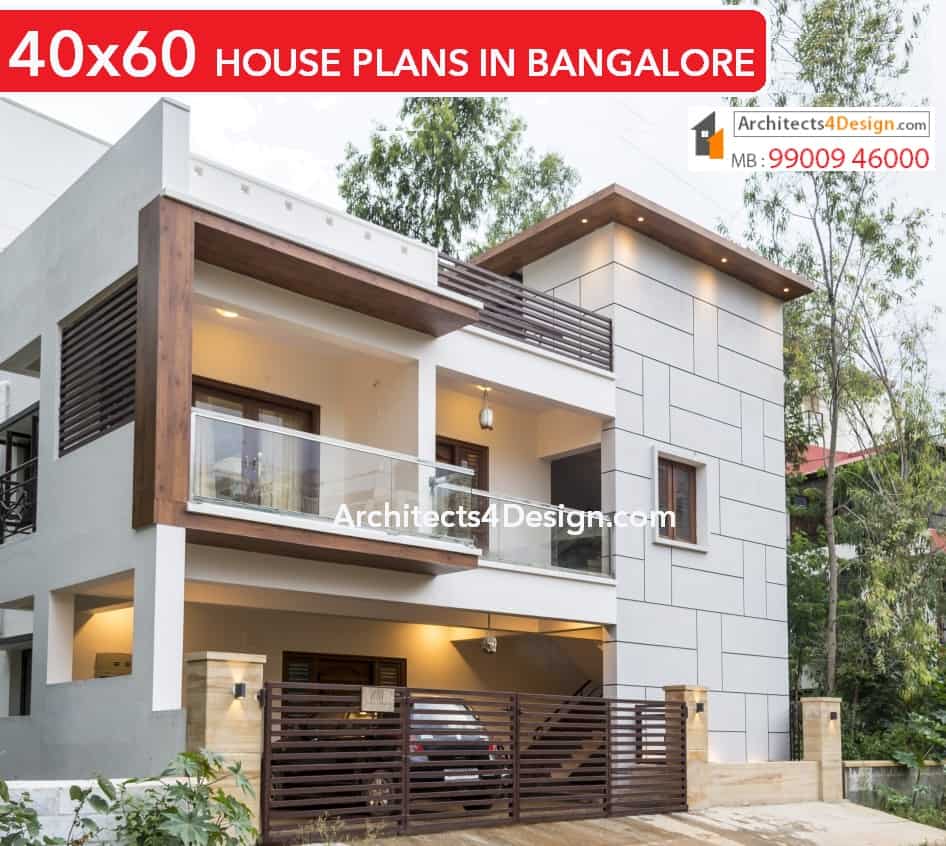 Stilt Floor: Parking for 3 cars + 1 small servant quarters + landscape at the entrance + External staircase for above floors.
Ground Floor: Veranda of 70 sq ft + Foyer with shoe rack of 85 sq ft + Open living room 15×18 +Double height at living room +Island kitchen concept + Storeroom of 6×8 + Dining room of 150 sq ft +Utility with outside entry provision + Common bathroom + 1 Master bedroom of 18×15 with study area and attached bathroom + Small guest room of 140 sq ft + Pujja room of 90 sq ft + Washbasin + Internal staircase to 1st floor.
First Floor: 2 Master bedroom with walk-in closet wardrobe + open library + Family Living room opened see through towards the family living below + Home theatre with 8 seating option + Balcony with outdoor seating for 4 + Internal staircase to 2nd floor.
Second Floor: Gym room 16 x 15 + Master bedroom with French windows overlooking the terrace + Open bar counter + Terrace garden + Overhead tank with a solar provision in above terrace.
40×60 RENTAL HOUSE PLANS + RESIDENTIAL DUPLEX HOUSE PLANS CONCEPT G+3 floors BUA : 7400 sq ft
In case the owner is looking construction as an investment then this would be the best option, In this one can build a Duplex house as well as build some rental units, So that the client can generate some rental income from the property which will help the client or the owner to repay his loans taken for building his house.
One needs to make sure that the planning is done as per the BBMP by laws or built as per Bruhat Bengaluru Mahanagara Palike (BBMP) Plan sanction.
As one can see that many buildings are constructed in and around Bangalore which have done building violations or deviations when compared to plan approval drawings. In this case, one might end up facing heavy penalties once " Akrama Sakrama " comes in. Hence, it's advisable that once can stick to G+3 floors with minimum or no building deviation.
What is the FAR/FSI for a 40×60 Site in BANGALORE?
Considering minimum road width for the site one can build up to G+3 floors with the ground floor being used for parking. Hence, 40×60 x 1.75 FAR = 4200 sq ft .
How many floors can I Build a 40×60 Site?
One can build a maximum of G+3 floors as per BBMP bylaws, considering G floor will be used for parking, It's also true that even on can get Plan sanction for G+4 floors, But this can happen only if your 40×60 plot is located in a commercial zone with wider roads.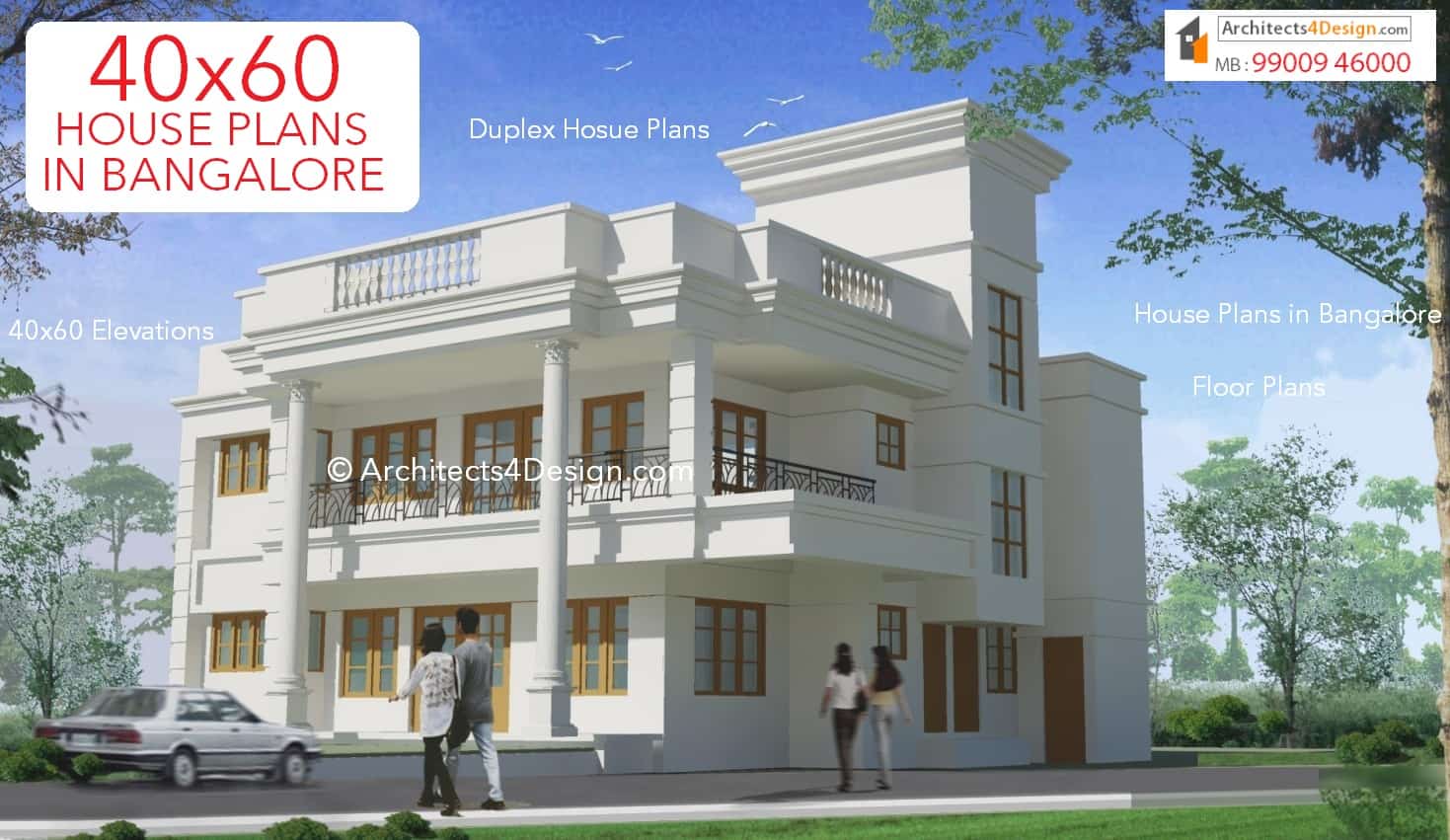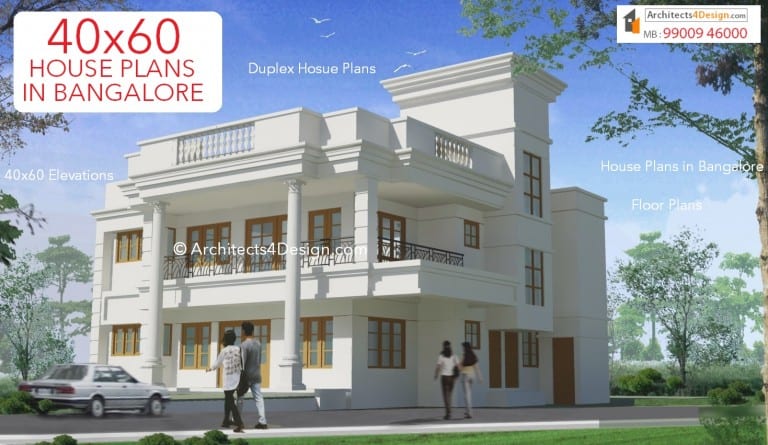 G+ 1st Floor 3BHK DUPLEX HOUSE on a 40×60 & 2nd FLOOR RENTAL HOUSE 2BHK's
In this option, the 40×60 Duplex houses will be planned on the ground and first floor while the rental unit of 2bhk x 2nos can be built on the second floor.
This option has an advantage that one needn't climb a floor to access the duplex house. Also one needs to note the house construction cost for a duplex house is much higher when compared to building rental houses.
40×60 RESIDENTIAL CONSTRUCTION COST IN BANGALORE?
The current 40×60 house construction cost for building a duplex house on a 2400 sq ft site would be around Rs 1700/sq ft. Considering the Super built-up area, to be around 3600 sq ft for duplex construction. Hence, it would work out Rs 1700 x 3600 sq ft = Rs 61lacs+.
Ground Floor: 1 Car park + External staircase to Second floor + Living 14×13 + Puja room 30 sq ft + Kitchen with utility + Bathroom + Master bed room with attached bath + Guest room + Dining area for 4 + Internal stairs for 1st floor.
First Floor: 2 Rooms with attached bath + Family living area of 15×15 + balcony facing road + Open terrace of 80 sq ft + Utility.
Second Floor : Rental units : 2bhk x 2no's : 2BHK details : 1 Master bedroom 15×12 with 8×6 bathroom attached + Guest bedroom of 12×13 + Dining room + Kitchen + Living room of 170 sq ft.
GROUND FLOOR RENTAL 3BHK + 1st 2nd 3rd FLOORS 3BHK DUPLEX HOUSE
If you want to build a Duplex house without losing much space on a 40×60 site then this would be the better option when compared to the above proposal. The main advantage of space saving would be that it will not have two staircases on each floor as proposed in the previous option.
Also, there would be more ventilation, natural light and less street noise as the Duplex house construction will happen on 1st and 2nd floor. Unlike the previous option, the 3rd Floor of the building will be occupied by the owners staying in the duplex home.
Ground Floor: 3Bhk Rental House: 1 car park + Small landscape concept + 2 Master bedrooms of 12×14 and 1 Guest room + common washroom + Living room of 155 sq ft + External staircase to upper floor.
First Floor: DUPLEX HOUSE STARTS: Foyer area with shoe rack + 190 sqft Living room with wooden flooring + Master bedroom with attached bathroom +Guest bedroom of 10×16 with bath attached + Dining room with 8 seating provision + Common bathroom with shower.
Second Floor: 1 Master bedroom 16×17 guest Study area walk-in closet + Children's bedroom of 175 sq ft with bathroom attached + Study room with attached library + Family lounge area 250 sq ft + Balcony towards the road + Internal staircase to the 3rd floor.
Third Floor: Terrace garden + Gym room + BBQ counter.(As per available budget).
40×60 RENTAL HOUSE PLANS IN BANGALORE OF G+3/G+4 FLOORS BUA: 7000 to 8000 sq ft
If the Clients/Owners intention is build or construction rental houses on a 40*60 purely considering as return on investment purpose then this would be the ideal option that once can proceed with. While designing the 40*60 rental house designs with the help of an Architect, it's advisable that the client discusses all issues and gets it clarified with the designer.
One needs to discuss the no of floors, no of houses, how many houses on each floor, total project cost, time frames, ROI's, if lift is required, Is it for Sale purpose in case of an Apartment, Height of the building, Plan sanction violations if any, Parking requirements common area etc.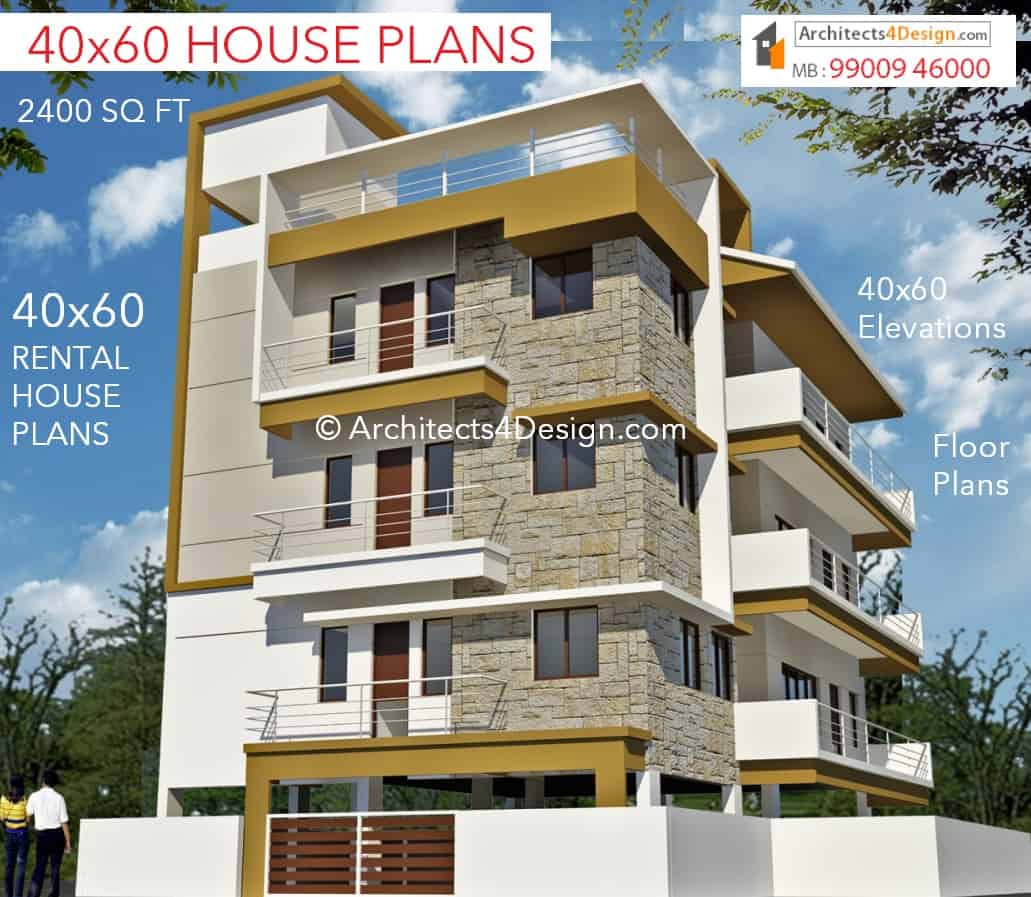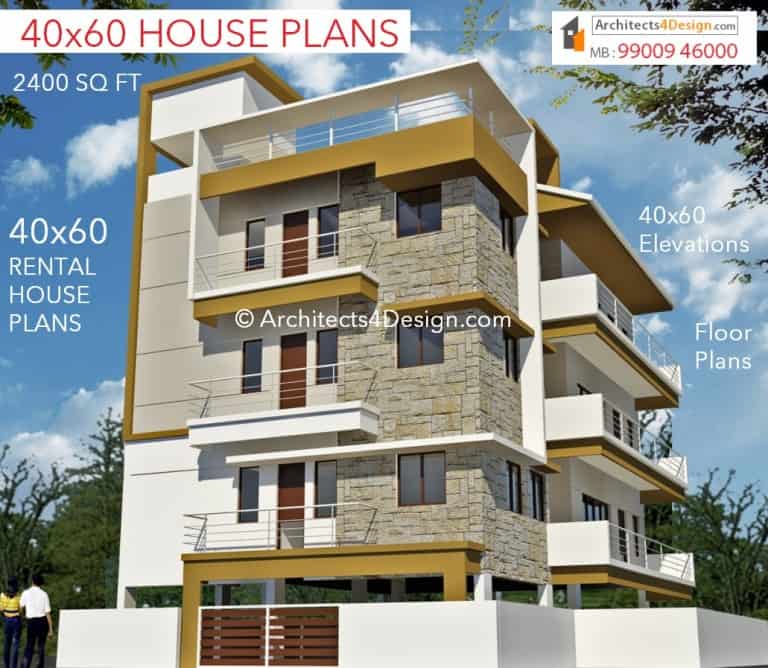 HOW MANY HOUSES CAN WE BUILD/CONSTRUCT ON A 40X60 SITE?

Considering one is Building rental houses on a 2400 sq ft site in Bangalore, then it all depends on combinations of different Houses that can be constructed like 2bhks, 1Bhks, 3bhks and 4bhks. But generally, we have seen 7 to 8 units built of 2bhks.
But there is large no of buildings that violate BBMP Plan sanction bylaws and construct 12+ units this is done purely for rental purposes.
CAN I SELL RENTAL HOUSES AS APARTMENTS?
No, It can't be done if you are building or constructed rental houses already. If at all you are building apartments on 40*60 it has been designed and executed as per plan sanction was given by BBMP, one might get a maximum of 6 units/apartments with lift provision, adequate parking for each apartment, separate electrical meter for each house, adequate building setbacks etc.
RENTAL HOUSES on 40×60 of G+3/G+4 FLOORS 2BHK's 3BHK's 1BHK's
Ground Floor : Parking for 2 Ca + 10 two wheeler parking + 2Bhk x 1 nos + 1 bhk x 1nos:
2 BHK Details: Living room with 139 sq ft + 165 sq ft 1 Large bedroom with attached bath + 1 Guest bedroom 13×15 + Dining small area + Common bath + Kitchen.
1BHK Details : 133 sq ft Living room + Bedroom of 13×11 + Kitchen + Common bath.
First Floor: 2bhks x 2 nos + 1bhk 1 nos.
2 BHK : 1 Master bedroom attached bath area 12×14 + Guest room 13×11 + Common bath 6×6 + Kitchen 80 sq ft.
Third Floor: 3bhk x 1nos + 2Bhk x 1 Nos.
3 BHK Details: 1 Master bedroom with bath 14×12 + 2 Guest bedrooms of 13*10 sq ft + Common washroom + Dining area for 5 + Kitchen with utility.
1BHK Details: Small living room with 95 sq ft + Room of 10*12 + Kitchen + Common bathroom.
Note: There are cases where one can see buildings constructed G+4 floors even on a 40×60 site, But in most cases, these buildings will have building deviations when compared to their plan approval drawings which are given by BBMP. In such cases, these property owners might end up paying fines once "Akrama Sakrama " comes into the picture.
40×60 APARTMENT PLANS IN BANGALORE on 2400 sq ft G+4 G+3 FLOORS
If you are planning to get the 40×60 apartment design done and sell them as independent flats then this option would work out better. On a 40*60 site, one can build or get plan sanctions showing maximum 6 kitchen approval or 6 apartments which later on can be sold independently.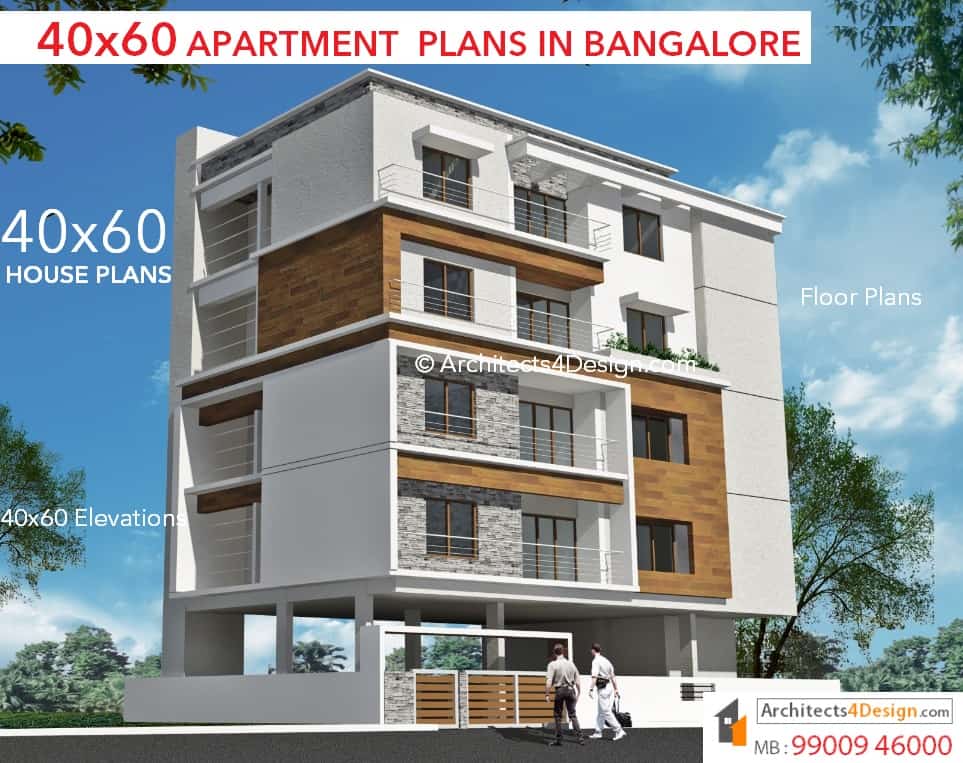 It's also very important to meet and discuss with the Architect about the budget planned for the project. So that, the 40×60 apartment plans will be prepared in such a way that the project meets the agreed planned cost without or minimum project cost escalation.
While building an Apartment one should meet the Architect and have detailed meetings on the finishing materials that will be used during construction of this project like Flooring, Cladding, Electrical fittings, Bath ware, Elevation concept, Lift, Solar provisions etc. If 6 units are planned the Designer has to make sure that at least 6 car parking slots are provided.
CAN WE BUILD AN FLAT OR APARTMENT on a 40*60 or 2400 sq ft SITE?

YES, One can build Apartments and sell them independent to different buyers and in the process making sure that the building is being built as per BBMP sanctioned plan only.
HOW MANY APARTMENTS CAN BE BUILT ON A 40×60 SITE?

One can build about " 5 to 6 " flats on a 2400 sq ft site, As per present approval once can get 5 to 6 kitchen approval for these plot dimensions. One needs to plan the super built-up area, carpet area, common area, parking area well in advance.
40X60 APARTMENT PLANS OF STILT+G+2 FLOORS 2BHK x 6 nos BUA: 7500 SQ FT
Stilt Floor : Parking for 5 Cars + 6 two wheeler parking + Servant bathroom + Watchmen shed + Lift + External Staircase.
Ground Floor: 2BHK Apartment concept x 2 nos : Lift lobby + Common area.
2Bhk Flat details: Entrance Foyer of 66 sq ft + Living area of 15*17 + Open dining room for 6 + Common washroom + 1 Master Bedroom of 12×14 with attached bath + Guest room of 139 sq ft + Kitchen with utility.
First and Second Floor: Same as ground floor concept.
Third Floor: 400 sq ft common room with attached bathroom for Party hall.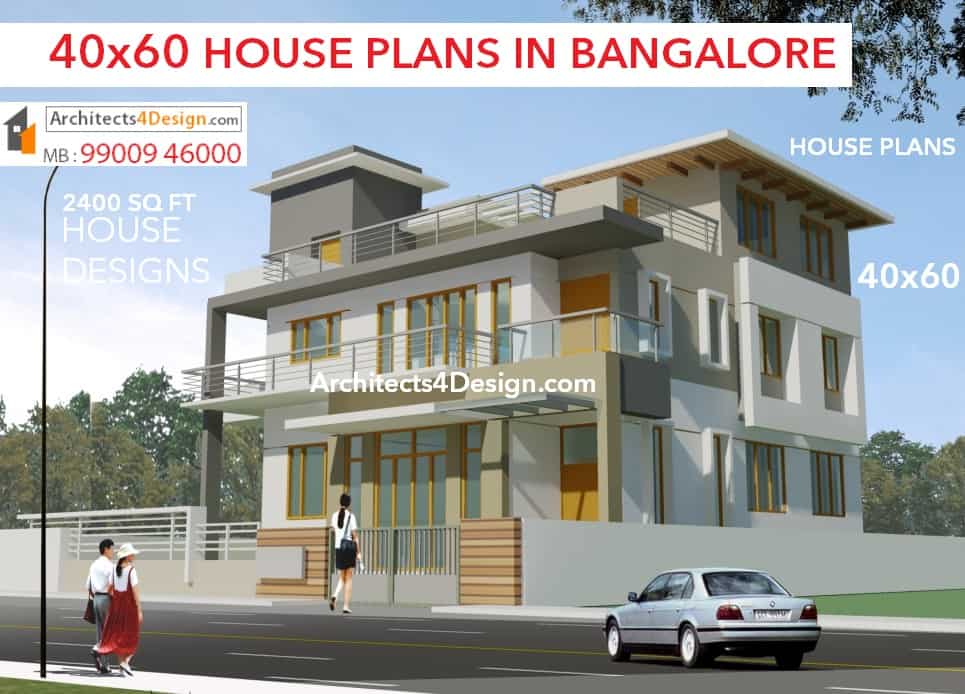 40X60 FLOORS PLANS IN BANGALORE FOR 2400 SQ FT SITE
It's very important and essential for one to Hire a residential Architect while designing their 40*60 floor plans, There are many possibilities while designing house plans or floor plans like Rental House, Duplex House, Rental + Duplex house or any other combinations as per clients requirement.
A Designer has to make sure that the House plans are as per Vastu if at all the clients wants to consider it. While designing floor plans for 2400 sq ft in Bengaluru, Once can have different site facings that once can have like East facing, West facing, North facing, South facing and also it can be an intermediate site or a corner plot.
As per this the Designer or the Architect has to design the house based on these factors in while designing Entrance, Bedrooms, Master Bedrooms, Kitchen, Dining, Utility, Washrooms, Main door, Staircases, Windows, Doors, French windows, Puja room, Double heights, Foyers, Study room, Wardrobe and Interior furniture layout.
One needs to also take Architectural project consultancy as its very important to make sure that the proposed House plans / Floor plans for a given project will be an expected as proposed on site.
During this stage, the Architect gives all supported Architectural working drawing based on the floor plans proposed some of the drawings are Floor plan working details, Elevation details, Window details, Door details, Compound design, Electrical details, Sump details, plumbing layout, Masonry details, Railing, Flooring layout etc.
For Structural its always recommend hiring a Structural engineer to get all the Steel related drawings for Foundation, Slabs, Beams, Lintel, Lofts and other RCC details.