Are you searching for Architecture firms in Bangalore? At A4D, we offer the best Architecture services at affordable costs. We offer various kinds of Architect and construction services.
We also take up House construction, which starts at just Rs 1500/sq ft only (Design+Build); we have an in-house team of experienced Architects, Structural Engineers, and Building constructions.
Our expertise in turnkey services where we take up the responsibility of the entire project right from Designing, getting plan approval from BBMP/BDA/BMRDA or any other authority.
We take up the responsibility of taking up the entire construction related work such as Helping clients get Katha transfers, Building demolition, Preparing BOQ's, Bank estimates, Submission of Estimates for Banks, Bescom connection, Bwssb water connection, etc.
Our SERVICES:
House Plans.
2D and 3D elevation.
2D Interior Layout.
3D Interior Design.
Project Estimation.
Project schedule.
Architectural working drawings.
Plan Approvals.
Project management.
How Architecture Firms Save Costs during House Construction?


Architecture firms are in an excellent position to save construction costs on the projects they undertake on behalf of their clients. In the first place, they are more significant than independent Architect.
They have a registered office with several completed projects and have the experience in handling both small and large projects.

An experienced Architecture firm will be several architects or professionals working under a single firm and therefore available even if the main architects are not there.
With such a setup, they actually end up with more orders, and therefore they can create better designs for homes quite easily and affordably.
How do they Architects save Construction Cost?
They can easily supplement/propose ideas from Designs already proposed for previous projects where the Architectural concepts are tried and tested.
There are creative design elements that save not just construction costs, but also time and effort. It becomes almost daily work for them to design and plan as well as budget new homes with ease.
Once the concept designs are approved and finalized after by the client, after that, prepare detailed BOQ's (Bill on Quantities) for required for the project. These BOQ's will be given to multiple contractors for which different cost proposals will be received.
This will be easier for a client to choose and appoint the right contractors after going through their BOQ's proposed and the profile, which shows their previous projects.
Advantages of an Architecture Firm:
Hiring best Architecture firms in Bangalore, which are well-staffed to do initial customer service quite well.
They may also be able to assist the main Architect in doing land survey jobs, preparation of preliminary plans, assisting quantity surveyors, and other official papers including, clearances from government authorities like BBMP, BDA, BMRDA, local and environmental bodies or authorities.
The firm of an Architect would also ensure that difficult parts and fine touches are made after consulting them duly with other architects and their civil engineers.
Due to this very reason, they are able to corner larger projects from clients across the country compared to individual architects.
Another factor is any client can easily get suggestions and scope in alterations in plans before the work starts and useful professional advice and inputs regarding heat saving, power savings, and water savings.
In other words, an Architecture firm is best suited for large housing projects or multi-staged design solutions.
Reduction of Cost and Value Addition:
A good Architecture firm will have many experienced Architects who work as a team at getting your cost of construction of a home reduced.
An experienced firm will be the best at giving your house value addition in the form of latest designs, utility spaces and green-friendly environment.
They also help in purchases construction products and building materials required for constructing several homes and other projects in bulk; they are able to transfer the cost reduction to their clients easily.
Negotiating and Appointing Contractors:
This makes them stay ahead of the competition as well. Further, they are also able to give continuous work to several contractors and civil engineers and skilled workers.
Hence, being able to negotiate on the quotation, charges, and other estimates quite easily too. This reduces their costs even further and hence they offer lower quotes to their clients.
It is also seen that they may effortlessly change materials when some other products sound better or more aesthetic like floor tiles and others. Since they have everything stocked for a whole lot of projects, these transfers may not have a bearing on their overall cost of construction.
Above all your Architect firm may be able to make necessary changes in design without compromising on security or aesthetics within your budget. They are able to do this as their computers are stored with foolproof plans of earlier house construction works.
Role of an Architecture Firm in Project Management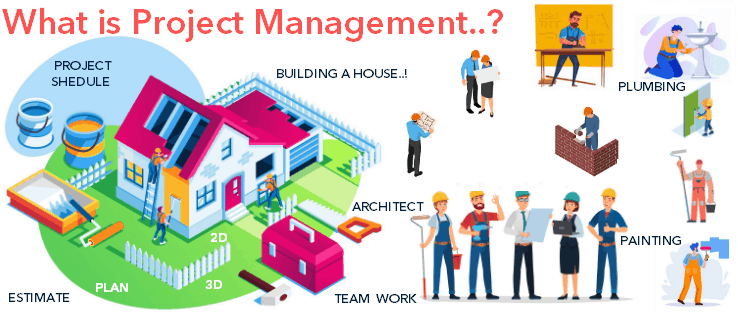 Architecture firms should help in all initial work of construction work and help in project planning, designing, budgeting, procurement of construction materials, the appointment of various contractors, providing various inputs to the project during the designing stage and construction stage.
A good firm ensures aesthetics, as well as help, protect the environment by making the structure in a green friendly way.
In other words, it also means that an Architect has to create the design and plan all well in advance in making sure that there is smooth progress during construction.
Their role in the implementation of other construction-related works and coordination with other experts in other fields like civil engineer, contractors, surveyors, plumbers, sanitary and electrical technicians and so also bricklayers, masons, carpenters and so on.
Hence, it's very important when a customer wants to build a house he or she first approach an Architectural firm and meet the Architect. During the first meeting with the Architect, one needs to discuss his requirements and needs for his house.
How Architects plays a crucial role as a Project Manager:
The work of an Architect is multi-level and draws upon many aspects of science, art, mathematics, technology, geology and landscape surveying to technicalities involved in social mixing to negotiation with government departments and other stakeholders
An Architect has to plan his work with the diligence of a consultant, help to implement it like an engineer and carry out aesthetic design like an artist.
He or she has to be active both for indoor as well as outdoor works. He may even give technical advice regarding landscapes, water bodies, estates, highways, and that of a whole town.
Knowledge and Experience of a Firm:
When an Architect has the requisite qualification and related experiences in all of the above he becomes a project manager. In large Architecture firms, there is more than one project manager supervising several projects.
In case of housing, this means these project managers mostly involve in construction of housing colonies or gated colonies for a group of residence.
There might be several project managers working in a single Architecture firm whose first duty would be to procure construction bids and then soon after going with the procedure of recruiting skilled engineers or contractors.
A project manager should also supervise every detail of the project and implement inputs and suggestions given by the Architect.
How Project Management is done by an Architecture Firm:
An Architecture firm handles a large number of projects each directly designed, supervised, and budgeted for by a project manager. In the case of very large projects, an architecture firm may employ more than one project manager.
The firm's project managers would ensure that the design is perfect and would give out full or parts of the project to civil engineers or contractors. They act directly on behalf of their clients and would be able to make creative inputs into the projects and thereby meet the client's expectations.
Architecture firms keep in mind to the procurement of construction materials and other materials well in advance for different projects, so as to cut overall costs.
This helps in getting building materials at a much-reduced cost and therefore are in a position to pass it on to their clients. Few well-known architect firms know local contractors and are able to reduce contracting charges due to frequent project availability.
Last, but not least an architectural firm may be able to provide large numbers of designs to their clients with some alterations as they already have numerous such designs stored inside their computers. All these help in implementing projects for clients in a very fast way.
How to Find and Select the Right Architecture Firms for Designing a House?
In order to find the right Architecture firm for your house construction in Bangalore, you must do a little research.
In the first place, one needs to decide whether he wants to build on an independent house or to construct several houses that can be given out for rent.
Or build a combination of Duplex house and rental house one needs to find the right kind of architecture firm to discuss the first round on your requirements. After all, it's the Architect that initiates the first level of action required in constructing homes.
There are several architecture firms and each operates with its own strategic goals. Some may be interested in large housing projects while others may be interested in only preparing plans for residential houses.
Again, there are a few smaller Architect firm that takes up tasks pertaining to part areas of houses and also repair and renovation work.
Identifying the Most Suitable Architecture Firm:
If you take a little effort then you may easily get a good architecture firm that may help you build your Dream House. It's better to take out a list of recognized and new architecture firms around your locality.
Then shortlist a couple of firms and meet them personally at their office in the process make sure that you get an Architect who knows the local rules, Bylaws, and regulation of local government authorities and land survey pertaining to that area.
If you are sure about your need then you may get the right kind of architecture firm for your work. For this, you must get quotes from a number of architecture firms wherein you may get to know the type of services these firms are offering.
You may then shortlist those that come near to your objectives. Once you have narrowed down on a few you must be able to get quotes for your project.
Simply getting a lower quote may not be all right as the architecture firm must be able to walk the talk. For this, you may try to find something about them from their previous clients.
Know the Architecture Firm's Scope and Scale:
It's of utmost importance to know the capacity of the firms in the context of projects big or small.
Along with this, you must also find something more about the architect firm about their reliability, timely services and flexibility to make changes mid-way into the projects.
It's generally seen that architecture firms having large projects seldom go for smaller projects. They even do not wish to deviate from their strategy of purchasing bulk materials so as to reduce the overall cost of construction.
Hiring smaller firms:
It's only new architectural firms or firms having one or two architects only that take up single house projects or renovation works.
In the course of your investigation, you must find out whether your Architect has the skill to prepare the preliminary concept plans and a detailed plan for construction.
Again, the firm must have handled proper plans for material purchase as well as land surveys and building supervision work. Lastly, the firm must have a history of finishing all the plans within a specific period of time.
Scope of Architecture Firms during House Construction
There is immense scope for modern Architecture firms with respect to the construction of houses. Apart from this for any matter regarding major construction works an Architect has a very important and undeniable role to play.
It's the Architect that initially surveys the site that has been proposed for building construction and prepares the first accurate site plan.
An Architect is the most qualified person in the construction field and he or she is able to give the most cost-effective design for small, medium or large houses.
As a surveyor, the Architect prepares a sketch first and gives the details about the ground levels, elevations, and other natural formation so as to get the same approval from local and other statutory authorities.
As for the construction of houses for residential purposes the architect firm may give the contract of the work to a civil engineer with requisite experience. The firm, needless to say, engages an Architect to visit the site periodically and supervise the work done by the building contractor.
Designing and Completion of Housing Colonies:
An Architecture firm would employ one or more Architects if the project is that of an entire housing colony having a dozen or more homes for residential purposes.
Here, an Architectural firm employs project managers to oversee the whole project from its initial stage to completion. Almost all project managers are qualified and experienced architects.
In other words, a project manager has to oversee larger, detailed, and more elaborate work.
In such cases, it is generally seen that work starts after an architectural project manager procures construction bids through his or her firm. Later, the project is divided among different civil engineers or contractors.
The Architect project manager goes through details of each stage and supervises so that the project team meets the required quality, keeps to the schedule, and achieves the budget goals.
Scope of Architects:

In large projects, there may be junior Architects and senior Architects under an experienced Architect or project manager.
This is especially so when the whole project has to undergo different stages like designing, studying cost estimates, assembling documents and clearances, going through specifications, and approving of materials required for construction.
Affordable to Luxury Homes:
Architects working in a firm would be having experience in handling both affordable housing projects and luxury homes. They would be able to provide consumers with the correct sustainable and usage costs from the point of view of the owner as well as the environment.
You may get the accurate energy and power usages for a particular design as well as the general cost of materials used in construction.
An Architect is the best person to design your House taking into consideration its safety standards including fire, weather, theft and lightning.
If you want to make any changes midway into the project an Architect may warn you about the rising cost or give you a suggestion as to the best way forward. This may save you both money and valuable time.
Last and not the least it is in the hands of an Architect firm to cut down costs of individual homes as they bulk procure materials for one or more projects at very low prices.
The importance of Hiring Architecture firms for designing a House
If you are planning to build a new house in Bangalore for your family then you may either do it yourself or with the help of a few masons. This is perhaps the lowest cost of building a house in the brick and mortar style.
Naturally, such houses may be short of many necessary spaces and other finishing works. You may build a shelter yet this may not be anywhere near to what you call a wonderful looking house.
It's here the Architect comes into the picture or needs to search and Hire a good firm practising architecture with all the necessary qualifications and experiences, but already has experience in constructing several residential houses too.
When you approach an Architect you create a common platform for inputs of ideas on both sides. This means that you place your idea of your home within your budget, having necessary spaces, accessibilities and safety requirements, and even environmental considerations.
The professional architect would, in turn, provide you with the pros and cons of spaces and safety requirements as well as the requirement of local bodies. He or she would also look into the cost side and give you an estimate and discuss ways to reduce or increase costs here or there till you both arrive at an agreement.
Benefits of Skilled Architecture frim:
When you agree to the guidelines and various other aspects of constructing your house, your Architect would take the necessary advance from you and start off with the work in a professional manner.
An Architect would either give sub works or part of the work to another skilled engineer on a contract or would overlook the entire work herself.
Before giving out subcontracts or whole contract, as this depends upon the size of your house, the Architect would, first of all, make a concept design. This would be done in the initial stage with a rough drawing and then, later on, come out with a print out of your proposed project.
Your Architect would also prepare floor plans of your future home, layouts of the interiors, and may present you with 3D views.
Less Stress and Lower Risk:
When you engage an Architect for your building your dream house you are likely to find that great amount of stress along with risk has been allowed to go.
You don't feel the responsibility of the procurement of plot, licenses, and clearances from local government bodies. Although your Architects would charge slightly higher fees yet you would find yourself much composed and happy as your home gets constructed stage by stage in front of your eyes.
Challenges and Risk factors:
Besides, your Architect knows challenges all too well and can handle the risk factors arising out of any portion of construction.
Only a good architect would be able to meet the environmental standards required for a home.
He or she would find out ways to reduce carbon dioxide emissions and making the home more heat efficient.
Above all, your Architect would know the latest cost-effective construction methods and thereby able to reduce your bills without having to compromise on other features and quality of materials and finishing stage.