As Architects in Bangalore we give a lot of importance to designing house plans in bangalore for residential projects , we firstly understand the clients requirements and needs,
So that it will be helpful for us in Designing the residential house plans.
Useful Details
Current cost of Construction | Plumbing rates for Labor and with Material | Rates for House construction | Building contractors rate | Green sustainable house plans | Sample labor contractors quotation | Getting best house plans in Bangalore | Laying charges for Granite and Vitrified  | House plans should be as per budget | Fabrication charges for Windows / Doors | Electrical work quotation for labor and material
Getting House Plans and House designs in Bangalore
– Understanding the client's needs.
– Having detailed discussions.
– Working on the pros and cons of the project.
– Schematic floor plans prepared.
– Preparation of floor plans.
– Changes to the floor plan.
– Finalization of the floor plans.
– Proposing Residential elevations.
– Finalizing the Labour / Building contractor.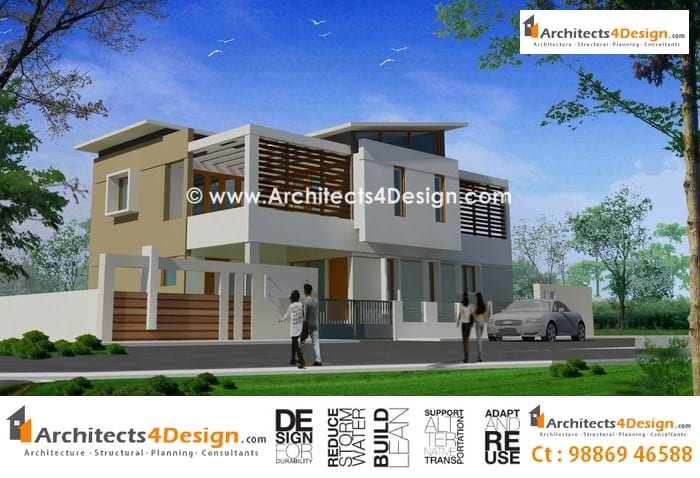 Things to consider before Approaching an Architect for planning

There are many factors that needs to be considered before approaching for Residential House designs us like the plot dimension, budget for construction, no of car parks, garden areas, no of floors and much more depending on client to client requirements.

As Architects we provide the Best house plans as per budget

Are you Building a home or apartment then there are a few conflicting things that might be working on your mind like what should be plot size, budget, construction cost etc. Construction of a House is no doubt that it is one of the most important events in our life. However, because of lack of experience and knowledge often we end up making the wrong decisions. There may not be much problem when we buy ready-made homes or apartments.

But when it comes to customized house plans and house designs, we are often at a loss as to where to approach. One often takes the help and assistance of engineers and contractors to design our homes. This is not right because when it comes to designing new homes the role of architects is something that is extremely important. They are the backbone as far as designing new homes, apartments or even offices and commercial establishments are concerned.

There is a big difference while designing house plans between architects and engineers/contractors. While the latter give shape to something that has already been conceived and planned, as far as architects are concerned, their main job is to give shape to the entire design and other concepts as far as the new structure is concerned. They are the one who give birth to the external and internal design of a home. While there could be many engineers and contractors who might claim that they can do this job, when it comes to actual implementation on the ground they would be found wanting.

Building functionally should be considered while designing House designs

We help you in creating indoor spaces that are not only functional but also very good-looking and pleasing from the aesthetic point of view. We create Modern House designs in Bangalore and also implement the same. We take into account the various external factors like the budget the clients may have in mind, the total area that has been allocated to them and other such factors.

These are things which even the best of engineers and contractors will not be able to do. As home aspirants we have to bear in mind that there is a difference between implementing ideas and giving birth to home design ideas. Our role is therefore is to propose creative ideas and making sure that engineers/ contractors follow them up and implement it on the ground. Hence, as customers we should know the basic difference between the two to get the best out of them.

There is also something known as interior architecture. Here the role of these professionals is to ensure that they are able to look into other important aspects like availability of light, the flow of light, airiness of the entire home and other such aspects. They also play a big role in helping make best use of the available space without making it look crammed and claustrophobic in nature.

Hence taking the above facts into account one has to bear in mind that when it comes to giving shape to your dream house, there is none more important and significant than a good architect who are the backbone on which other professionals can build ones dream home.