Green house plans can be energy efficient
The green building concept has recently created a tremendous blow in the housing plan creation method by the expert housing architects of Bangalore. Though this concept has been imported from the international market but you will be able to view the best implementation of this particular house planning. As green building house plans in Bangalore are now designed based on the concept of creating energy-efficient structures, there are a lot of utilities of energy-efficient housing structures and if you are interested to know all of them then you need to make proper research on the same. In this regard, the housing shape is modulated in such a manner that the consumption of energy is quite less in comparison to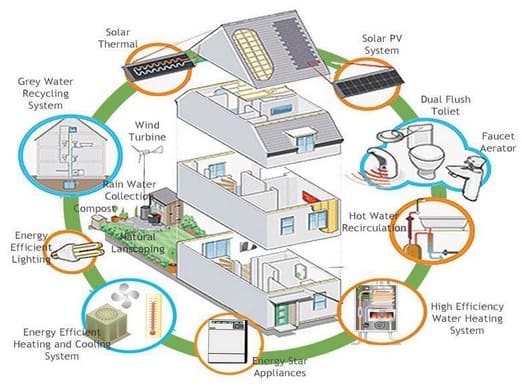 the normal traditional houses. This kind of housing structure is now getting popular not only in Bangalore but also all cross India.
Therefore, if you are intending to have a completely new home structure, then you are highly recommended to choose such a type of energy-efficient house plans with a good elevations. You can also remodel your existing housing structure by implementing this new plan of housing architecture. Follow the online demonstrations of this new housing technology based plan and try to adopt the same. This well-designed housing architectural plan is having the maximum potentiality and this is the reason it is getting appreciated by all. In this case, certain particular segments are improved by including standard modifications like sealing leaks, insulation, update cooling and heating equipment, and many more. These homes are mostly sun oriented and receive the maximum energy from the sun which is abundant in nature. Almost all the house plans are developed on the basis of this concept plan and elevation where the solar energy is involved.
Utilizing energy from natural forms
This ultimately leads to the lessening of the overall electricity bills of the house and proper protection from all the probable hazardous incidents. The floor plans of these houses are quite different from that of the normal ones as they are completely equipped with improved insulation power. As a result of which you can get comfortable room temperatures during climate extremities like summer and winter seasons.
The solar energy consumption is effectively controlled by these houses by absorbing only the requisite heat. It also facilitates natural ventilation facility especially during the extreme warm climates. The floors, walls and windows are having natural ventilation for providing massive comfort to the homer dwellers in all the seasons throughout the year. During the winter climates, these houses are also quite efficient in restoring the solar heat for a long period of time for the circulation of comfortable home temperature. You can also use thick rugs or carpers in your house for preserving the floor insulation.